Gucci Faces Backlash After Cultural Appropriation Callouts on $800 USD Turban
The sold-out item is said to infringe on Sikhism.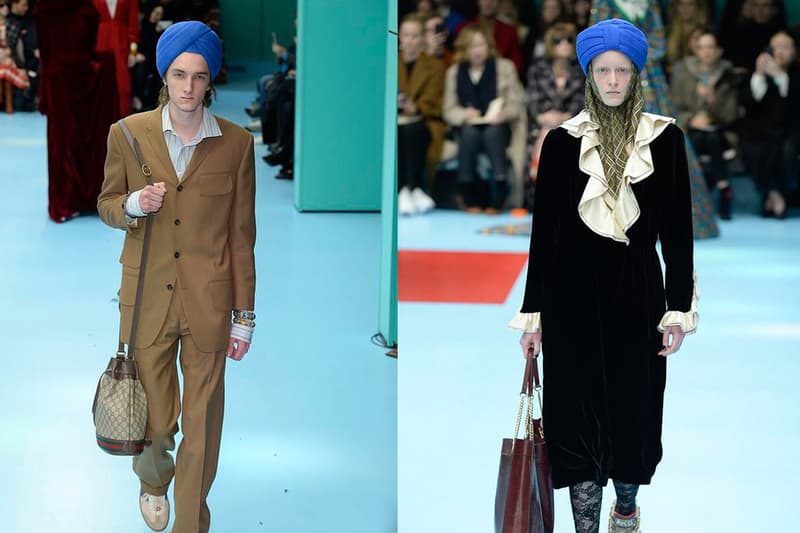 Gucci is facing more backlash around a product that's been deemed offensive, this time with the Italian label's nearly $800 USD turban taking the hot seat. While the accessory in question is currently "sold out" on Nordstrom's website, it hasn't shielded the brand from callouts that the piece culturally appropriated the religion of Sikhism, including remarks made directly by civil rights organization The Sikh Coalition.
"The turban is not just an accessory to monetize; it's a religious article of faith that millions of Sikhs view as sacred," the group stated in a Tweet on Tuesday. The coalition also went on to say that it had reached out to both Nordstrom and Gucci with their concerns, posting today that Nordstrom had apologized and it hopes Gucci would "follow suit."
Though the department store has since removed the price from the item — dubbed the "Indy Full Head Wrap" — on its e-commerce site, screenshots floating around the internet reveal that it was originally listed for $790 USD.
This marks another tumultuous blow for Gucci this year, as the label came under fire in February for its balaclava turtleneck that many likened to blackface and the racial undertones stemming from it. The label addressed the criticism head-on, pulling the sweater from retail, issuing apologies from CEO Marco Bizzarri and creative director Alessandro Michele and pledging jobs and resources to promote cultural diversity.
However, the brand has yet to release an official statement regarding this latest incident.
Notably, both the infamous balaclava and the turban were first shown on the runway during the brand's Fall/Winter 2018 collection, which took place at Milan Fashion Week in February of 2018. As items continue to release to market, discerning customers and critics are seemingly more attuned to the deeper implications of each piece.
The turban is not just an accessory to monetize; it's a religious article of faith that millions of Sikhs view as sacred. Many find this cultural appropriation inappropriate, since those wearing the turban just for fashion will not appreciate its deep religious significance. pic.twitter.com/fldmxa3Wvr

— Sikh Coalition (@sikh_coalition) May 14, 2019
@Nordstrom has offered their sincere apologies & will no longer sell @Gucci's Indy Turban/head wrap at their retail & online location. We advocate for those who are discriminated against, including many who face discrimination based on their Sikh religious identity & expression. pic.twitter.com/kfrz15DxI1

— Sikh Coalition (@sikh_coalition) May 16, 2019