'Game of Thrones' Shares Never-Before-Released Final Season Photos
Including behind-the-scenes looks.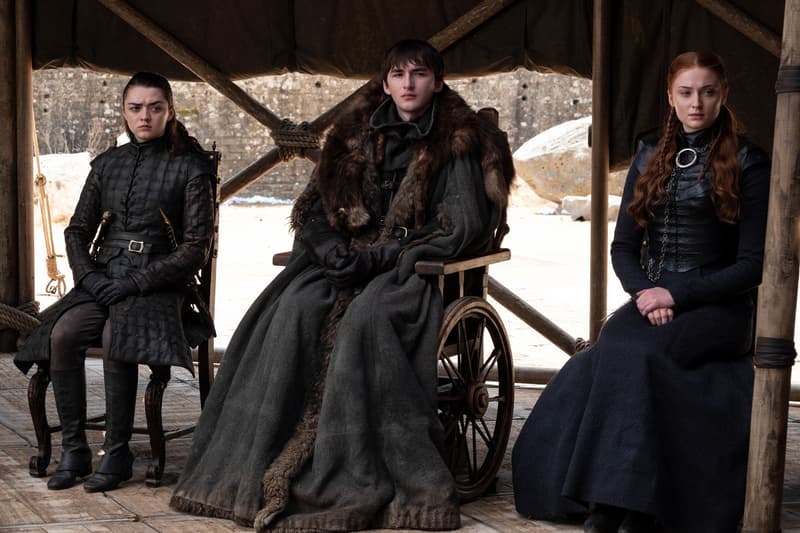 As fans from all around the world (minus those in China) continue to digest what happened on Sunday night's Game of Thrones series finale, HBO and Entertainment Weekly have shared 14 never-before-released final season photos.
As part of its latest cover story, which features two different covers, one of Emilia Clarke as Daenerys Targaryen and the other featuring the remaining Stark children, the photos include a few behind-the-scenes stills along with portraits of the show's most pivotal characters. Showrunners Dan Weiss and David Benioff grace one of the photos alongside Clarke and Kit Harington in front of the melted Iron Throne, while another shows the Starks striking a pose.
The cover story also features exclusive interviews with the actors. "This show is my life," Clarke tells EW. "Any doors that are open now, this show opened them. Any major life choice I've made have been a reaction to this show." On the other-hand Harington states, "This gives me the freedom to try things I want to do. I keep nicking beers from David and Dan's fridge. I left them a note saying, 'I owe you two beers and one career,' and that's how I feel."
Head over to Entertainment Weekly for more details.
And in related news, the Game of Thrones prequel may not air until 2021. Also here are five GoT locations to visit if you can't let go.
"I will miss this so much. This is the greatest role I've ever had." — Peter Dinklage #GameofThrones https://t.co/FBWa5VetSr #TyrionLannister pic.twitter.com/uH0BpKGNDj

— James Hibberd (@JamesHibberd) May 22, 2019
"On one of my last days on set, I had a moment where I was walking in my Sansa costume onto the grounds of Winterfell thinking, 'This is one of the last times I will be here as Sansa in my home' and it was this emotionally powerful moment" — @SophieT https://t.co/FBWa5VetSr pic.twitter.com/6BBbowqUHI

— James Hibberd (@JamesHibberd) May 22, 2019
"I keep nicking beers from [showrunners David Benioff and Dan Weiss'] fridge," Kit Harington says. "I left them a note saying, 'I owe you two beers and one career,' and that's how I feel." #GameOfThronesFinale https://t.co/FBWa5UWT0T pic.twitter.com/Y56oWBtGvc

— James Hibberd (@JamesHibberd) May 22, 2019