Nipsey Hussle Tribute Played During Lakers-Warriors Game
The rapper was an avid basketball fan.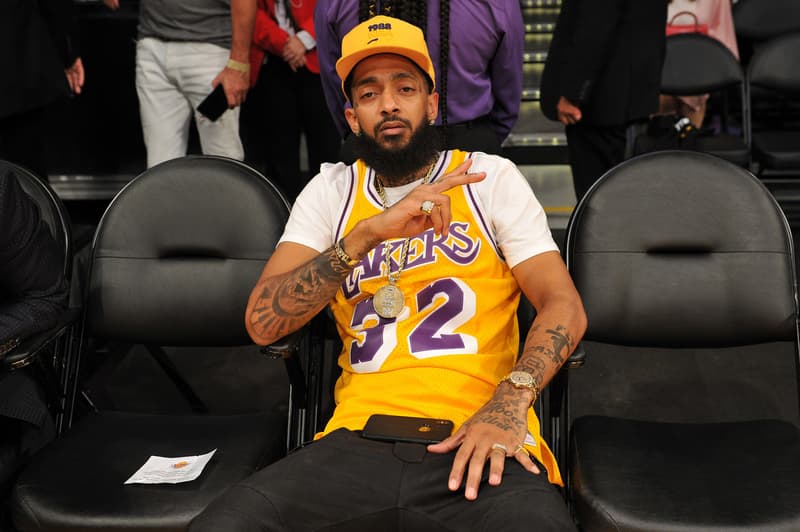 During tonight's NBA matchup between the Los Angeles Lakers and the Golden State Warriors, both teams decided to pay tribute to the fallen rapper Nipsey Hussle.
"Entrepreneur, rapper, and community activist Nipsey Hussle tragically passed away at the age of 33," the announcer said. "From his work within locals schools, creating business in L.A., and promoting better life choices, Nipsey had a lasting impact on bettering our entire Los Angeles community. Please join the Warriors, the Lakers, and the entire NBA family in a moment of silence for the late Nipsey Hussle."
Hussle's music was also played during warm-up to which Kevin Durant and Draymond Green danced along to, while LeBron James showed up to pregame rocking a Nipsey shirt.
The Lakers and Warriors aren't the only ones spreading love for Hussle. During a recent Clippers game, the team also paid respects to the rapper with a short video tribute and by hanging a No. 5 jersey in the locker room. Hussle was an avid basketball fan.
Earlier this week Nipsey Hussle's girlfriend and sister also paid tribute to the late rapper.
The Marathon Continues ? pic.twitter.com/IMG6hICU0T

— Los Angeles Lakers (@Lakers) April 5, 2019
Nipsey on the ❤️ pregame pic.twitter.com/Y70pnkEn9v

— Los Angeles Lakers (@Lakers) April 5, 2019
"Cause on a mission your worst enemy is idle time…"

LeBron James shows some love to Nipsey Hussle ? pic.twitter.com/FTlAsmyi4x

— Def Pen Hoops (@DefPenHoops) April 5, 2019
LeBron James wearing a Nipsey Hussle shirt ? pic.twitter.com/GIhlm1jNVX

— Chris Montano (@gswchris) April 5, 2019
Artist. Activist. Angeleno.

L.A. mourns the loss of one of our own, Nipsey Hussle. pic.twitter.com/7DovnRkayn

— Los Angeles Lakers (@Lakers) April 1, 2019
The Clippers honored Nipsey Hussle, who was killed today in LA, with a tribute before tipoff against Memphis. Hussle was close with Lou Williams and Montrezl Harrell. pic.twitter.com/OMOEUQ2DY3

— Andrew Greif (@AndrewGreif) April 1, 2019
Rest in peace, Nipsey Hussle. pic.twitter.com/SgxhQ16Zi9

— x – LA Clippers (@LAClippers) April 1, 2019
They just played @NipseyHussle at Oracle and here's Draymond Green and Kevin Durant paying respects. pic.twitter.com/VhSDgJuXWU

— Logan Murdock (@loganmmurdock) April 1, 2019