What to Do in New York City This Week
All the best music, art and fashion events from March 11-17.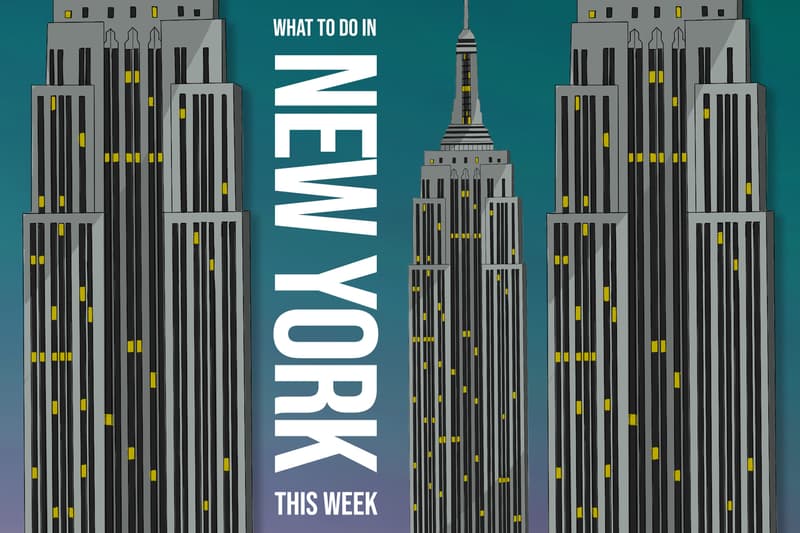 Last week, we saw Robyn come to town and snagged new styles from adidas. This week, we're gearing up for St. Patrick's Day, and celebrating Women's History Month with new film series and roundtables. Read on for the best music, art and fashion events happening New York City for the week of March 11.
Music & Nightlife
10 Summers Presents: The Debut Tour with Ella Mai
Where: 319 Frost St, Brooklyn Steel, Brooklyn
When: Tuesday March 12, 7 p.m. EST
English singer Ella Mai is making a few stops in New York, including a Tuesday night show at Brooklyn Steel. She'll be joined by two rising singers, Kiana Ledé and Lucky Daye, the latter of whom recently released his second EP.
The Times Square EDITION Presents Paradise Club
Where: 20 Times Square, 701 7th Ave, Manhattan
When: Wednesday March 13 to Saturday March 16, from 8 p.m. EST
Normally you'd have to pay us to go to Times Square. But since the New York location of the EDITION hotel chain is launching a new club on its seventh floor in collaboration with Bushwick's House of Yes, we're in. Wednesday night will feature none other than Lauryn Hill, with Questlove DJ'ing in Thursday and Charli XCX performing on Friday night.
FOMO w/ Max Glazer, Darling Chuck, DJ Getlive! & TAP.10
Where: Elsewhere, 599 Johnson Ave, Brooklyn
When: Friday March 15, 11 p.m. EST
Don't miss out on this weekend's FOMO party. Going strong for four years, FOMO brings together hip-hop and dance to Bushwick. A portion of ticket sales will go to supporting emerging artists at the venue, Elsewhere.
Smorgasburg x VICE Night Market 2019 – The Friday Before St. Patrick's
Where: Villain, 307 Kent Ave, Brooklyn
When: Friday March 15, 6 p.m. to 12 a.m. EST
Yes, it's St. Patrick's this weekend. Get started early with the Smorgasburg x VICE Night Market, which brings together food, drink and music. All our favorite things.
Art & Cinema
Harmony Korine: Young Twitchy Opening Reception
Where: Gagosian New York, 980 Madison Ave, Manhattan
When: Thursday March 14, 6 to 8 p.m. EST
The Gagosian's new Harmony Korine exhibit will be on display until April 20, with new paintings from the artist and filmmaker. Based on iPhone photos taken by Korine in Florida, the paintings will have you dreaming of summer.
Caribbean Film Series: A 5th Anniversary Festival
Where: BAM, 30 Lafayette Ave, Brooklyn
When: Thursday March 14 to Sunday March 17, times vary
The Brooklyn Academy of Music will celebrate the five-year anniversary of the Caribbean Film Series with four days of screenings. The lineup will include a mix of shorts, documentaries and feature films, many of them followed by Q&As with the filmmakers.
What is it about Warhol that…?
Where: Whitney Museum of American Art, 99 Gansevoort St, Manhattan
When: Friday, March 15, 6:30 p.m. EST
To finish off the Whitney's Andy Warhol retrospective, writer and cultural critic Lynne Tillman will moderate a discussion on Warhol's lasting impact. If you can't make the talk, you can catch the exhibition until March 31.
Black Women's Film Conference
Where: MoMA PS1, 20-25 Jackson Ave, Queens
When: Sunday March 17, 12 to 9 p.m. EST
MoMA's Queens location will host the inaugural Black Women's Film Conference this Sunday. Organized in collaboration with The New Negress Film Society, the event will feature a mix of screenings, talks and roundtables that center black women working in film today.
Fashion & Shopping
Music & Sneaker Marketing 101
Where: Foot Locker, 1460 Broadway, Manhattan
When: Thursday March 14, 6 to 8 p.m. EST
Foot Locker is celebrating Women's History Month with a series of events at its Times Square store throughout the month of March. This Thursday invites Lola Plaku of Lola Media Group to share her knowledge of marketing in the sneaker and music industries.