Häagen-Dazs Introduces Alcohol Flavored Spirits Collection
7 new alcohol infused flavors.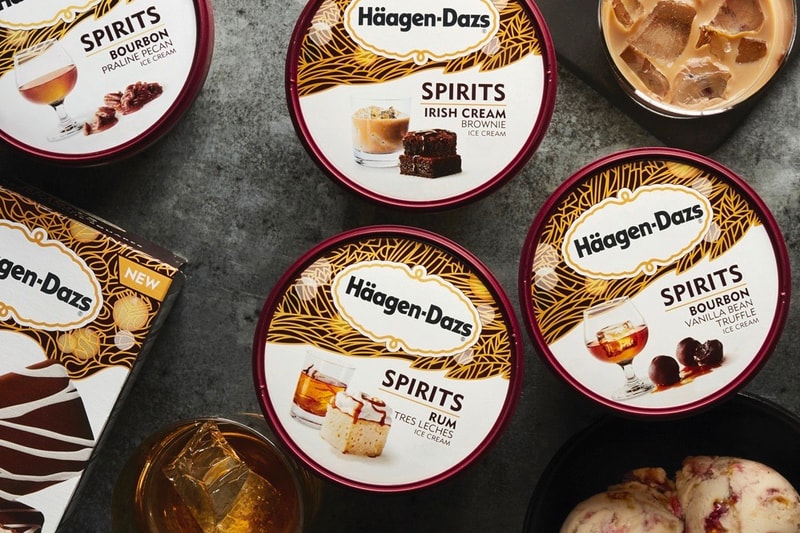 Häagen-Dazs has released its new Spirits Collection, featuring 7 alcohol-infused ice cream flavors for spirit aficionados. From rum to bourbon to even Amaretto and stout, both ice cream lovers and alcohol fans will find abundant opportunity for indulgence. The 7 flavors are:
"Irish Cream Brownie" —  An Irish cream-infused ice cream with rich chocolate brownie chunks finished with a luscious fudge swirl.

"Rum Tres Leche" — Inspired by Latin America, white rum is infused and topped off with thick ribbons of dulce de leche, mixed in with pieces of sweet Tres Leches cake.

"Bourbon Vanilla Bean Truffle" — The classic pairing combines swirls of spicy bourbon and Häagen-Dazs' creamy vanilla bean ice cream — finished with chocolate truffles.

"Stout Chocolate Pretzel Crunch" — A pub-inspired flavor offering rich chocolate ice cream infused with toasty-malty stout, and mixed with chocolate covered pretzels and delicious fudge.

"Bourbon Praline Pecan" — Bourbon-infused ice cream is sprinkled with brown sugar and textured with crunchy praline pecans.

"Non-Dairy Amaretto Black Cherry Almond Toffee" — Sweet almond toffee chunks are brought together with rich black cherry jam and folded into a nutty amaretto-infused, non-dairy dessert.

"Irish Cream Cookie Squares" — The perfect chocolate cookie topped with Irish cream-infused ice cream before the entire square is dipped in rich dark chocolate.
Enjoy your dessert responsibly.
In other ice cream news, KITH Treats recently launched its cereal-infused ice cream cookies in honor of KITH founder Ronnie Fieg's love for cereal.