The UK's Best Stores for Vintage Streetwear & Designer Pieces
From Too Hot Limited to Wavey Garms.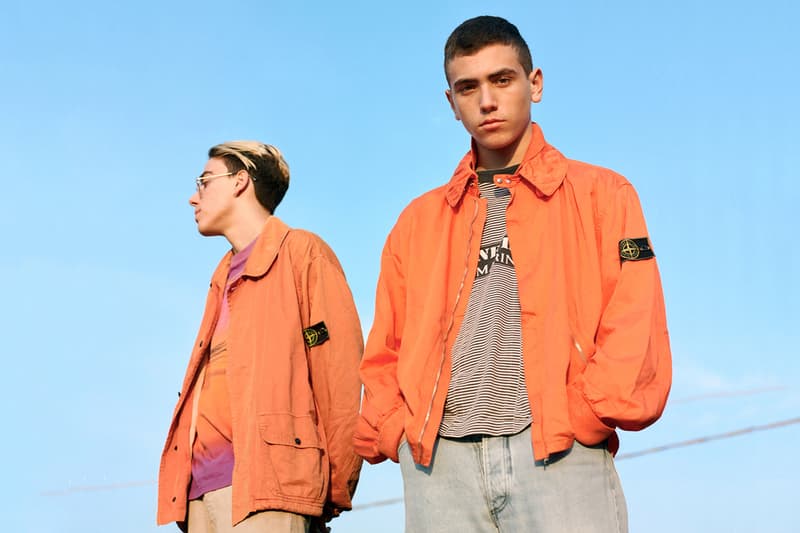 As well as stores ranging from Palace and Supreme to Dover Street Market and Goodhood, the UK also hosts an impressive array of vintage retailers. The vintage stores cover everything from single-era specialists to treasure troves of lost designer pieces, as well as offering a second chance to pick-up sold out streetwear items.
We've pulled together a list of the best places around the country for you to get your hands on these pre-worn pieces and curated vintage items.
Too Hot Limited
Online retailer Too Hot Limited initially carved out a name as the UK's premier spot for archival Stone Island pieces. Since then, the store has branched out with a range of brands reflecting its overall '90s influence. Key labels currently available from Too Hot Limited include Prada Sport, Missoni and Moncler, as well as the staple Stone Island and CP Company. Expanding from its vintage roots, Too Hot Limited has also branched out to work on projects including FILA's revived Magic Line and Paul & Shark's recent LQQK Studio collaboration.
Web store: toohotlimited.com
Address: N/A
Duke's Cupboard
Since moving on from a Berwick Street stall to a bricks-and-mortar operation, Duke's Cupboard has become one of Soho's standout locations. Progressing to a permanent spot has also allowed Duke's Cupboard to expand its operations, with a whole range of new brands and pieces. Currently, the store offers everything from Supreme accessories and band posters to North Face Nuptses and graphic T-shirts. Duke's Cupboard has also carved out a name as a leading Polo Ralph Lauren retailer, with the store working alongside the brand to celebrate the CP-93 revival.
Web store: dukescupboard.com
Address: 7 Green's Court, London W1F 0HQ
Wavey Garms
Arguably best known for its role as a UK-wide Facebook group, Wavey Garms opened up its physical store in London's Peckham back in 2015. The store is best known for its '80s and '90s streetwear pieces, as well as the references to UK Garage and other influential subcultures. The Wavey Garms team also revealed back in 2015 that Supreme's designers had been looking around the extensive archive. Key brands stocked by the South London store range from Palace and Supreme to Versace, Moschino and Fendi.
Web store: waveygarms.com
Address: 5 Holdrons Arcade, 135E Rye Lane, London SE15 4ST
Unified Goods
London-based Unified Goods recently partnered with retailer Goodhood to launch a new collection of archival techwear pieces. The collection covered everything from Apple-branded umbrellas to vintage Microsoft sweatshirts. The store — which describes its as selling "sub-cultural artefacts" — has also branched out to stock other vintage pieces, as well as iconic items including videos (original versions of Akira), magazines (archival The Face issues) and limited-edition collectibles.
Web store: unifiedgoods.com
Address: Appointment only
Minted Shop
Scotland's premier vintage streetwear store, Glasgow's Minted Shop stocks a wide range of archival pieces alongside its own line, which frequently references the vintage pieces through its tongue-in-cheek graphics. The store covers both apparel and footwear, and stocks a wide range of streetwear staple brands. Key pieces available from the Kings Court-based store include Supreme pullovers, archival Palace outerwear and iconic Stone Island items.
Web store: mintedshop.co.uk
Address: King's Court, King's Street, Glasgow, G1 5RB
Teejerker
Teejerker is another London-based retailer from the team behind Unified Goods, and is known for its enviable selection of vintage band and tour T-shirts. The selection is sorted by genre on the Teejerker web store, and features references to artists as diverse as Louis Armstrong, Björk and Nine Inch Nails. A key focus of the store is authenticity, with pieces chosen to go against the mass-produced band merch of 2019, even if this does include the occasional paint splatter or blood stain from its original owner. Back in 2017, Teejerker worked with Goodhood to curate a range of these T-shirts as well as releasing an exclusive collaborative T-shirt.
Web store: teejerker.com
Address: Appointment only
ARO
East London's ARO stocks an elevated selection of archival fashion pieces. The store's brand list focuses on Japanese, Belgian and French designers. Some of the designers stocked by the store include Raf Simons, Yohji Yamamoto, COMME des GARÇONS, Raf Simons and Margiela. As well as the store, ARO also hosts ARO ARCHIVE, an appointment-only reference archive and rental service for design houses, museums and educational institutions. The ARO ARCHIVE spans over 6000 womenswear and menswear pieces dating all the way back to 1880.
Web store: aroarchive.com
Address: 2 Ada Street, London, E8 4QU
Storm in a Teacup
Also based in London, Storm in a Teacup focuses on archival designer pieces covering menswear, womenswear, shoes and accessories. The store individually sources its pieces from private collections, and displays them alongside a range of inspirational items. Storm in a Teacup's brand list sees pieces from the likes of UNDERCOVER, Prada and Junya Watanabe. Although all of the pieces are available from its web store, Storm in a Teacup describes its physical store as a "unique and magical environment."
Web store: storminateacuplondon.com
Address: 366 Kingsland Road, London, E8 4DA