UPDATE: Chanel Announces Karl Lagerfeld's Second Successor
Virginie Viard and Eric Pfrunder will take over for the legendary designer.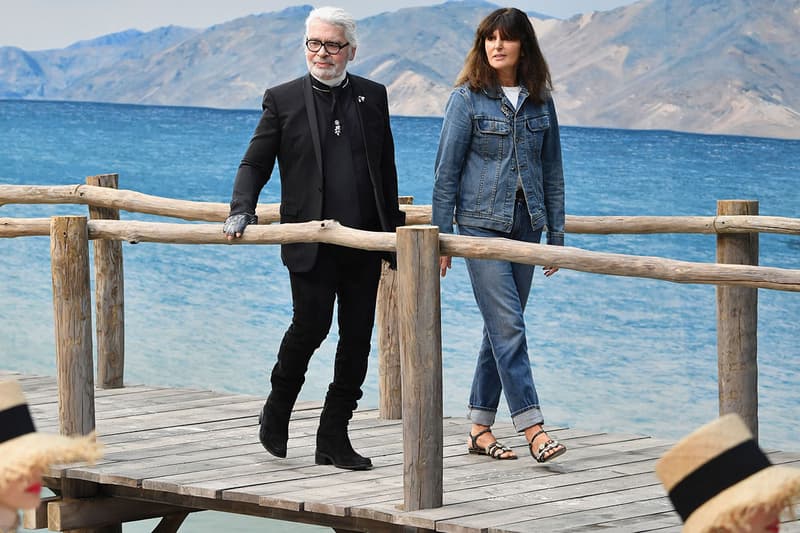 UPDATE: As W Magazine notes, Viard will be joined at the helm of Chanel's fashion branch by Eric Pfrunder. If Viard was Lagerfeld's right hand, Pfrunder was his left — both men began working at Chanel in 1983 and retained an intimate friendship throughout their time at the house.
To illustrate their close relationship. WWD describes a story from 1987. At the time, Pfrunder dared Lagerfeld to pick up a camera to prove that The Kaiser could take better photos for a press kit, perhaps inadvertently sparking Lagerfeld's interest in photographer later in life. "I said to Karl, 'OK, now you do it,'" Pfrunder recalled.
Pfrunder's official title will be artistic director of fashion image, while Viard will be artistic director of fashion collection, asserts Business of Fashion. Chanel co-owner Alain Wertheimer released a statement that "confirms his confidence in the team that worked with Karl Lagerfeld for over 30 years."
ORIGINAL STORY: Early this morning, news broke that legendary designer Karl Lagerfeld had passed away at the age of 85. Chanel, in the midst of honoring the prolific creative, confirmed on Instagram that it has selected a designer to follow Lagerfeld's unmatched 36-year run with the fashion house.
Virginie Viard, a relative unknown compared to the household name that is Lagerfeld, will take over as Chanel's creative director. As Fashionista notes, fashion insiders have long speculated about Lagerfeld's eventual replacement, tossing around names like Marc Jacobs, Haider Ackermann and one of Lagerfeld's all-time favorite designers, Hedi Slimane. In the early aughts, Lagerfeld released a dietary book, explaining that his main motivation for losing weight was to fit in one of Slimane's infamously-trim Dior Homme suits.
For most of his time at Chanel, Lagerfeld worked alongside Viard to develop the multiple yearly collections. She also took bows with him at the end of many recent shows, including the Spring 2019 haute couture collection that Lagerfeld wasn't able to attend due to sickness. For now, it seems that the iconic brand is in good hands.
Read Chanel's complete statement, including Viard's confirmation, in the Instagram post below, along with the house's Spring/Summer 2019 presentation, which culminated with Lagerfeld taking a bow alongside Viard.