What Is HYKE?
Everything you need to know about The North Face and adidas-approved Japanese label.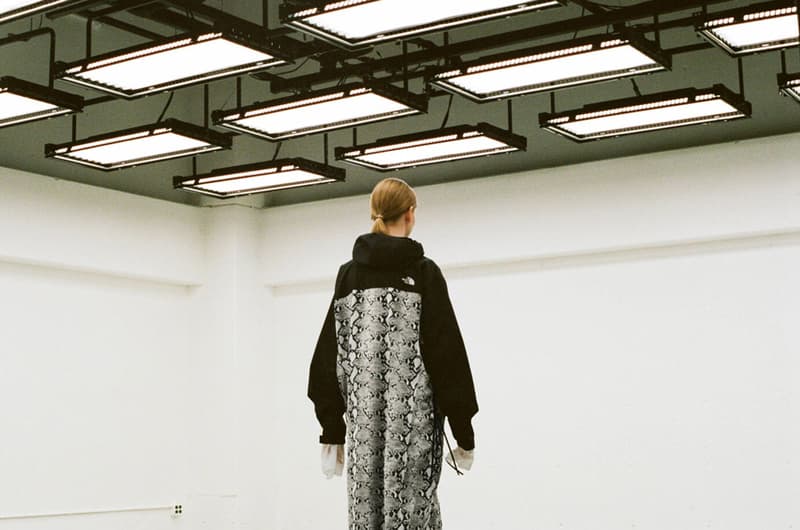 HYKE enjoys a massive following in its native Japan, slowly developed since its inception in 2013. Over the past six years the label, led by married designers Yukiko Ode and Hideaki Yoshihara, has cultivated a horde of Japanese devotees attracted to HYKE's neutral color palettes, tweaked militaria and effortless elegance. This following has garnered stockists that include some of the nation's largest department stores, like Isetan, UNITED ARROWS and the Japanese branch of Barneys New York.
Despite the independent brand's commercial and critical success in Japan, HYKE remained an obscurity to even the most fashion-savvy shoppers outside of Asia. That was until the brand's collections with The North Face received such international acclaim that the partners created a dedicated Instagram page and website exclusively for the ongoing collaboration. Behind the covetable technical collaborations, however, the underappreciated Japanese label has quietly advanced its singular vision with a laser focus.
In 1997, Ode and Yoshihara launched a vintage clothing store, dubbed "bowls." "We would go buy only the best clothes overseas and then put our favorite items on display in the shop," the designers told the Woolmark Company in August 2016. "When we found clothes we liked, we didn't want to sell them to anyone else. We decided that we would instead make clothing that contained the essence of what we liked, and that's how our first brand, green, started." Veterans of two different Japanese fashion schools, Ode and Yoshihara spent time as a stylist and patternmaker, respectively, before opening the store and launching green a year later.
Guided by the philosophy of beauty through functionality, green offered simple yet thoughtfully-crafted, vintage-inspired womenswear in an era that wasn't known for understated clothing. Though minimalist fashion is de rigueur now, early 2000s style was rife with loud party dresses, flashy logos and gold accents. Thus, green's fur-trimmed parkas, relaxed denim and muted trench coats seem even more prescient when reexamined 20 years later. A growing demand encouraged Ode and Yoshihara to introduce a brief men's offering alongside the more expansive womenswear line, eventually taking green to the runway for the label's final season, Spring/Summer 2009.
Following green's tenth anniversary, Ode and Yoshihara shuttered the label in October 2009; by then green had ballooned from a small side project to one of Japan's pre-eminent womenswear brands. The couple retreated from fashion altogether, taking several years off to reformat their approach to design and raise their two children. In doing so, the duo shifted bowls from a vintage boutique to a management company before debuting their new flagship label, HYKE, in 2013.
HYKE thrived almost immediately, thanks to its appreciably clean, minimalistic designs and the accumulated green fanbase. Ode and Yoshihara aim "to evolve fashion history by our heartstrings," recreating militaristic garments with custom fabrics. Though some clothes sport playful fringe or deep pleats, the basis of each collection remains the same: the couple sources key vintage pieces for inspiration — be it a classic M65 jacket or fishtail parka — deconstructs the garments to study patterns, threads and craftsmanship, before piecing them back together via contemporary pattern-making. Using simple, versatile colors and unparalleled craft, HYKE's consistently wearable offerings prove reliably popular. This consistent demand encouraged both Mackintosh and adidas Originals to join forces with HYKE in 2014.
The one-off Mackintosh collaboration yielded a workmanlike approach to reimagining the British heritage brand's signature outerwear, with HYKE serving up four muted, militaristic iterations of three classic coats for both men and women. Meanwhile, the adidas Originals partnership continued until Fall/Winter 2016, with each season gradually expanding HYKE's design ethos. A quick comparison of the first drop — minimalist Trefoil hoodies, army green pullovers and velcro-strapped adilette runners — to the final release — monochrome Seeulaters, faux croc skin adidas clutch bags, sporty capes and occasional snakeskin patterns — makes the evolution all the more dramatic. The success of these lines, as well as the continuing growth of the main line, helped Ode and Yoshihara win the 35th Mainichi Fashion Grand Prix in 2017.
Both the Mackintosh and adidas collaborations received global releases, but the reception was muted in comparison to HYKE's headline-stealing collaboration with The North Face. The collection debuted during HYKE's Spring/Summer 2018 runway, immediately establishing an ideal marriage of HYKE's minimalist taste with The North Face's utilitarian gear, informed by the Japanese label's desire to combine "the functionality of outdoor sports wear with the sensitivity of HYKE."
HYKE's preferred army green, black and white color palette returned for the collection, along with playful snakeskin patterns and signature garments, like the cropped Bolero Jacket and solid-color pullovers. With each collaborative release since that first joint effort, the duo have introduced small expansions to keep the line fresh — oversized pullovers, sock-like sneakers and even menswear — while retaining much of the same elements from past drops. However, The North Face Japan's complicated licensing prevents the collection from seeing worldwide release, despite the overwhelmingly positive international reception and the recent addition of menswear to the line.
To make a complex issue very simple: America's The North Face is a different company from Japan's The North Face. In 1978, outdoors company Goldwin began distributing The North Face in its native Japan, eventually purchasing the exclusive Japanese (and partial Asian) TNF license from the American branch. This exclusive license still remains in Goldwin's possession; thus, American The North Face products can't sold in Japan and Goldwin's The North Face goods can't be sold outside of the island nation. Since HYKE x The North Face is produced by Goldwin, that means that distribution will likely never expand beyond Asia, unless the Japanese The North Face strikes a deal with its American counterpart, as Goldwin recently did with THE NORTH FACE PURPLE LABEL.
Regardless of legal qualms, HYKE maintains a massive following in its native Japan, with a developing influence throughout Asia as Korean and Chinese retailers take note of the brand's adaptable designs. And more The North Face collections will only aid HYKE in increasing its global presence. Although the license quagmire will keep those collaborations from being sold overseas, HYKE could potentially bring its in-house creations abroad. If savvy Western retailers snap up the Japanese brand's minimalist wares, it may open the floodgates for future expansion — possibly even bending the rules for The North Face.
After six years back in fashion, Ode and Yoshihara remain unflinching in their dedication to realize the identity they established with the launch of HYKE. With no desire to cut corners (or prices) on its detail-oriented Japanese expertise, the designers are in no hurry to broaden its global footprint, or even create a proper menswear offering. Next up for the brand? Perhaps HYKE will finally open a Japanese flagship store, a hard-won focal point in service of clientele who appreciate the label's unwavering commitment to independence.
HYKE x The North Face Spring/Summer 2019 drops February 6 exclusively at The North Face Futakotamagawa and Isetan Shinjuku before hitting other Japanese TNF outposts on February 16.