NFL Star Stefon Diggs Talks Multidimensional Style & Special Edition adidas Maker's Lab Capsule
The Vikings' leading wide receiver co-designed five tracksuits that he'll wear before his upcoming games.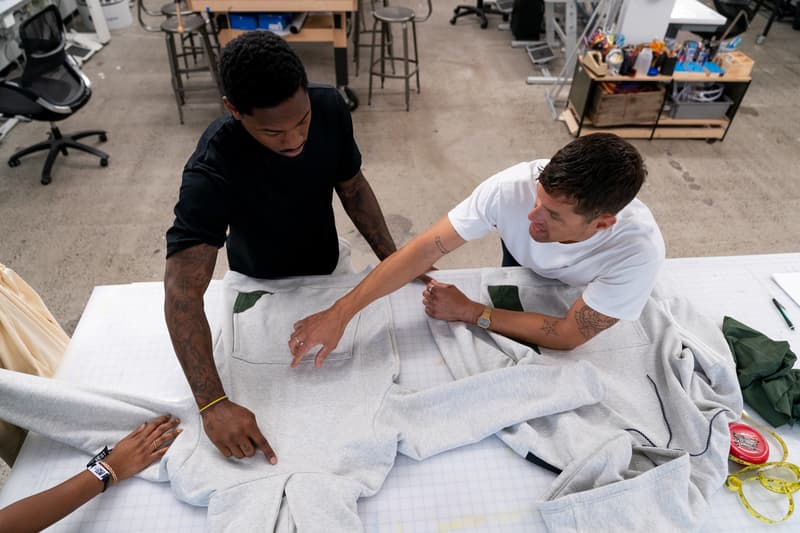 1 of 5
2 of 5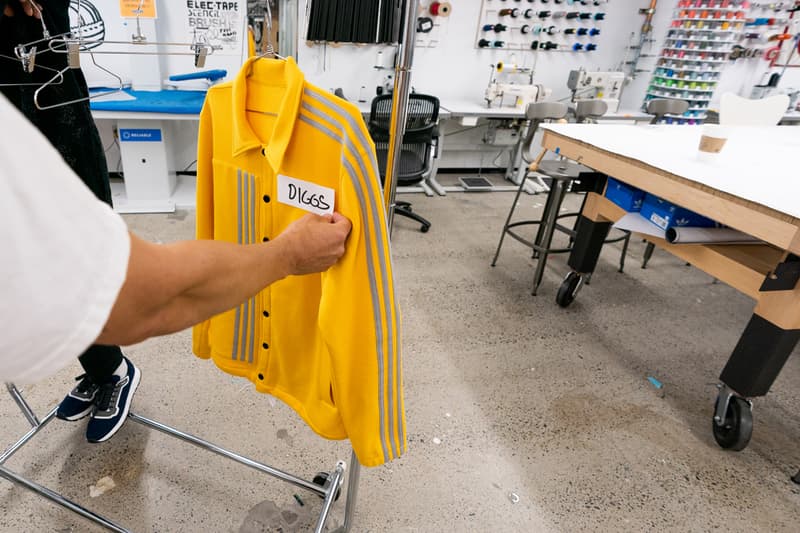 3 of 5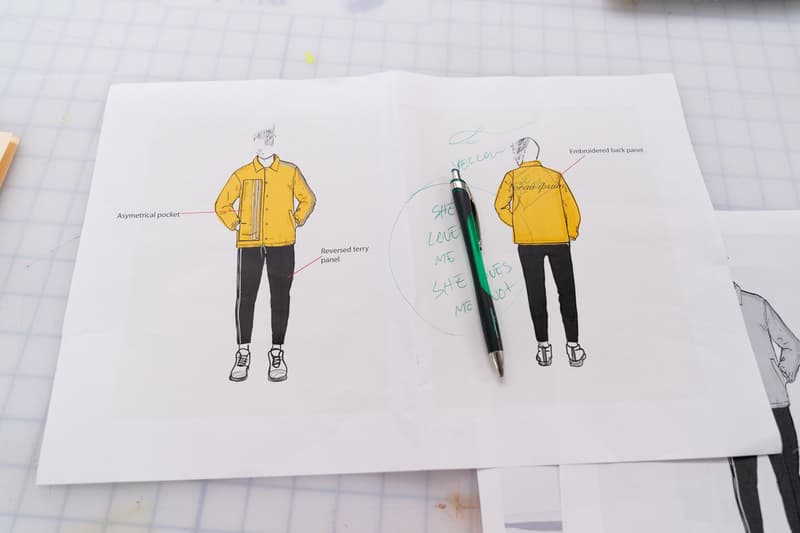 4 of 5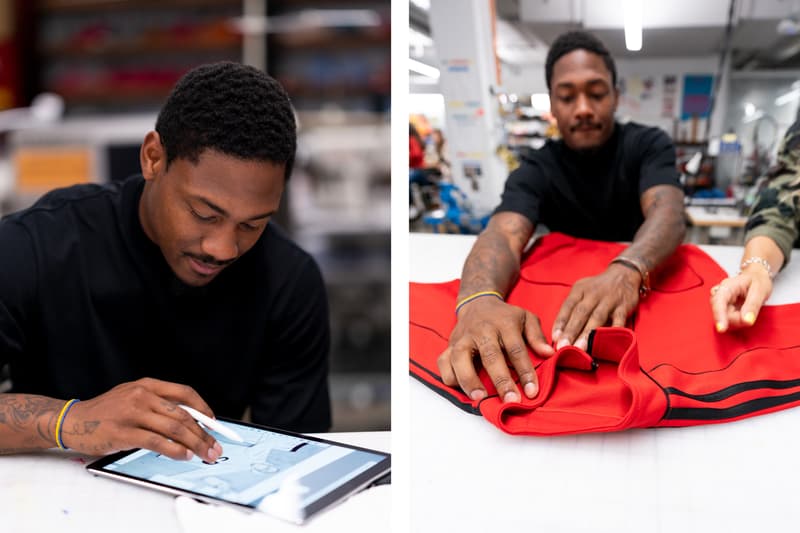 5 of 5
I first met Stefon Diggs at A Ma Maniere's BAPE x adidas launch event in Atlanta during the weekend of Super Bowl LIII. We were running around, interviewing various adidas ambassadors to get their take on the hyped camouflaged UltraBOOST that dropped that Saturday, and he was the only one that asked us to get on the mic — more often than not, it's the other way around.
Stefon walked in confidently, dressed exceptionally better than his cohorts, and immediately began offering his two cents on the sneaker. He was intrigued by the notion of collaboration, from the streetwear sense, and that elusive sweet spot where both brands "meet in the middle" and the resulting product melds both ethos into one cohesive design.
Now, 9 months, 38 receptions, 710 receiving yards and a 6-3 record later, the star Minnesota Vikings wide receiver is unveiling his first foray into the collaborative world with a collection of remastered adidas tracksuits. Diggs worked with a number of adidas designers through the brand's Maker's Lab program to recreate five "multidimensional" tracksuits that can be worn to the gym, to a tailgate party or out for a night on the town.
We had the chance to speak with Diggs about this capsule, what the process was like, what he hopes to tell the world with this project, and what he has planned next.
How would you define your style, off the field?
I would say that my off-field style is unique in the sense that I'm not driven by trends. I like what I like; various styles, brands, designers, and I can create a cohesive look, mixing and matching pieces that are often not typically put together. I love mixing various color palettes and prints.
Mainly, my style is driven by my singular approval. I don't seek validation or compliments from others. I wear what I wear as my form of individual expression and ultimately for me. My day-to-day looks are driven by how I feel in the moment, whether it's real snug and comfortable, or I want to dress up in a suit. It all depends on the moment, really. I would say my off-field style is "eclectic."
How does your off-field style relate to your on-field style of play, if at all?
One word: multidimensional. I am a multidimensional player on the field and that same style directly translates to my off-field style/fashion. I like to mix high-end with affordable pieces; mix various brands and designers; color palettes; prints; etc. I like to tweak and modify my style to adjust to the look I am going for, just like I like to tweak and adjust my route running to win games and make plays. It's all about adjusting and modifying with precision and strategy.
What made you say, "Yeah, I want to recreate some adidas tracksuits"?
I love a classic tracksuit. I love the comfort and reliability that the tracksuit represents, but I also never miss the opportunity to style or enhance a look that is considered informal. I loved the idea of elevating the "every day or classic" tracksuit with new design elements that spoke to who I am as a person.
I have always been a fan of the adidas tracksuits, because they are timeless. As part of this process, I got to see the evolution of the adidas tracksuit from past to present day. This collaboration offered the opportunity to put my twist on a timeless look. The tracksuits we created can easily be a day look that transitions into night, perhaps tweaking the look with an accessory or the right pair of shoes. The suits themselves are multidimensional and I love that.
What makes these tracksuits like no other tracksuit before?
I would say that these tracksuits have range; you can't box these tracksuits into strictly an athletic category. The suits have a range that goes beyond the traditional tracksuit. Like I mentioned, you could easily start your day in the suit and go into your evening, without feeling underdressed.
One of the coolest parts of this experience was working with the various designers in the adidas Maker's Lab. I had a different vibe going with each designer and our combined perspective yielded a unique design for each suit. I really enjoyed it. I have so much respect for the designers and the creative process.
What's your goal for this collection of suits, or rather, what do you want to tell the world with these tracksuits?
I want to tell the world to take chances and express yourself individually, how you see fit. Be sure to incorporate your personality and what makes you unique when choosing your fit. I love planning my fits, for game day or any day. It's a creative process with myself and it's allowed me to get to know myself on a different level. There's no wrong style, and more importantly, there's no style like yours, so make sure to show it!
Favorite part about this process and why?
I loved the brainstorming and conceptualizing portion. We put together vision boards and other visual elements to derive the game plan for the suit design. We created a playbook essentially, and I loved that part. I also loved soaking in the expertise of these designers. I am very precise as to what looks good on me and what I like and the adidas designers made me feel comfortable in sharing that, as well as pushing me to think outside my lens.
Hardest part about this process and why?
The hardest part was having so many ideas and design concepts that I liked but focusing on streamlining the design to create a cohesive look. Designing requires focus, and it pushes you to trust your gut.
You worked with a number of different designers for these various suits, talk about that a bit: who they were, what did you learn from them?
Shout out to my adidas designer dream team: Lars, Kate, German, and Meg! I learned so much from them, but mostly, they each helped to adjust my lens to see beyond what the common eye sees. They also taught me to anticipate the impact one small change can have on the overall design. They each truly have a gift and talent that is individual to them; I can certainly identify with that. It's always a great experience to work with people who are passionate about their craft, that's when you learn the most.
What do you want to create next with adidas, or more broadly, in fashion?
Next with adidas, I would love to branch into shoes and more lifestyle apparel. This experience certainly sparked the desire to design more. As far as fashion, I am open to designing it all.
---
Stefon Diggs has already begun showing off these collaborative tracksuits while warming up before his weekly games. You can see him again this Sunday evening, when the Vikings take the Dallas Cowboys.