Khalid Doesn't Believe in Forcing Creativity
We spoke with the R&B superstar at 2019's JBL Fest.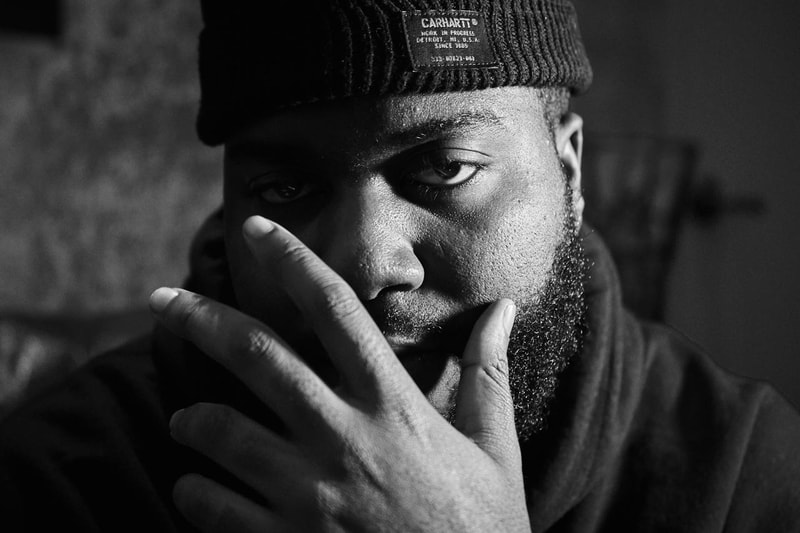 At just 21, Khalid has become the face of the new wave of R&B, harnessing the globe around his nostalgia-infused tunes that reenvision the '80s and '90s sounds he grew up with. In 2017, the then-19-year-old released his American Teen album, which explored the ecstasy and agony of teenage life in America. The record was later nominated at the Grammys for Best Urban Contemporary Album as well as Best R&B song for the album's lead single "Location."
Just two years later, Khalid followed the effort with his sophomore project Free Spirit, which similarly used growing pains and teenage angst as inspiration and went on to debut at the No.1 spot on the Billboard 200. He has since been on a world tour, becoming the most globally streamed artist on Spotify, further releasing a variety of pop-centric hits such as last week's "Trigger" with Major Lazer for the forthcoming game, Death Stranding.
Earlier this month, the contemporary R&B star took his eclectic sound to Las Vegas for 2019's JBL Fest. Despite suffering from what he jokingly described as "sleep paralysis" caused by his first world tour, Khalid nonetheless delivered an energetic performance. HYPEBEAST sat down with the artist to discuss his inspirations, his love of nostalgic R&B and more.
What inspires you and drives you creatively?
In terms of music, I feel like I'm super inspired by folk music. I love Fleetwood Mac, they definitely are a form of inspiration that I tie back into when I'm writing and when I'm making melodies. I love '90s R&B music, I love Aaliyah. I'm a big fan of Frank Ocean, I grew up on Frank. I can't say my inspiration stems from just one artist alone, day-to-day I'm just listening to new things and always kind of refreshing my palette for music from what I hear. Recently I've been inspired by an acoustic, like doom artist named Chelsea Wolfe. She's super cool, her chords are very dark and I'm very into that right now.
How about people close to you, like family and friends?
My mom has always been a huge inspiration to me, she sings as well so growing up and listening to her in my household, a voice like hers was very beneficial because it allowed me to realize at a young age that I wanted to pursue music, something I wanted to be involved within no matter what aspect for a career.
How do those influences reinforce your sound?
I love synths, they bring the perfect sense of nostalgia from the '80s and '90s, which I classify as the some of the best times to be alive musically, kind of the peak of music individuality. From melodies to expressing oneself, I feel like the '80s just had the best music about living. The most influential songs for me definitely stem from the '80s, and the '90s was similar, it was just so cool. Even today I feel like there are so many artists trying to tap back into that sound or that influence that the '90s brought. I feel like "Talk" is the perfect centerpiece for that and for those inspirations. It's the perfect love song for me, and to me that's what the '90s were about, making love and being in love, which is what I'm very into.
What's your love for cars in that regard? You always have some retro vintage car within your videos, and even on your latest album cover.
I feel like cars are just a musical safe haven (laughs). I think that cars are the best place to listen to music. When you're driving and with your friends and just listening to music, whatever it is, I feel like a car is just what drives me in both ways, I feel like sitting in a car is one of the best feelings. It's personal but not personal because you're on this road with thousands of people you'll never see, but at the same time you have your favorite song or playlist and you listen to that alone.
What inspires your songwriting? How do you go about your creative process?
I allow myself to realize that when it comes, it comes. I don't think I'll ever force creativity. What's creative about forcing yourself to write about something? I feel like the best creativity comes out of the blue, like when I sit down and something brushes my ear and makes me feel a certain type of way. It'll make me want to write a song, and I feel like I'll enjoy more and have fun with it than if I had a set objective, if I had to do something on this day at this time. That reminds me of homework (laughs). I'm a grown-ass man, I don't need to do any more homework in life.
The moment that your job becomes homework, that's the moment that you don't really love it. So I only make music when I'm feeling it, if not, nothing will get created. I feel like I'm one of the laziest songwriters because I'd rather spend time eating doughnuts and riding ATVs than writing songs, but when I'm writing a song it's because it's something I feel inside of me.
What do you think is the importance of taking risks within your art?
Super important, Free Spirit is the biggest risk I've ever taken. It's like I curated my own personal playlist of myself, of things that inspired me and things I wanted to share with the world. I was 18, 19 years old, straight out of high school. There are so many risks that come with that because like, are people going to accept me as an artist? Is it gonna work, is it not? I had no clue what I was gonna do, I didn't apply to college or anything like that, so I was kind of like this is it, and that was the biggest risk, it opened the door for me to be like, "Okay, now I'm very secure with where I am as an artist, so I can do whatever the f*ck I want."
How does partnering with JBL help in furthering your own career goals?
For me the perfect partner. Something that you use on a day to day basis, and JBL is definitely embedded in my life, everyone around me has and uses JBL for the past few years I've been around music and its definitely awesome when like your favorite speaker comes together with the speakers you use. Naturally, I'll record a snippet and then I'll use a speaker to show it off, and JBL was always that speaker I used. If that's something you use on a day to day basis and you turn on your JBL speaker, it's authentic, and that's something as a musician I appreciate like being authentic and being real. In real life I would wake up and turn on my speaker and it just so happened to be JBL and now I'm collaborating with JBL and working with them, so like I said it just makes it more genuine and more authentic.