Starbucks Japan Readies Nutty White Chocolate Frappuccino for Christmas
Sweet holiday concoctions.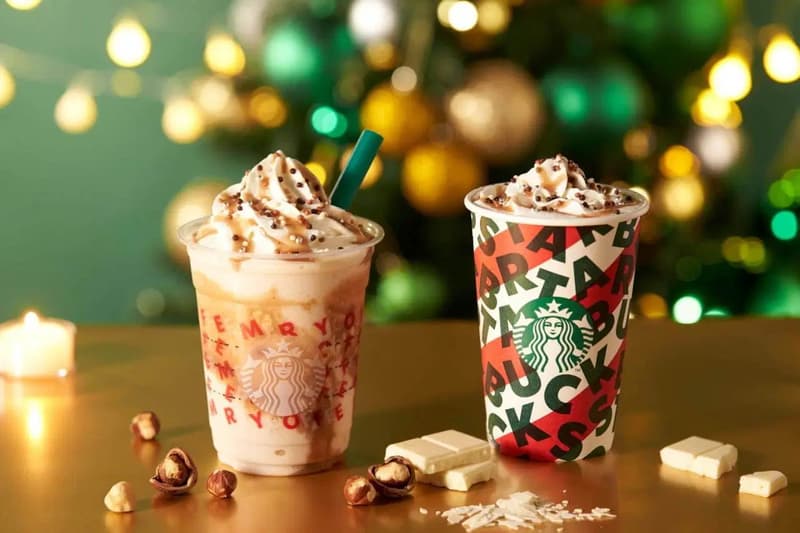 After unveiling its exclusive Kyoto and Hyogo Frappuccinos, Starbucks Japan has announced a new set of holiday beverages for Christmas — the Nutty White Chocolate Frappuccino and Nutty White Mocha.
First up is the Nutty White Chocolate Frappuccino, a sweet concoction of milky white chocolate, hazelnuts, roasted walnuts and crunchy shortbread. All of these ingredients come together for a delightful textural contrast, while its bold colors reflect the buoyant spirit of the festive season. The Nutty White Mocha is the Frappuccino's more chocolaty counterpart. The beverage is packed with rich white chocolate flavors, complemented by hazelnut sauce and espresso to balance out the sweetness. Each drink is topped with three distinctively colored chocolate dragées and, according to Starbucks, reflects that special "moment" during the holiday when Christmas tree lights are first flicked on. Completing the festive theme, the swirling whipped cream represents the shape of the tree that the lights hang off of.
Both the Nutty White Chocolate Frappuccino and Nutty White Mocha will be available at Starbucks locations across Japan from November 22 to Christmas Day. The Nutty White Chocolate Frappuccino will only be released in tall sizes, while the Nutty White Mocha will be available in Short – Venti, ranging between $5 – $6 USD.
Elsewhere, A.P.C. will open a pop-up coffee shop, serving a custom coffee blend.
11/22(金)から『#ナッティホワイトチョコレートフラペチーノ®/#ナッティホワイトモカ』が新登場?✨
ミルキーなホワイトチョコレートに香ばしいヘーゼルナッツを合わせた、やさしい味わいのビバレッジです☺️ https://t.co/0vGroDidEr pic.twitter.com/moGZ52Ojpu

— スターバックス コーヒー (@Starbucks_J) November 14, 2019