JR's 'Tehachapi' Mural Installation Gives a Voice to Former & Current Inmates
The monumental work only be viewed from above the California Correctional Institution.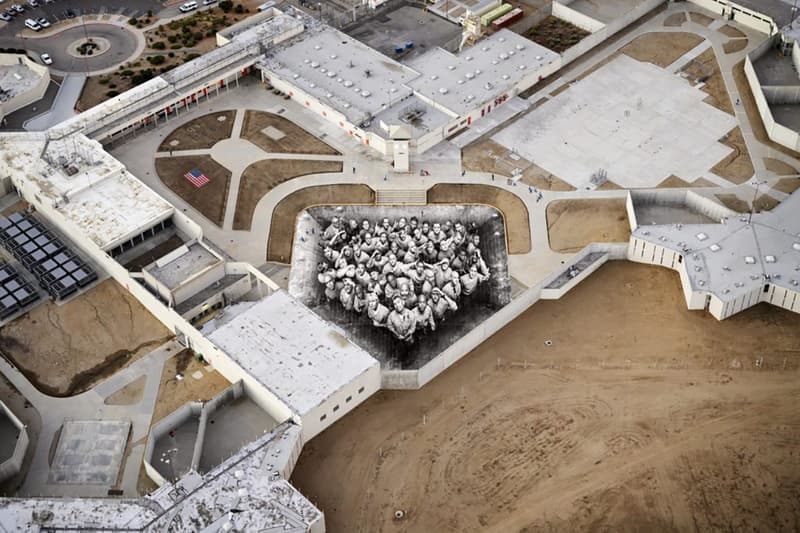 French artist JR is telling the story of inmates at California Correctional Institution with Tehachapi, a one-of-a-kind art activation installed in the maximum security 4 facility's recreation space.
Named after the prison's town just two hours north of Los Angeles, Tehachapi was created with 338 strips of paper and captures the portraits and tales of CCI's formerly incarcerated citizens, current inmates that are focused on rehabilitation and a number of prison staff — all of whom helped JR's team in wheat pasting the work on the walls. The composited collage features 48 people looking upward and can only be seen either from above or via the artist's custom app, JR:murals, allowing viewers to listen to each inmate tell their story by tapping on them in the digitized picture.
According to JR, the idea of bringing his installation to a California correctional facility was brought up by a friend earlier this Fall. "A friend of mine asked me if I wanted to do something at this prison," the artist explained to Artnet News, noting that the "inmates were incarcerated when they were kids—14,15" and will be in there "for life." He adds, "Most of them haven't killed anybody, they're there because they had three strikes. I steal your phone, I steal your car and one felony, and I get life. Now they've changed that law, but those guys are still stuck in there."
JR continues to say that Tehachapi gave a voice to the inmates locked in the system. "Who are the kinds of people who are in there?" he asked rhetorically. "I don't make any judgments. I just listen to their story. Some spoke for 10 minutes, some spoke for 35. It was difficult but we met amazing people."
Elsewhere in art, E806T has crafted an ice iteration of the 'HYPEBEAST Magazine Issue 27: The Kinship Issue.'