The Evolution of Utility & Travel: A Conversation With Herschel Supply Co. on Its Latest WTAPS Collaboration
Lyndon Cormack and Jon Warren on overlooked details, their approach to collaborations and more.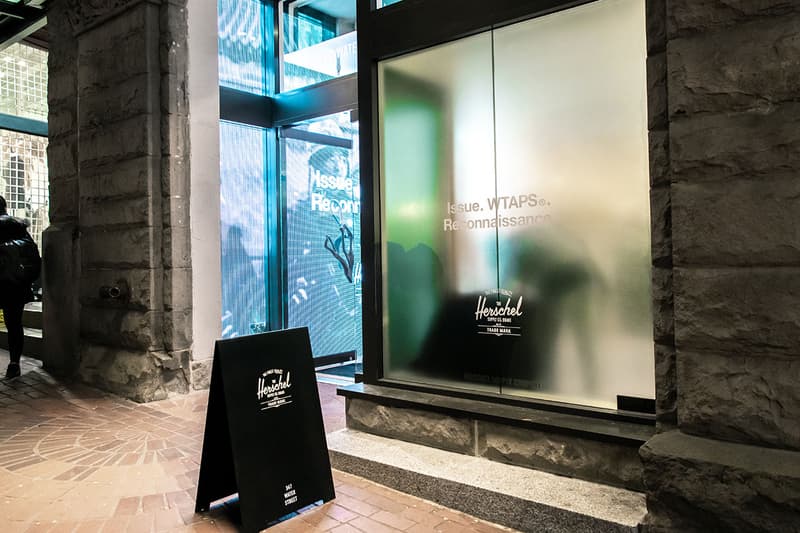 1 of 4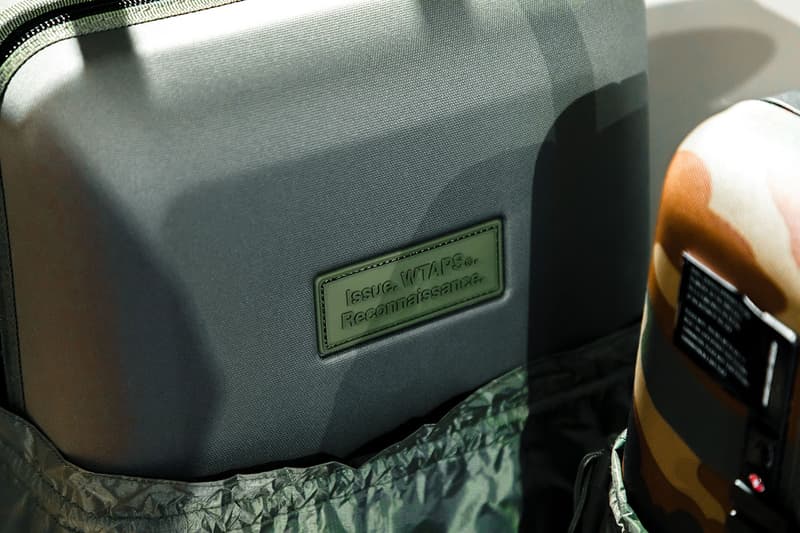 2 of 4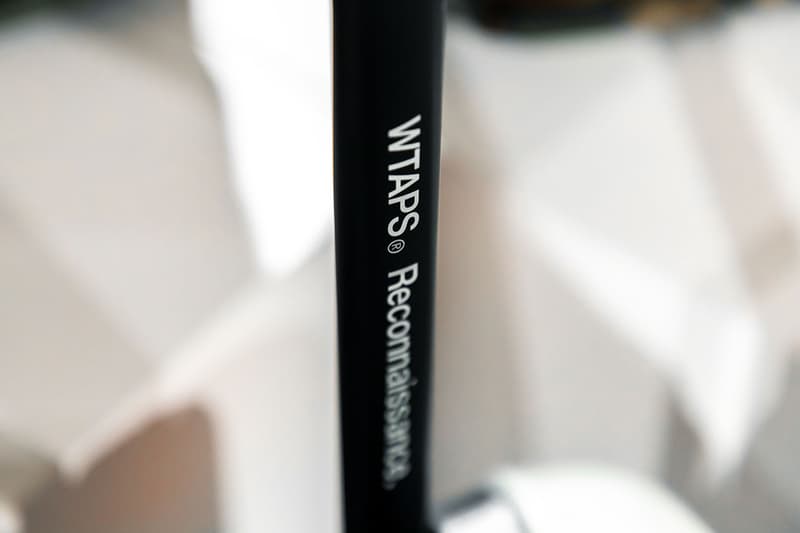 3 of 4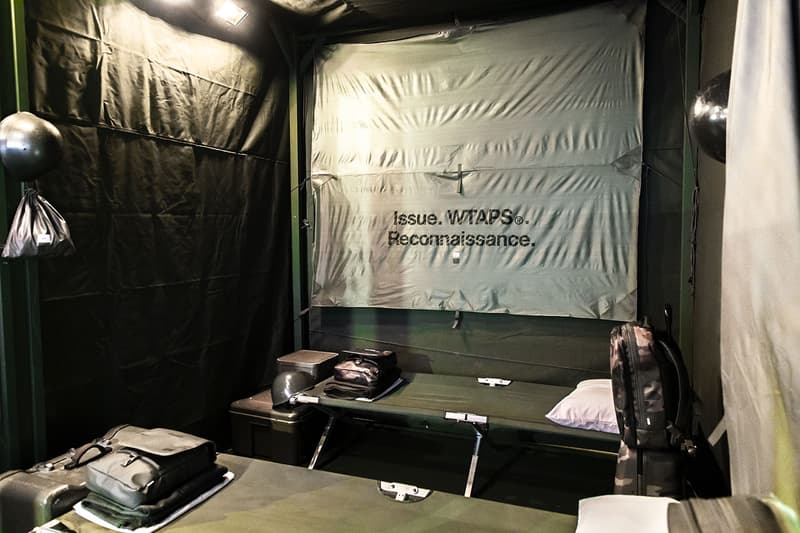 4 of 4
For almost 10 years now, Herschel Supply Co. has established itself as a staple brand for those looking to travel with style and utility. The Vancouver-based brand, created by Jamie and Lyndon Cormack, boasts countless collaborations as well as a variety of products that range from travel accessories to apparel and footwear. Some recent collaborative highlights include projects with KAWS, Joshua Vides and Sankuanz as well as G-SHOCK, which shows an impressive ability to approach new categories of products.
Its latest addition to a long string of collaborations throughout the years comes in the form of a second WTAPS project, which builds upon the first by adding luggage pieces for an all-encompassing range. We took the opportunity to speak to Lyndon Cormack and Jon Warren (VP of Product Design), where we picked their brains on how they approached this collaboration as well as how they see the evolution of travel.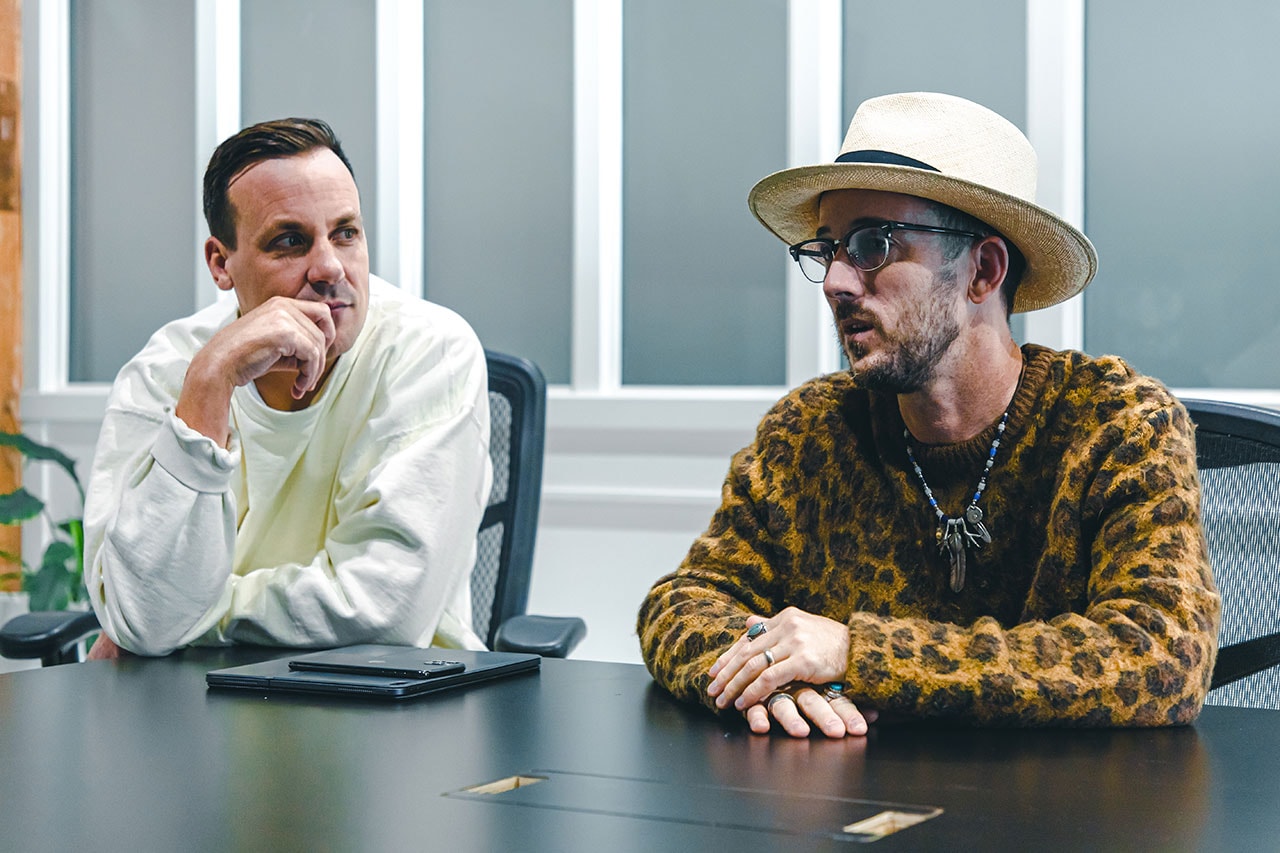 "We take our twist on it because the world doesn't need more product."
You're approaching 10 years now with Herschel. How have things changed across the years?
Lyndon: Everything has changed and it's a little surreal. The idea of bringing a brand to market, as any sort of entrepreneur would know from the get-go, it's full of a lot of emotions: like are people going to like what we create? When you're creating something from scratch it's like trying to make sure you have the right ingredients for ultimately delivering something that you're proud of, and then the market responds in a positive way. So once you pass that hurdle of "let's give this a try. Let's bring an idea to life that didn't exist before," and then it works, you sort of start to gain confidence in "know-how." In our case, it isn't that everything works all the time. It's always a case year after year that some things work really well, some do pretty well and some we probably need to rethink. I think that's been our stake at it since the beginning. We had some really good success and we had some things, to be honest, that just didn't work at all. You just sort of work with the momentum and you end up 10 years later a hell of a lot older and a hell of a lot smarter, with this great support network and team that continually bring ideas to life.
So to answer your question in short, it's what we like the most and what we enjoy the most. Whether it's Jon or myself, or Jamie, my brother, we have a platform that can bring any idea to life, and we now have a team that has this curation of ideas and what we do every single day is bring them to life. We've never had as many tools at our disposal. We've learned a lot over the last 10 years. It's pretty phenomenal and we look forward to applying all of our collected knowledge to make the next 10 years a hell of a lot better than the first.
The brand has kind of expanded from accessories to more apparel now. How did that evolution come?
L: I think that we always wanted to be a brand that certainly had a point of view on style and it's not an in-your-face style, it's sort of this celebration of a nostalgic or classic style, but with a modern twist. We always thought from the beginning that this sort of style could be applied to categories beyond bags, although the thing we started making first was bags. We always sort of had a point of view that lent itself to a lot more beyond that — apparel, travel items or even a take on what interior design spaces look like — and I think that the answer breaks off into a few parts. We have never been more serious about making the best bags people can carry. We've never been more serious about learning how to manufacture things better, how to be more efficient and how to celebrate that category because it's what got us started, so the focus for us is very much on bags. Depending on who the end consumer is and how they use their product really differentiates in maybe their perception of Herschel, but I would have to say that the vast majority of the people who have bought our products over the last 10 years have brought us on trips. We've always been traveling and exploring with people in a very human, non-pretentious way, sort of exploring the world.
We sort of say travel is not a suitcase: travel is somewhere we're going. Many people associate travel with a suitcase, so we've started to take this suitcase market really seriously because we think that it's sort of the gateway to your next vacation or the next place you're going to explore. Then you know things that we naturally bring on trips with us and what we pack for the road. We want to make sure that we have that stance and apparel while making sure we can attach our DNA to a bunch of different categories.
Jon: I think that strictly from a design perspective, we grew up in a time when people didn't make the product that we wanted. Skate brands really didn't exist and so for us, it's kind of this exploration of like, "Wouldn't it be cool if tried this?" We learned how to screen print on our own, we never really waited around for people to teach us what to do so we kind of just did it ourselves. I remember Jamie, Lyndon and I were out in front of a hotel and this family rolled up and they opened up the trunk of their car and things were just everywhere man. It was just such a bad experience, and we watched them bumble their way into a hotel. Then the next family pulled up and it was like this cute little Japanese family. The trunk pops open, luggage comes out, the backpack goes on the trolley strap, and they smoothly walk in. I think a lot of times, just seeing that was the birth of us getting into luggage because we were like, "Hey, if we could educate people on how to do that, that's an unlock of what we could do better."
We take our twist on it because the world doesn't need more product, you know what I mean? What the world wants right now is perspective and I think what we do really well is we give our perspective on what we think bags, luggage, travel and apparel would be through our lens. When we say "classic with a modern twist," it's like, I'd like to look back over the next 10 to 15 years and pull out a jacket or a backpack and be like, "Oh this is still trending." I think a real cool design philosophy would be about making things that can stand the test of time and creating something that can be passed down from generation to generation. This is an important thing for us to have — that sense of timelessness.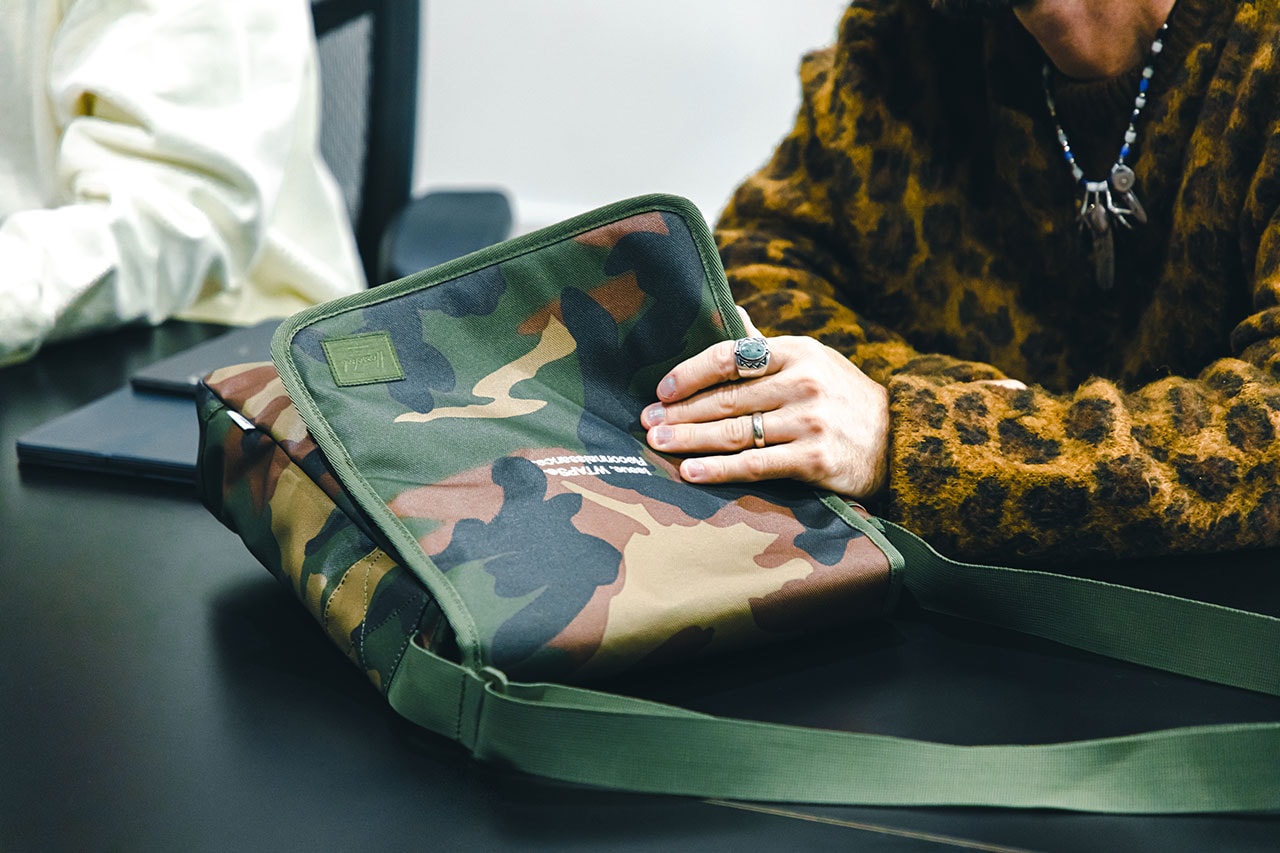 "It's probably for good reason because sometimes things don't change that much since they got it right in the beginning."
You've seen the evolution of travel accessories, I think one of the biggest would be the shift from two wheels to four wheels on a suitcase. Do you think that travel accessories can evolve even further than that?
L: Of course. I think that with how people travel, every industry is going to have its own byproduct so potentially the carry-on luggage and the success of the carry-on luggage is really a byproduct of airline rules. They want you to put things down in the belly of the plane. So what are you going to bring on with you? As soon as you have these moments of time or rules where people are doing things differently or when companies that are the biggest behemoths in the world are doing things differently, obviously you're going to feel change. There's probably a lot of complicated things that could happen to luggage that could make them a little smarter for people that are living in smaller spaces, which generally everyone is now. People are living in smaller spaces so maybe it's dual purpose or something that could easily be tucked away. The thing about luggage, in general, is that you use it, and then you don't use it anymore. Like, it just sits there, and it's kind of big. But is there a way that you actually use it in your regular life?
Yeah like my suitcase is always just space wasted when I'm not traveling.
L: The reality is how can we look at the space? We probably don't have the time in the day to talk about all the geeky ideas about luggage. The reality is that it hasn't changed that much. And it's probably for good reason because sometimes things don't change that much since they got it right in the beginning.
The biggest difference I saw was two wheels to four wheels throughout the years. Trying to think beyond that is quite difficult for me to imagine.
J: I think that right now we have a luggage tag that could actually, instead of having to write your name down, you get a photo on your phone, and the luggage tag will say, "take a photo of me if you're missing," and then you could actually send people text messages and emails. I think that as technology advances, we'll advance in the way that we travel. Based on what Lyndon was saying about the carry-on, it's like all of a sudden carry-on became very critical, but as planes evolve and people change, we'll evolve with it. Maybe you could rent it, you could loan it and store it somewhere else. I mean with the idea of Uber, door deliveries and all that stuff is that you really don't know what the future is. I think as we kind of look out on it, we are open to those changes because, I mean, I'm on a plane probably like once every other week. You're probably on a plane probably more than I am. Travel is a big part of our ethos because we're on planes all the time.
L: Well I think that the idea that luggage is the new handbag is important. There's been a disconnect. I think that with Jon's example, with Japan or Hong Kong, I think there's a natural way that Hong Kongers, Japanese and others, certainly travel a little bit better and I think they care a little bit more about getting to the airport. I think that they celebrate the actual journey of travel just as much as they celebrate the destination of where they're going. As you're rolling through an airport, there's still a big disconnect on what people are wearing on their feet, what people are carrying for their bags, how considered they are in relation to what they're wearing versus what they're ultimately carrying. And because there's a big disconnect, you just go and fix it. It's really easy. It's like someone driving who looks like he should be driving a Toyota Prius, but he's driving an F1540 or something like that, and that just doesn't make any sense. It's the same thing that I see every single bloody day of my life.
There's a lot of cool things that are going to come out of the category and travels. I would say that travel, in general, is the most exciting thing in the world right now and it's potentially the most boring industry ever. So let's just go put a heartbeat into it and spice it up. That's what we're going to do and we're going to do it in our classic way. You know a lot of brands try to get into people's faces whereas we kind of take a little more reserved approach to things by just being subtle and being human and not being pretentious about it, but we're going to be doing it in a really special way. We got a lot of work to do and a lot of exciting things to talk about.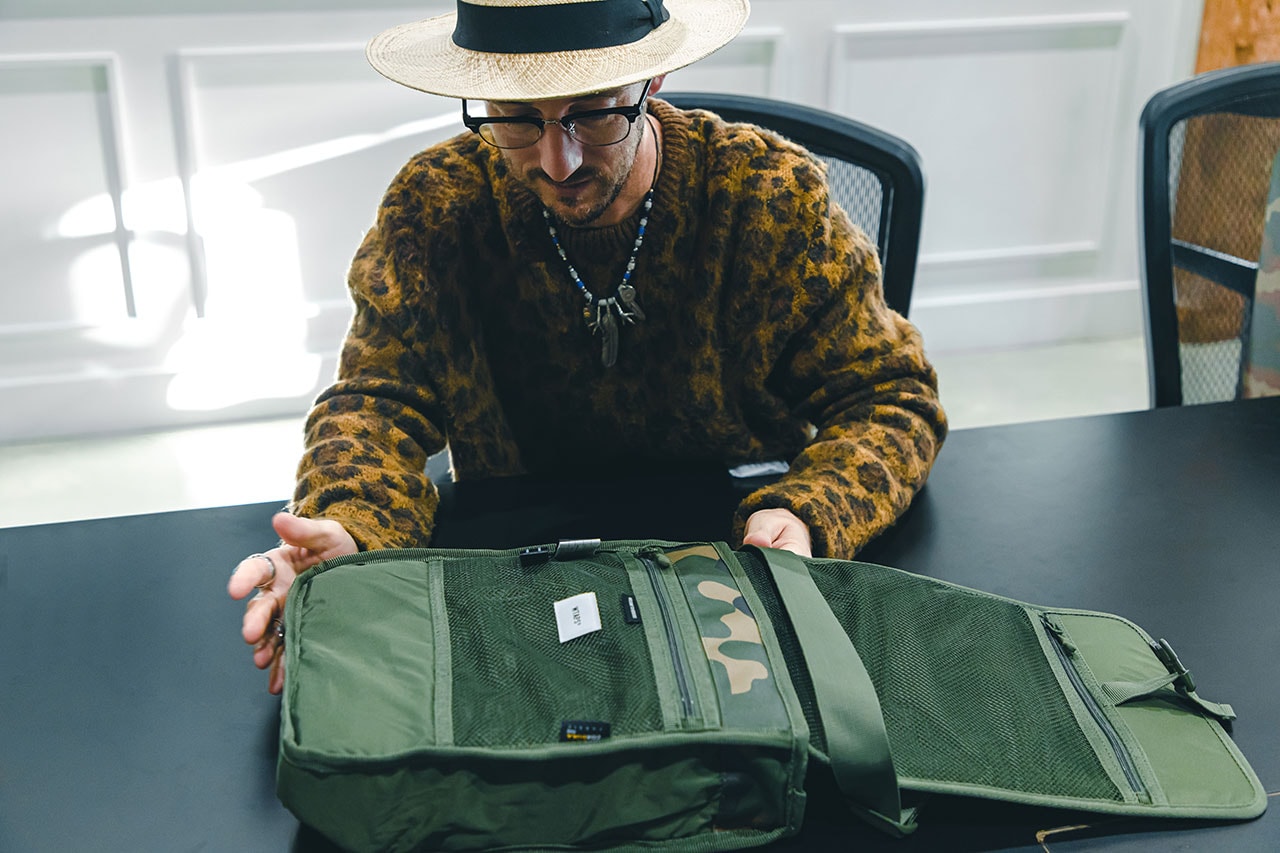 "Sometimes it's important to get down to the function first, and then make it technically look as pleasing."
So this WTAPS collaboration is the second one, how did it evolve from the first?
J: The whole concept of reconnaissance was the idea of doing recon somewhere else — that's the concept that Tetsu had for us. Those guys were coming over here to kind of do "reconnaissance" and work out a project with us. The first one was like bags. The second one, we were like "hey, what would it be like if WTAPS traveled." We wanted to really push our process of developing a new luggage — like half hard shell and half soft case — and we really wanted to push what we could do with it, whether that's the way you could put technology into it, the way the bag rolls, the way they stack up or the shapes we were working on: we really just wanted to do something different. You know working with Testu, whose attention to detail is like second to none, it's always one of the cool ways to push the brand forward. We have a relationship that goes back almost 15 years now so it's comfortable and we can have all the honest conversations about what we can and can't do, but really what we wanted to do was like, "What would it look like if WTAPS actually did luggage?"
Because there's so much attention to detail, I think it'd be interesting to explain a bit more about some of those things that people overlook in the designs you guys put in.
L: Well I think Jon can probably talk more about this better than myself, but with product in general, I think that we're simple on purpose. We're not luxury on purpose. We are design driven, not designer, on purpose. You know that bag over there, it's one of the first prototype Herschel bags. It's like the same bags we make today, except I just put a few patches on it or whatever. But I think that the timeless nature of little things is important, like when you see your first Herschel bag and you open it and go, "Oh cool, this is interesting." So then you stick to simplicity and you know the world's pretty loud — I think having some balancing point in there is good if we can help balance that out.
J: This is something that Tetsu and I really bonded over, but when we were kids, we didn't really have a lot of money so we'd go to army surplus stores. We would go there because we'd be blowing through our clothes and shoes with skateboarding. What the military does really well is they mass produce goods that work in the field. With the concept of actually problem solving through use on a mass scale, you quickly solve a lot of problems that you would with clothing, bags or any kind of thing that the military deals with because you would have to make it inexpensive while making it so that it can be manufactured anywhere with quick turn around. When we would get that stuff, that's really where we all became a bit obsessed with gear — you would get something and you'd be like, "Oh sh*t, triple reinforced. There's like a tack stitch there, why is that there? Okay that's like integral to the strength." So when you go through the bags, it's like this is actually a Cordura that's has a mil-spec — that means that the fabric was actually dyed through as opposed to just being painted over. The grosgrain is actually like a nice nylon material. The Siberian clips that we're using are all military spec so even when you release them, the whole use here is like single handle right? Those are the nice little details that we wanted to make sure worked, whether it was the mesh, the coating or the way the zipper pulls kind of interweaved.
It seems simple, but each one of these pockets was thought through. So like over here, we got the neoprene backing, and if you do put in some soft goods, it's protected. When you pull this open, it's got something for your iPad. When you turn these bags inside-out, which is kind of like super design nerdy stuff, but you know it's like everything that we do has been thoroughly designed so that there's no free stitch and there's no seam that could tear. The goal behind this is to actually create quality products that not only function but will stand the test of time. It's quite hard to hit that type of quality while ensuring you can produce it in a scale that rolls out. You know I think that with Tetsu's crew, these are the weird things that were like, "Oh okay, let's turn this inside out" and "Let's make sure everything fits." Everything has a dual feature so that you have maximum storage. I think for us those are just really important details. When we set out to do something, we stay true to the objective of the design. For me, having a guy like Tetsu take his brand and combine our brand, it's not only an honor, but I want to make sure that it's enough.
I always think with travel accessories, the details are sometimes the most overlooked things.
L: For us, it's like when you see the luggage, we have this rad approach: it's like this idea of when you're at the airport, everything lines up. We wanted to go out of our way to make sure everything is completely enough. It's like the zippers perfectly align. I know it's small little things, but it's making sure that all of these things work. It's like when you pull the top handle, you have this cool little padding detail with the triple-reinforced bar. This is like a neoprene feel right there. You know you've got your hidden sunglass pocket or passport pocket at the back that's got the fleece lining so you can drop your shades in. Even for the trolley strap, if you don't want it to be a trolley strap, it becomes a stash pocket so you could put a magazine or whatever else you want to put in there. The adjustable sternum strap and all this stuff is like outdoor-inspired which is super cool you know. And if you're tall or short, or muscular, you can adjust that. Even stuff like this: we do these elastic bands so that the straps don't hang. We really wanted to try to think through all the design solutions. You've got your adjustments here so it doesn't flap open. You have your basic laptop sleeve, your organizer, etc. So for instance, you could travel for three days and have like over 70 liters worth of stuff. Same thing here with the neoprene backing: you get the same kind of thing you get from the other.
I think that one thing about Herschel in general as well is even though nobody is probably going to get that whole sales pitch in a retail store or online, the reality is that when people start using the product they discover these things along the way. I think that those are all kind of genuine discoveries, whether it's if you buy it just because it says "WTAPS" and its limited, but then you actually start using it and you're like "this actually works really well." We make functional products. For example, I know shoes function to cover your feet, but we actually make things that you have to really use. Sometimes it's important to get down to the function first, and then make it technically look as pleasing.
J: Yeah I mean like even when you open it up, it's got like fresh lining and internal pockets. Ideally, all of this is made up of ballistic Cordura, so you're getting like all the premium quality that you would in a mil-spec bag, but we wanted to do something more that was like you know, if you're doing a short weekend trip, this is like the perfect little go-to thing. The military is the first part of it, but really it's more about the details you know? It's just doing stuff that we haven't seen before. We're doing our version of the rubber because after a while you want it to be bomb-proof, so we make sure that our logos are rubber as opposed to woven labels so it ages well. At the end of the day, we really want to get down and make the best stuff that we possibly can. Sometimes collaborations allow you to push your brand to do things that you couldn't do before based on the fact that every brand has its "thing."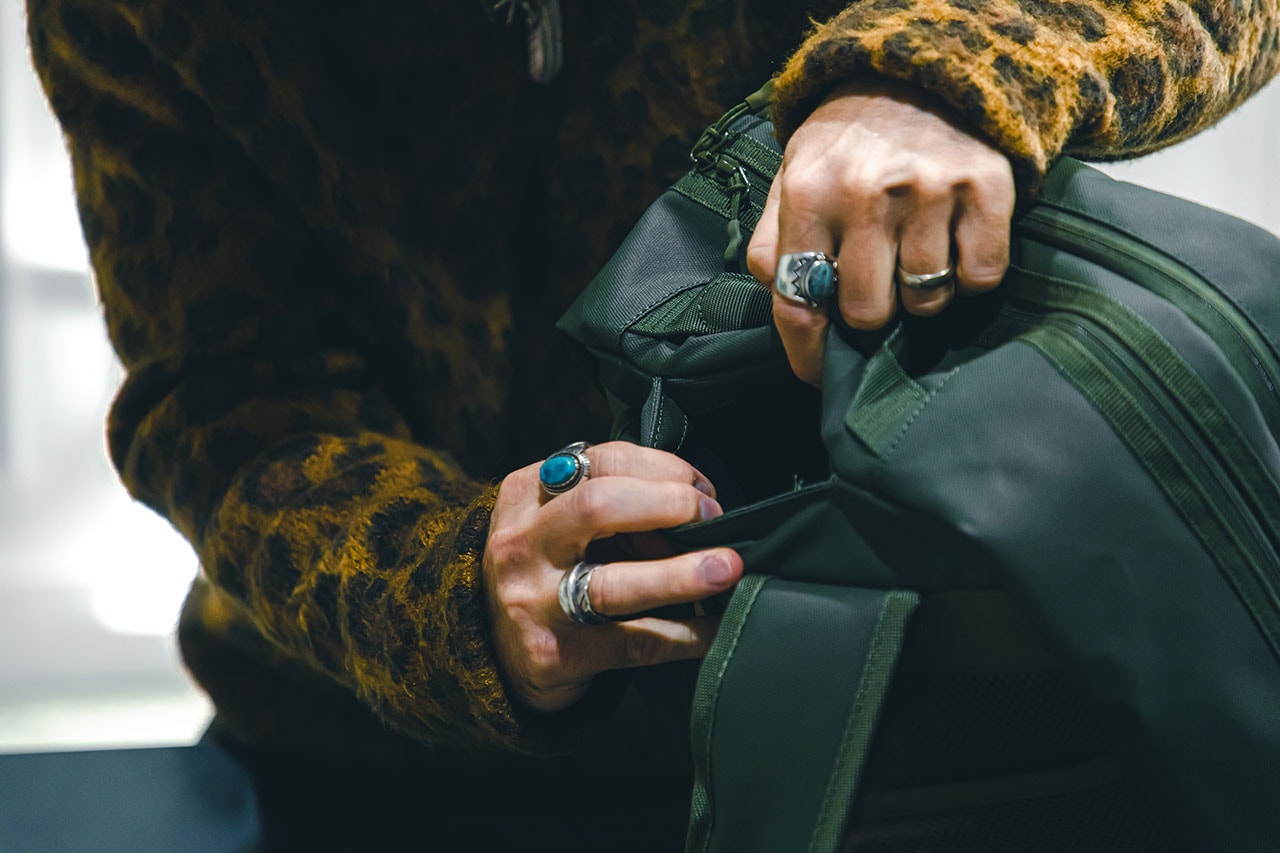 "It's not exclusive, it's inclusive and there's a beauty to that because it's difficult to do."
Like as you were saying about collaborations, they are kind of a big part of what you guys do. Do you think nowadays it's difficult to push non-collaboration items?
L: No. I don't think so at all. I think from the core of our brand being so classic, sometimes people don't want the fuss. Generally speaking, as much as we go into collaborations, the product is still very simple in most of our executions, but I think that our core customers crave simplicity and celebrates minimalism and eclecticism. For example, they might want the craziest sneaker that just dropped but their whole kit doesn't have to be crazy. I think there are times to turn things up and time to turn things down, so if we could be a part of the outfit or part of the day, we're happy.
J: I think it's like, a white T-shirt's a white T-shirt, but when you get really into it, we all have the brand of white T-shirts that we like, but there's a beauty of like having that kind of blank palette. I think a lot of time with backpacks, it's about utility and it's about functionality and depending on the person that uses the product, they kind of make it theirs. Like with footwear and certain fashion items it says a lot about you and your style. For a backpack though, I can give each one of us in the room one bag and we'd all wear it different, carry it different, and it would have a different meaning based on the way that you were dressed, so I think there's something really unique about making bags because it's like the wearer has more control of what it is than the reverse.
I think sometimes with sneakers, for example, if someone walks in with a pair of Off-White™ shoes, it's like you're already kind of mentally going down what they're already into. Whereas if someone walks in wearing a backpack, you either are like, "Oh that's like really cool" or "That's not right for me," but you're not trying to put them in a bucket. Does that make sense? You can have a little bit of a different perspective on that kind of thing. So I think with bags, we're trying to set out and be a brand that does like footwear-type projects in a backpack company, which most brands don't usually do, which is interesting right? It's like our background is all footwear, and it's like we all come from that so I think we use collaborations as a way to really work with some of our friends to do something different with the brand, but at the end of the day, we really just like making products, so for us this is just a way for us to do new things and bring interest to the brand, but it's not something that we rely on.
As we're approaching 10 years now, can you recount some of the most notable collaborations or products you've released over the years?
L: I think we'll have potentially different ones because we've done a lot. I grew up loving the brand Stüssy as a surf brand and a California brand. Growing up in Canada has sort of always inspired me to be a surfer because I couldn't do it before — I sort of grew up landlocked and so working with Stüssy from an early stage was always something. I mean we did a lot of collections. We've already done like 20 collections with Stüssy — it was something I've always reflected on. The first time we worked on a bag called the Tom Tom project with Stüssy — Tom Tom is a print of theirs. They had deadstock fabrics that were in their warehouse in California and we took those fabrics and we lined all of our bags in this actual vintage Stussy Tom Tom fabric and I thought that was really awesome and fun. Thinking about other ones though, I remember we grew up loving New Balance and Casio, and all these things. I think that Clarks has been a huge part of our lives, too. Any of those is great, but we are footwear nerds a little bit, so I think that working with New Balance was certainly one of our favorite footwear companies. It's always awesome. There's been so many.
J: Yeah like in the past, we did Stüssy, we did Coca-Cola and a bunch of awesome stuff with Disney. We did some stuff recently with Hello Kitty. I mean it's funny because we do so many partnerships — we did a big project with Damien Hirst for an event, and we did stuff for Murakami. We are constantly working with people and I think the one that we get behind are the ones that people see, but it's like we're constantly doing stuff with people on a bigger and smaller scale. I think for us, as we have gone over the last ten years, it's like the more authentic the partnership can be, the better. I think going forward that's constantly what we're looking for. When we partner with someone, can we bring something new to the table that we couldn't have done without partnering with them? Partnerships are just essentially a part of the business. When I got into this 20 years ago, it wasn't a thing, but now it's like kind of standard quo. When you see a partnership from us it usually is from a friend and it's like an authentic approach because it's the shit we like.
L: To be honest, even when you see us go to WTAPS, or like Disney, it's because we just grew up with both of those things. Now Jon and I didn't grow up wearing Hello Kitty, but it's really fun. We have a brand that has the ability to work with all of these iconic brands and it's kind of like surreal some days because they're putting their trust in us using their really important assets to mess with a little bit and it's kind of fun.
J: As a designer, you look at our brand as a living, breathing human being. It's not just a company, it's like a reflection of all the people in this building. The beauty of that is that it's like an eclectic group of people and the product we make I feel is very eclectic. Like you said right, we could do KAWS, Hello Kitty, New Balance and Coca-Cola. I love the ability of a brand that has that same flexibility because that's what a human being is. Some days I'm all geared up and some days I'm like a soccer coach on my daughter's soccer team and that's more of an honest reflection of a brand because throughout the day we're many different things. I think we are a brand that has the ability to talk to a lot of people in today's society. Being a modern brand, I feel like that's a very modern approach to design: it's not exclusive, it's inclusive and there's a beauty to that because it's difficult to do. It's us figuring out what the parameters are and how far can we push it, but I think we've done it really well. And I think it's something that every person in this building is proud of. At the end of the day, if you see a product from us, it's because it speaks to one of us honestly. I think authenticity is everything and that's what this brand's about.