Barneys CEO Steps Down Immediately Following Sale to Authentic Brands (UPDATE)
Authentic Brands has also disclosed future plans for the luxury retailer.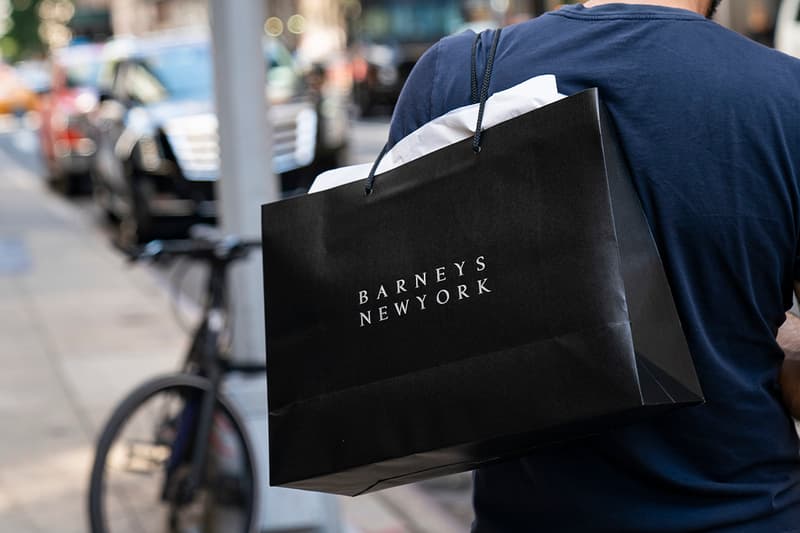 UPDATE (November 1, 2019, 03:30:00 PM EST): Immediately following the news that Authentic Brands has officially purchased Barneys for $271.4 million USD, Barneys CEO Daniella Vitale has stepped down. According to an internal letter obtained by BoF, Vitale made the following statement on the matter:
"Today is my last day with this wonderful organization. As announced earlier on the call Authentic Brands Group will take control of the company today. Transition plans will be shared shortly. I am deeply sorry for all you have been through in the past year. Please understand that we tried very hard to keep this out of court and to find a solution before filing. We were saddled with many issues long before this began, ones that were unfortunately exacerbated by a difficult macro environment and the loss of the Madison arbitration."
Authentic Brands has also issued a statement outlining its future plans for Barneys, which will be more physical than initially expected.
"ABG will leverage its international scale, marketing expertise, and network of best-in-class partners to grow Barneys New York's global presence across retail, including pop-ups, shop-in-shops, e-commerce, and a new freestanding store in a key US market. Its initial focus will be on high-fashion collaborations, branded namesake products, and expanding international retail in both brick and mortar and [e-commerce.] There is also a strategy in development for Freds to export this beloved eatery to luxury destinations around the world."
According to BoF the parent company has also shared that the Barneys licensing rights deal with Saks Fifth Avenue will take the form of "shop-in-shops inside Saks locations." Additionally, Barneys' iconic Madison Avenue location will be turned into a "pop-up retail experience" that will allegedly include "art installations, boutiques and entertainment."
---
ORIGINAL STORY (November 1, 2019, 12:20:00 PM EST): There has been plenty of drama surrounding luxury NYC fashion retailer Barneys' bankruptcy, including a heated bidding war between Authentic Brands Group and KITH Investor Sam Ben-Avraham. According to Vogue, Authentic Brands Group has just walked away from the case victorious, officially purchasing the retailer for $271.4 million USD.
The publication states that Judge Cecelia G. Morris made a final ruling to allow Authentic Brands to acquire Barneys' assets and intellectual property this morning. Authentic Brands Group is still expected to close most Barneys retail locations, including its iconic NYC outpost, and all of its assets are expected to be liquidated. The parent company is also in talks to license Barneys' name and intellectual property to Saks Fifth Avenue's parent company Hudson's Bay Co. Thousands of employees will be affected in the process.
A Tweet posted by Business Insider reporter Taylor Nicole Rogers suggests that Barneys stores could begin closing as early as today.
Juicy Couture-owner Authentic Brands just purchased @BarneysNY, and store closings could begin today.

How did the iconic department store get here?

The tale involves a disgraced billionaire and a now-defunct hedge fund, and it's on @businessinsider. https://t.co/CYHsxs9a7m

— Taylor Nicole Rogers (@TaylorNRogers) November 1, 2019
Ben-Avraham posted a statement on Instagram explaining why he pulled out of bidding for Barneys at the last minute, stating that "unfortunately, we failed to convince enough people in the business community that it made economic sense to keep Barneys alive." As a result, people have already started to question his motives behind getting the community emotionally invested through his "Barneys, I Love You" petition and #SaveBarneys social media campaign. Read Ben-Avraham's full statement below.
Rumors are already circulating that a major liquidation sale is on its way. Vogue notes that the sale would likely "put Barneys's legendary Warehouse Sales to shame," as the high-end luxury goods it offers are expected to be "marked down intensely."
Stay tuned for more details as they surface. In the meantime, read our initial coverage on the case, from details surrounding Authentic Brand's initial stalking horse bid to Ben-Avraham's hopeful "Save Barneys" social media initiative.