GoldLink Responds to Backlash Over His Mac Miller Instagram Post (UPDATE)
The DMV rapper reiterated that Miller was his best friend in the industry.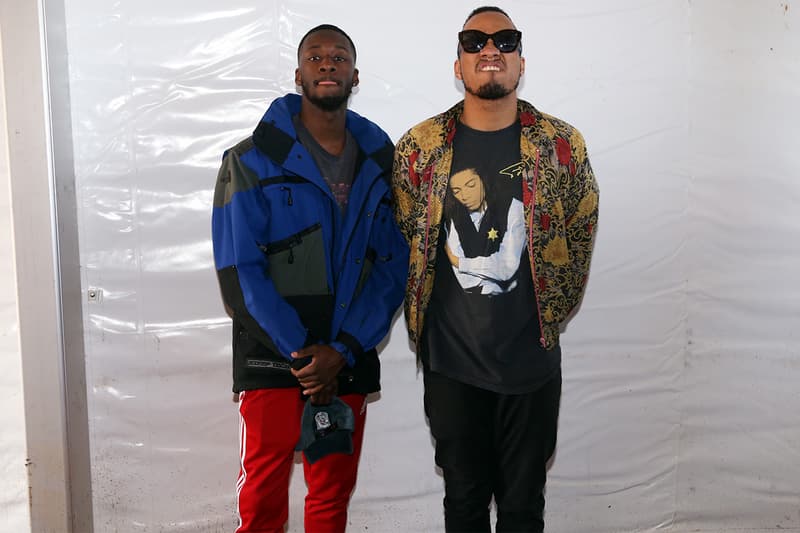 UPDATE (November 29, 2019): GoldLink has responded to the backlash he received from his statement regarding Mac Miller, addressing the issue during his concert on November 27.
In the three-minute video posted on YouTube, he refers to the late rapper as his "best friend in the industry to this day" and explains that his career would be non-existent if it weren't for Miller. "The first n*gga that ever even looked my way was Pusha-T. The second person was Wale and the third person was Mac motherf*cking Miller, okay?" he said. He continues to tell the crowd that the post was about love and that men can actually be brothers, clarifying, "It wasn't about stealing. I never used the word 'copy,' I never used the word 'steal.' The thing is, Mac Miller wrote all of Divine Feminine. That was a great album."
He closes the short speech by reiterating that Miller was one of the realest people he's ever met and that he doesn't really care what other people say about him — likely referring to Anderson .Paak's now deleted post.
---
ORIGINAL STORY (November 27, 2019): Late Tuesday evening, GoldLink posted a lengthy statement regarding Mac Miller on his Instagram page. Posted alongside an image of Miller, the rapper spoke on their seemingly tumultuous relationship and the tragic nature of the Miller's passing in 2018. Keeping it personal, GoldLink admitted that the two "weren't always on the best terms," addressing the collapse of their friendship following the GOOD:AM tour he supported Miller on in 2015.
In a rather backhanded manner, GoldLink seemingly suggested that he felt Miller used his 2015 mixtape And After That, We Didn't Talk as a "blueprint" for Miller's 2016 album The Divine Feminine. "I'd be lying if I said I was surprised to hear that you died on us," GoldLink opened. He continued:
I always thought you drove yourself insane about your own music. So much that, you would adopt styles as homage to those around you that you loved. That's where our problem started. Divine Feminine was an actual blueprint of And After That, We Didn't Talk. Your single was called "Dang!" Ft. Anderson Paak…you had Soulection support you on the Divine Feminine tour and when I tried to contact you, about anything at all…you never hit me.
Anderson .Paak, who appeared on both projects, responded to GoldLink's post by sharing a since-deleted statement of his own. He labeled the DMV rapper's words as "disrespectful, narcissistic, jealous," and "grossly unnecessary." You can read his full statement below:
I would imagine yo weird a** posted up somewhere just like this when you decided to make that disrespectful, narcissistic, jealous grossly unnecessary post. Why you would do it I can't even understand It . maybe your belt was wrapped around your Gotdamn waist too tight or maybe it was the choker cutting the circulation off to the brain but since you felt it necessary to bring me up twice and my boy ain't here to respond ima say it like this. You ain't the first to make an album inspired by a relationship, you ain't the first to make a song featuring Anderson .Paak but you are the first to disrespect my friend who is no longer here for absolutely no reason and I can't stand for that. I'm not a tough guy I'm not about negativity but this bugged me bad bro. I've called you and dm'd and you havnt responded. So since this is what you like to do in order to get attention we can do it like this. You're not surprised huh? Well I'm in disbelief!!! If Devine feminine was such a blue print of your record then tell me where the plaques are for whatever your sh*t was called!! Mac brought your a** on tour and opened up his fan base to you when you had nothing and this the type of appreciation you give? You should of just been grateful for the op! Whatever issues you had with Mac should have been addressed in person and ended there. what's the point of bringing this up after his passing and disrespecting his name? You really woke up feeling like that was the move? That ain't how you go about promoting whatever you got coming. Some things simply have nothing to do with you but when you have a God Complex im sure it's easy to think everything comes from you or was inspired in some way. Whatever it is I ain't giving it no more energy. I pray you get back to the music and spreading good energy, ima do the same. Mac Miller forever, love to his family and y'all have a blessed one.
Let us know your thoughts on the altercation below.
For more music news, Rich Brian recently revealed with us his cooking essentials.