Steph Curry & Steve Kerr Respond to Michael Jordan's Hall of Fame Comments
Still not making the cut for MJ's dream team.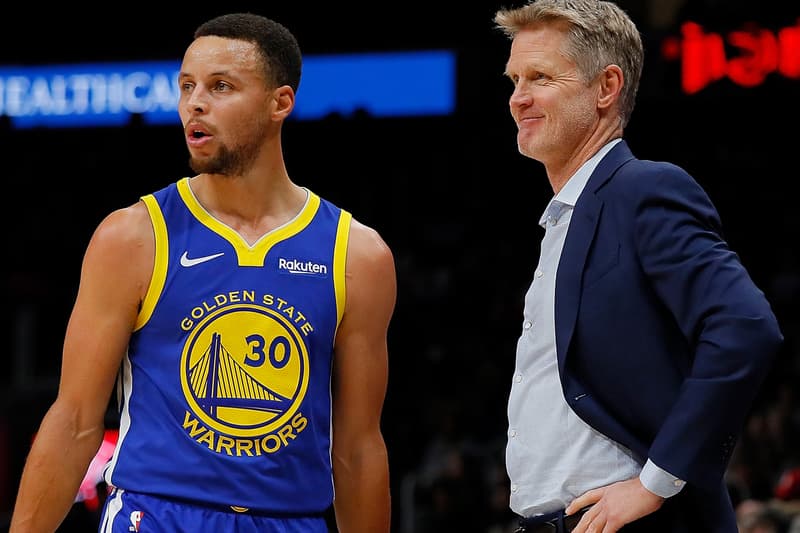 Basketball fans finally got to hear Steph Curry's thoughts on being excluded from Michael Jordan's dream pick-up basketball team. The ordeal started when Jordan was asked on NBC's Today if he would be keeping his past "dream" roster that he made up in 2013; a team that consisted of Magic Johnson, Scottie Pippen, Hakeem Olajuwon, and James Worthy.
When asked if any of the current NBA stars would make the list today, Jordan responded with the same names, saying that although Steph Curry is a "great player," he is "not a Hall of Famer yet." In an upcoming interview with Sole Collector, Curry responded with "I know I have more to prove to myself. When you hear a guy [Michael Jordan] like that who's the greatest of all time, it's kind of funny. Since we've been on this stage, we've heard a lot of retired guys chiming in on this generation of basketball player and evaluating talent and saying their generation was better and all that. It's a great conversation for the fans to get in on. I know I'm in good shape for that, but I still have a lot to prove to myself."
Golden State Warriors head coach Steve Kerr also chimed in on the situation with words justifying his past teammate's words. "I think Michael has his own version of the Hall of Fame. It's in his own head — so whatever that is, that's what it is."
While it would seem like Jordan was taking a dig at Curry, many are pointing out that MJ would have been fined based on the league's anti-tempering rule where those directly involved with the organization (owners/coaches) cannot comment on the current state of the NBA. This rule was recently exercised when Doc Rivers compared Kawhi Leonard to His Airness; the comment landed the Clippers with a $50,000 USD fine.
In other basketball news, take a look at the Toronto Raptors 2019 NBA championship ring.
Steve Kerr on Michael Jordan saying Steph Curry isn't a Hall of Famer (yet).

"I think Michael has his own version of the Hall of Fame. It's in his own head, whatever that is, then that's what it is." ?? pic.twitter.com/f96zudHONx

— 95.7 The Game (@957thegame) 22 October 2019
"He's still a great player. Not a hall of famer yet, though."

Michael Jordan doesn't think Steph Curry is set for the Hall of Fame just yet. (via @TODAYshow) pic.twitter.com/IBMXyUk18O

— SportsCenter (@SportsCenter) 22 October 2019
Michael Jordan says the greatest shooter of all time, Steph Curry, is not a Hall of Famer yet. ?

More: https://t.co/FjOUA69Zv3 pic.twitter.com/u6fXGAnSg7

— Complex Sports (@ComplexSports) 22 October 2019
Everyone relax. We know Steph Curry is a future Hall of Famer…Michael Jordan couldn't say it because he would get fined by the league.

— Earvin Magic Johnson (@MagicJohnson) 22 October 2019