Apple Brings iTunes to Samsung Smart TVs
As a means to increase revenue.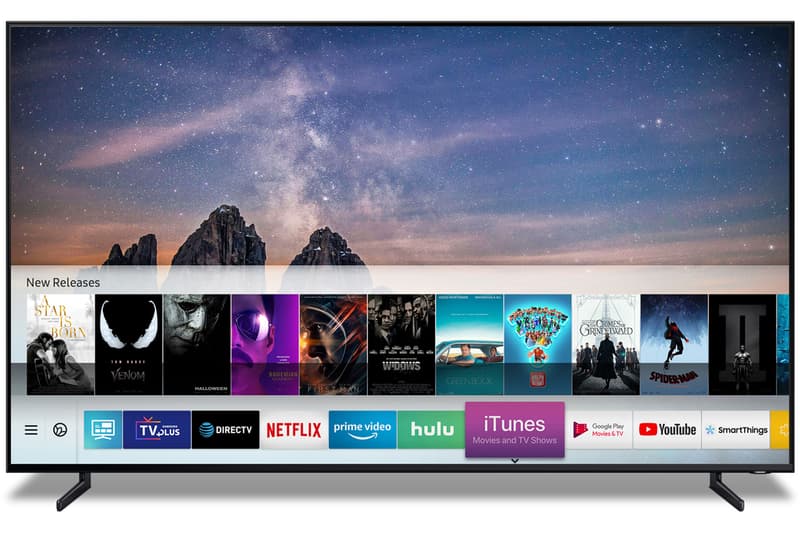 Samsung announced at CES that Apple will integrate iTunes and AirPlay 2 support into its latest 2018/2019 Smart TVs. This means films and shows purchased on Apple products will be available to watch on Samsung televisions through a dedicated app. A firmware update this spring will allow select 2018 models to run the app and will already be included in 2019 devices in over 100 countries.
AirPlay 2 will let video, photos, and audio from iPhones, iPads, and Macs stream directly to leading Smart TV manufacturers, with HomeKit support for Siri-enabled controls expected to arrive in the coming months as well.  Apple has a history of tying its services to its own devices, so allowing iTunes on the devices of its main competitor Samsung is surprising. However, this course of action limits the number of people who can use premiere Apple services at a time where the company is suffering from a huge stock drop and disinterest in its latest iPhone models.
Check out the list of Smart TVs that will have AirPlay 2 support and share your thoughts below.
In other tech news, a new Apple leak suggests a radical redesign for the forthcoming iPhone XI.
LG OLED (2019)
LG NanoCell SM9X series (2019)
LG NanoCell SM8X series (2019)
LG UHD UM7X series (2019)
Samsung QLED Series (2019 and 2018)
Samsung 8 Series (2019 and 2018)
Samsung 7 Series (2019 and 2018)
Samsung 6 Series (2019 and 2018)
Samsung 5 Series (2019 and 2018)
Samsung 4 Series (2019 and 2018)
Sony Z9G Series (2019)
Sony A9G Series (2019)
Sony X950G Series (2019)
Sony X850G Series (2019 85", 75", 65" and 55" models)
Vizio P-Series Quantum (2019 and 2018)
Vizio P-Series (2019, 2018 and 2017)
Vizio M-Series (2019, 2018 and 2017)
Vizio E-Series (2019, 2018 and 2017)
Vizio D-series (2019, 2018 and 2017)