'Spawn' Creator Todd McFarlane Talks 'Venom' and His Upcoming Directorial Debut
With an R rating, the new Spawn movie won't follow the formula of your conventional superhero flick.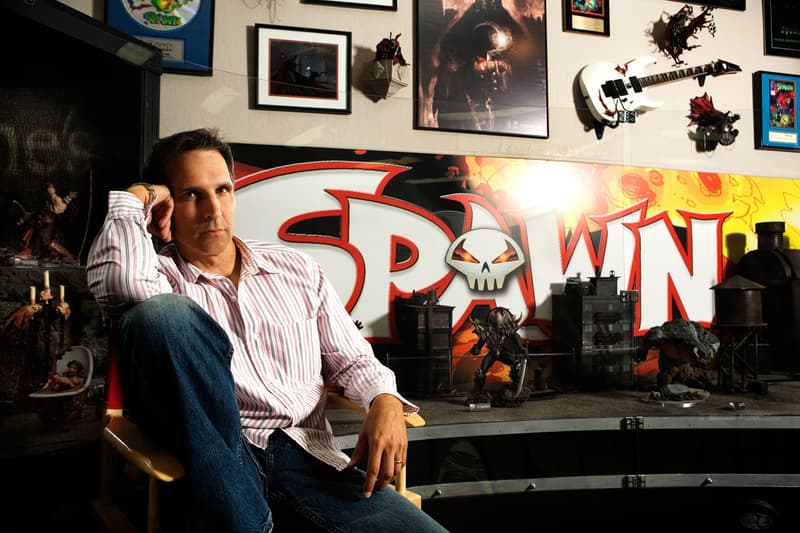 Todd McFarlane is an icon in the comic book industry, defining an art aesthetic for an entire generation with Marvel and DC Comics before successfully co-creating his own publication, Image Comics. He along with his co-creators Rob Liefeld, Jim Lee and more disrupted the industry in the process by giving creators ownership of their characters. He's gone on to define characteristics of fan-favorite comic book characters, such as Batman, Spider-Man and especially Venom. He's also introduced one of the most prominent anti-heroes in the entire medium, Spawn.
Although Spawn had his first big screen outing in the 1997 Mark A.Z. Dippé classic starring Michael Jai White, McFarlane will make his directorial debut in Blumhouse Productions' upcoming Spawn film starring Jamie Foxx and Jeremy Renner. But before then, Sony's Venom, starring Tom Hardy, will debut on October 5, focusing on the titular character without the appearance of his arch-nemesis Spider-Man. This is a stark contrast from Venom's feature film debut in Spider-Man 3, which married the symbiote to its comic book origin with Spidey.
In our exclusive interview with McFarlane, we talk about comic book adaptations and how deviating from the source material isn't such a bad thing. To that end, he also touches on his involvement with Venom, his approach for writing, directing and producing his first film, as well as the climate of superhero movies today.
I really hate to start with a what's your favorite-type of question, but I'd be remiss if I didn't ask which of your comic book covers are your favorites?
Obviously some of the ones that ended up being high points. Things like Spawn #1, Spider-Man #1, Amazing Spider-Man #300. They turned into covers that people recognize 'cause they've seen them so many times, whether it's an article or an interview or something, everybody brings and talks about those ones. They show one image, they usually drop those.
Then within the confines of some of those, the Hulk #340, which had this Wolverine screaming with his blades in front of him. Somehow that took everybody's fancy. I did one, I don't know what issue it was, I want to say around #315-316, which was Venom hunched over Spider-Man that looked like he'd been beaten to a pulp. That one, to me, was pretty dramatic to show that it's not always a good day being a superhero.
To roll into some of the Venom questions, everybody saw the video of you reviewing Venom from the upcoming movie; I was wondering if you had been tapped by anybody for the film or if you've been to any sets at all?
No, no. No, it seems strange to a guy like me. It's weird, but the answer is no. They don't need me, they've got the talented people, they've got the character, they've got all of it that's there. I'm about to go and direct, and I'm writing my own movie. It's like you guys are doing movies, I play in that sandbox, but I don't know, it's a weird one. It seems like somebody would have just said, "Hey, somebody go get a five-minute conversation with him, see what comes out of his head. You can choose to ignore it." Right?
If you were directing Venom, is there anything that you would want to do differently?
You know what, it's a little difficult for me to say 'cause I've only seen what you've seen. But I do know that my mentality, which might not work in the world of superhero stuff, my tendency is to just: if you're gonna go R [rated], go R. If you want to sell a bunch of toys and stuff, then you can't really get there. You have to pull it back just a little bit. I understand.
Here's what I will say about the Venom movie, to circle back. I think it's a little [weird of] people going, "If there's no Spider-Man, how can there be a Venom?" I think for me, it doesn't make any sense, that sentence. Either a character is good, or a character is not good. If you have a character that always has to be the link to a certain situation, then over time it's gonna get redundant and/or it's gonna get myopic, right? Look, I'm the guy who was there helping invent the guy. It doesn't bug me that there's no Spider-Man. As a matter of fact, I like that he's gonna try to go out on his own and stand on his own two feet, and not have the crutch of Spider-Man.
To that point, which character do you find yourself more attached to: Marvel's Venom or your Spawn?
Spawn. I created Spawn when I was in high school. As a matter of fact, I just put on my Instagram a couple days ago a rejection letter, 'cause I got hundreds of 'em. I've been living with that guy for a long time. Then when we started, when I worked in Marvel and then we left, and a handful of us started Image Comics, I knew exactly what character I was gonna pull out of my little portfolio and start my first book with. And I've been doing him for almost 300 issues. #289 comes out pretty soon.
I'm gonna do an R-rated dark [Spawn] movie, and my job is to scare the shit out of you. If that means 10-year-olds and under can't watch this movie, that's okay…I'll just let all the kids have all their other superheroes.
Speaking of your creative baby, let's dive right into Spawn and this being the first film that you're directing; how did you become the director?
That one's easy: just stubbornness and immaturity, I guess…I don't know. At some point, delusion a little bit. I've got a lot of ideas, and I've handed this character out a couple times before, whatever else am I gonna look at? No, I put in my 25 years with this character and doing creative stuff. I think my résumé is solid. Again, not necessarily in Hollywood, but whatever I've done, I've had some modicum of success. I have awards for doing comics, I have awards for doing toys, I've got a Grammy and an Emmy for directing stuff. It's not like I'm coming in like a blank sheet.
I don't want to make a $100 million USD movie, I want to make a low budget movie so that there will be minimal risk in terms of the financial output that people have to put, and I think it's a no-brainer. Maybe I'm egotistical, but I think it's a no-brainer if you keep the budget low. If I keep the budget low, you're gonna then go and get some young, hip, relatively unknown director to do it anyway. Let me be the unknown director. I've had the story in my head for so long, that the only thing that I'm waiting for is to finally exhale and actually put it on film because I literally have every frame of this movie in my head.
You did have some involvement in Mark A.Z.'s Spawn, but I've heard that you felt a lot of things about it were incomplete. What were some of the things that left you dissatisfied?
Well, again, I don't think that you need a kid running through the whole entire movie with a dog. That's just not Spawn. Spawn's world is dark, ugly, real and gritty. Get all that stuff out of there. The first movie was sitting at PG-13. [With] PG-13, you go, "Yeah, yeah, yeah, okay, we've got to do this, and we've got to do that." I think they were trying to tamper it down instead of trying to do it right, and right's not the word.
Look it, here's all I know, I'm gonna do an R-rated dark movie, and my job is to scare the shit out of you. If that means that a 10-year-old and under can't watch this movie, that's okay, that's okay, because Spawn has been around now for over 25 years, so even if you were 10 when you first became aware of that when he first came out, you're 35. I'm dealing with adults now, and I think that the content needs to be adult and I'll just let all the kids have all their other superheroes.
To that point, how will the production of this Spawn differ from collaborating on the animated series?
Well, the biggest difference is if anybody likes or dislikes something, then you're gonna have to point that arrow at me because I'm gonna be in command. If you don't like it, it's my fault. If you do like it, well, I had something to do with it, and then I had a lot of good people, I was smart enough to put a lot of good people around me.
Here are a couple of simple questions everybody should be asking: "Todd, are you nervous about directing your first feature film?" The answer is an unequivocal no, period. Your follow-up question should be, "Should you be nervous?" Of course, I should. Right? Am I nervous? No. Intellectually, should I be? Of course, I should. This is the stubbornness, this is the ego or the confidence, whatever word. All of them are probably half true.
I've seen you say you want to hide Spawn until the film debuts, like a horror movie creature as opposed to a superhero. Pairing with Jason Blum's Blumhouse to produce the movie, how far into horror do you want to lean into?
Yup. I want to lean into it enough so that Spawn, in my head, over the 25 years, should scare the shit out of you if you're a bad guy. Not wag a finger at you, and not beat you up, he should scare you. At times, done right, he should terrify you. Here's the thing, not only should he terrify you if you're a bad guy, he should almost terrify you if you're a good person. Why? Because he should scare you so much you should go, "Oh my God, I'm gonna stay good 'cause I never want that tiger ever biting my ass ever, ever." Now, when I say that, I'm not saying I'm gonna do a gore fest, I hate gory movies. I think they're silly. I'm just saying when it comes, there's gonna be an intensity. I'm hoping there will be an intensity on the screen that people will go, "Whoa, fuck, that was harsh. That was harsh."
We know that it won't be an origin story, but we also know Jeremy Renner is playing Twitch Williams, who's from the comics. Will the film be following any comic book storylines?
Yeah. Here's what's obvious from the comic book. You're gonna have Spawn, he's easy. Then you're gonna have Twitch. Twitch, the character, comes from issue #1. Are there any other characters from the comic book series that will be in this one? No. What will be there from the comic books is the world, the environment and the atmosphere of the comic book. That's what's gonna be there. Almost everything that you see or will see in this movie, I'm gonna be able to by the time the movie comes out, I'll be at issue 300, I'll be about to point somewhere in the 300 issues to a page, to a picture, to a panel, someplace, and say, "There it was. There it was. There it was." All the stuff I'm about to do, I've sprinkled it throughout the 300 issues.
The question that the hardcore fans that have been around for a while are gonna ask [is], "Why, Todd, why? You have complete control, and why now that you have complete control are you not going with the classic Spawn?" Part of it is, I got to tell you, it's for my own sanity. I think that if you talked to any creative person who's been hanging around their creative character for two and a half decades — and remember, I created him when I was 15, so arguably a lot longer than that — a creative person cannot write the same story, the same look and the same feel over and over and over and over for decade upon decade and still be A, creative, and B, sane.
With the film moving forward, does that mean Spawn: The Animation, the sequel to Todd McFarlane's Spawn, is on an indefinite hiatus?
It's sitting in a holding pattern, but it's ready to get launched. Again, it'll be ballsy.
---
Venom
is set to hit theaters on October 5, while McFarlane's
Spawn
will enter production sometime in 2019.