Nike Stock Prices Take a Hit Following Kaepernick Ad Controversy
Nearly all sneaker companies have suffered a dip in shares.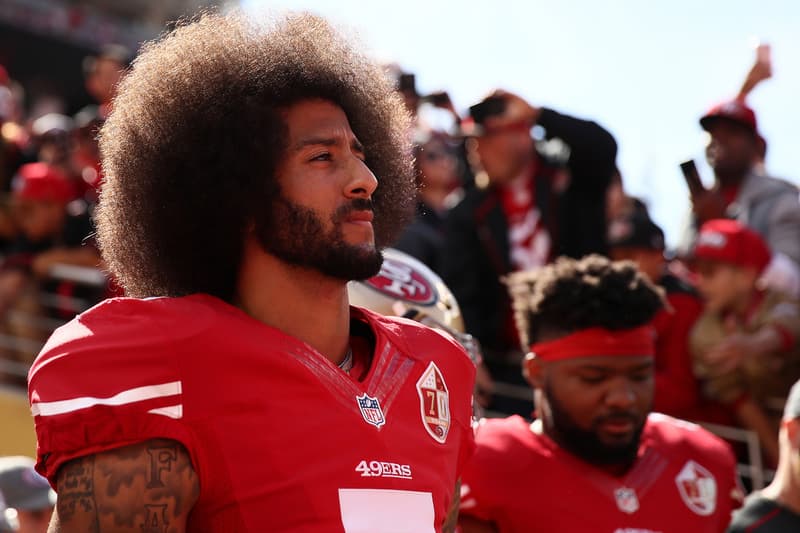 Nike continues to court controversy, with its Colin Kaepernick-starring "Just Do It" campaign initiating a firestorm on social media. Unlike the backlash over the recent Matthew M. Williams and South African racism altercations, however, the sportswear giant has immediately felt the weight of its actions.
Though the Kaepernick ad has received widespread praise, it has also become the subject of intense scrutiny; #boycottNike was trending on Twitter shortly after the reveal. As the hashtag gained steam, the sneaker giant's stock price took a dip by approximately 4 percent. This move could make or break the company's slow-growing momentum in North America as it faces off against adidas. Analysts predict that by aligning itself with Kaepernick, the sportswear giant is angling to tap younger, social justice-savvy consumers, thus sowing the seeds for long-term growth, regardless of an initial tumble. Furthermore, considering that America makes up less than half of Nike's business, the ad is unlikely to sway the majority of the company's customers either way.
Surprisingly, the NFL has come out in support of the currently unsigned athlete. Although the league recently requested to have Kaepernick's collusion complaint dismissed, it has released an uncharacteristically positive statement. "The National Football League believes in dialogue, understanding and unity. We embrace the role and responsibility of everyone involved with this game to promote meaningful, positive change in our communities," said the NFL's Executive Vice President of Communications and Public Affairs, Jocelyn Moore. "The social justice issues that Colin and other professional athletes have raised deserve our attention and action."
Stay tuned for Nike to report its quarterly earnings at the end of the month, and check out some of most positive and negative reactions on social media below.
dear @Nike i appreciate you for standing with @Kaepernick7 https://t.co/KEvLlzeGGV

— Casey Neistat (@CaseyNeistat) September 3, 2018
#IMWITHKAP https://t.co/Ed0sfhGaGO

— Kenny Stills (@KSTiLLS) September 3, 2018
Hilarious watching @realDonaldTrump's core desperately seeking new footwear this morning. @Kaepernick7 is a true American hero. @Nike is a true American company. #JustDoIt

— Morgan J. Freeman (@mjfree) September 4, 2018
Racists: I'm never buying Nike again

Nike: pic.twitter.com/YGD23VWVFA

— Anthony Moore (@AllThatandMoore) September 3, 2018
.@Nike Due to your support of C.K. in your coming adds, I as an American can no longer support your company. #boycottNike #IStandForOurFlag pic.twitter.com/5JxSMD8SSO

— AlterAtYeshiva (@alteratyeshiva) September 4, 2018
First the @NFL forces me to choose between my favorite sport and my country. I chose country. Then @Nike forces me to choose between my favorite shoes and my country. Since when did the American Flag and the National Anthem become offensive? pic.twitter.com/4CVQdTHUH4

— Sean Clancy (@sclancy79) September 3, 2018
Our Soundman just cut the Nike swoosh off his socks. Former marine. Get ready @Nike multiply that by the millions. pic.twitter.com/h8kj6RXe7j

— John Rich (@johnrich) September 3, 2018
Just putting it out there that Pat Tillman sacrificed just a *bit more than Colin Kaepernick.

— Stephen Miller (@redsteeze) September 3, 2018