7 Drops You Don't Want to Miss This Week
Led by Palace, BAPE, and Yang Li's SAMIZDAT diffusion line.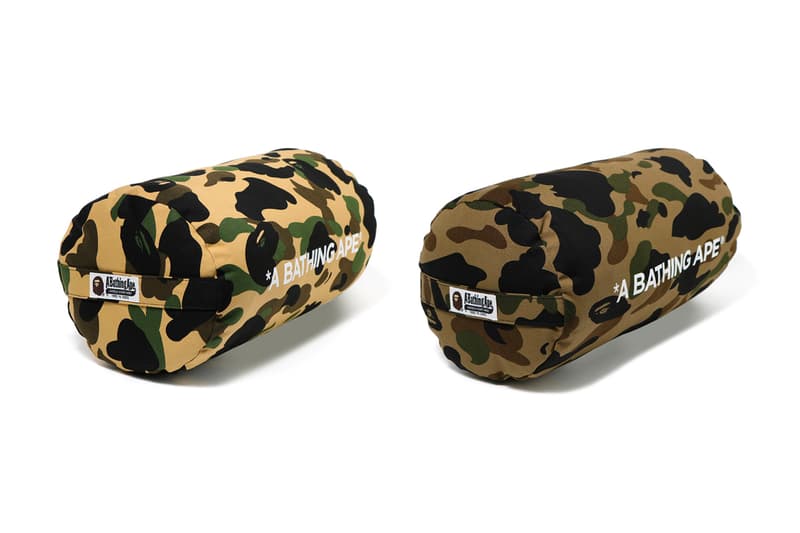 This week's list of product drops sees a mixture of household accessories mixed in with soft-good offerings. BAPE once again makes it onto the list and is joined by Drake-approved ican'tdecideyet "Miss U" sweater, while Yang Li's SAMIZDAT diffusion line also comes in strong with an overwhelming number of graphic tees, bombers, and whimsical imagery paired with "intimidating" text.
Summer streetwear heads will be happy to see Palace's first initial offering dropping on August 10, in preparation for the powerhouse Supreme drop the land the following week. Christian Dada and sportswear brand Kappa releases a combination of both athletic and runway-esque design elements with their track suit pairings, and famed Japanese photographer Daidō Moriyama works once again with WACKO MARIA for a vintage-style erotic photography capsule set on coach jackets, sweats and tees.
Palace FW18 First Release
Palace has officially showcased its upcoming season with a extra large unveiling of the Fall/Winter 2018 collection. As per Palace, the offerings include a slew of lightweight athletic wares ranging from track jackets and lightweight zip-ups to polo shirts and tees. Prints are found throughout the range with even a special appearance from '90s character/7-Up mascot Fido Dido. Porsche references, floral abstract prints, alligator skin and vibrant color patterning will set the remaining summer days on fire.
When: August 10
Where: Palace Online Shop and Palace London/NY
A Bathing Ape Home Accessories
Adding to its established line up of accessories, Japanese imprint BAPE recently dropped a slew of lifestyle focused goods. Leading the latest set of releases is a set of 1ST CAMO sofa cushions in yellow or green, along with hand towels and plastic travel mug in the same aforementioned colorways. Followed by vibrant Nalgene bottles and a mug and plate set decorated with BAPE's iconic Ape Head and "Ape Shall Never Kill Ape" motif. Rounding up the accessories range are the colorful, mixed camo Shark Masks, which pairs tones of purple with vibrant green, red and orange patterns.
When: Now
Where: BAPE Web Store and Flagships
icantdecideyet "Miss U" T-Shirt
With Drake fever remaining at a constant peak after the release of Scorpion months ago, die-hard fans are jumping on the Canadian artist' new favorite brand, icantdecideyet. Following up its popular "Finesse" release, the emerging brand returned with a "Miss U" crewneck. Drake was recently spotted wearing the new piece crafted from upcycled University of Missouri sweaters.
When: Now
Where: icantdecideyet Web Store
Daidō Moriyama x WACKO MARIA FW18 Capsule
Coming together once again, WACKO MARIA tapped legendary Japanese photographer Daidō Moriyama for another collaborative capsule collection. Offering a variety of monochrome layering pieces for Fall/Winter 2018, the drop is centered around Moriyama's signature risqué photograph documentation of Japanese sexuality. The coach jackets, heavyweight sweaters and T-shirts found in the capsule showcase an array of imagery taken inside and outside of nude clubs and erotic imagery of Japan's past.
When: Now
Where: WACKO MARIA Retail Stores
SAMIZDAT by Yang Li FW18 Collection
Serving as a diffusion line for designer Yang Li, the fictional music-band-meets-fashion-label SAMIZDAT recently dropped its third release. Once again informed by an obsession with music and visual language, the Fall/Winter 2018 collection utilizes a bootleg merch aesthetic to express a deep subcultural leaning through subversive graphics. Comprised of MA-1 bomber jackets, T-shirts, caps, patches, stickers and other bizarre music and lifestyle merchandise, some standouts include the Sonic Discipline III Hoodie, Discography T-shirt and Short Circuit Cap.
When: Now
Where: Select Retailers Including /017
Passarella Death Squad FW18 Collection
Returning for Fall/Winter 2018, Passarella Death Squad brought back some of its most popular silhouettes and added some new outerwear items. Once again constructed in London, the collection utilizes impeccable Japanese textiles and choice touches of bold yellow and bright pink. Some notable pieces include the bunched sleeve MA-1 bomber jackets and a set of evocative graphic emblazoned T-shirts.
When: Now
Where: Passarella Death Squad Web Store
Christian Dada x Kappa FW18 Collection
Looking towards the colder season ahead, Italian sportswear brand Kappa revealed its latest Fall/Winter 2018 offering created in collaboration with Japanese label Christian Dada. Comprised of MA-1 bomber jackets, tracksuits, button-up shirts and a long-sleeve T-shirt, the team up blends retro athletic looks with designer Masanori Morikawa's contemporary fashion styling. Dominated by hues of blue, black and burgundy, choice detailing comes in the form of graphic patterns and a play on Kappa's classic BANDA and OMNI looks.
When: Now
Where: Select Kappa & Christian Dada Retailers