Travis Scott Unveils 'Astroworld' Production Credits
Featuring top producers in the game.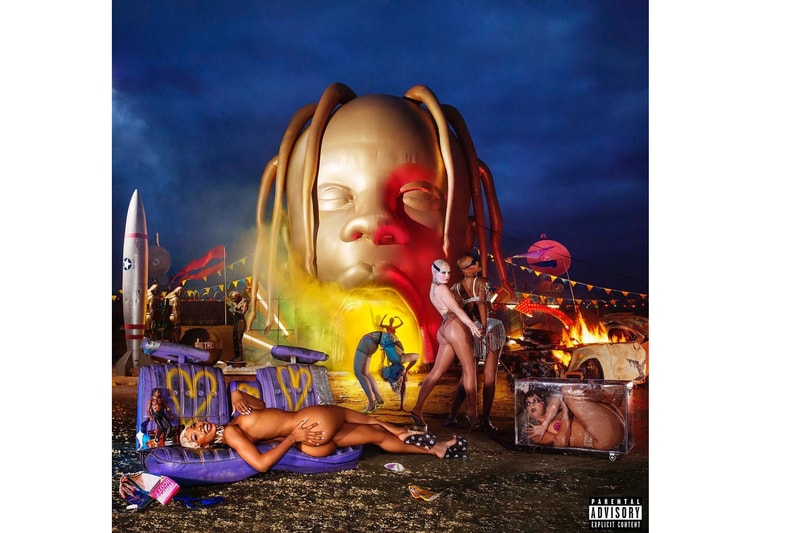 After releasing his highly-anticipated Astroworld album tonight, Travis Scott has shared the production credits for the project. Acting as the followup to his 2016 Birds in the Trap Sing McKnight LP, the 17-track Astroworld includes features from high profile guests such as The Weeknd, Drake, Pharrell, Migos and Frank Ocean. However the album also boasts top producers and talents such as Sonny Digital, Hit-Boy, Mike Dean, Tay Keith, CuBeatz, 808 Mafia, wondaGURL, Tame Impala, Thundercat, John Mayer, Murda Beatz, Cardo, Nineteen85, and more.
Take a look at the full credit list below and be sure to check out what Astroworld means to Travis Scott.
"Stargazing"

Composers
Sonny Digital
Mike Dean
B Wheezy
CyHi the Prynce
Travis Scott
30 Roc
Jamie Lepe
B Korn

Lyricists
Travis Scott
Jamie Lepe
B Wheezy
Mike Dean
CyHi the Prynce
B Korn
30 Roc
Sonny Digital

Producers
B Wheezy
30 Roc
B Korn
Sonny Digital

"Carousel"

Composers
Frank Ocean
Hit-Boy
Travis Scott

Lyricists
Hit-Boy
Travis Scott
Frank Ocean

Producers
Hit-Boy

"Sicko Mode"

Composers
Hit-Boy
Mike Dean
Drake
Oz
CyHi the Prynce
Travis Scott
Mirsad Dervic
Tay Keith
Rogét Chahayed

Lyricists
Mike Dean
Hit-Boy
Travis Scott
Drake
Tay Keith
Oz
Mirsad Dervic
CyHi the Prynce

Producers
Tay Keith
Oz
Cubeatz
Hit-Boy
Rogét Chahayed

"R.I.P. Screw"

Composers
Mike Dean
Travis Scott
Swae Lee

Lyricists
Swae Lee
Travis Scott
Mike Dean

Producers
FKi 1st
Travis Scott

"Stop Trying to Be God"

Composers
James Blake
Travis Scott
Cubeatz

Lyricists
Cubeatz
James Blake
Travis Scott

Producers
J Beatzz
Travis Scott
Mike Dean

"No Bystanders"

Composers
Mike Dean
WondaGurl​​​​​​​
Travis Scott
Juice WRLD
Sheck Wes

Lyricists
Travis SCott
Sheck Wes
Juice WRLD
Mike Dean
WondaGurl

Producers
Gezin
808 Mafia
WondaGurl
Mike Dean

"Skeletons"

Composers
Pharrell Williams
The Weeknd
Kevin Parker
Travis Scott
Mike Dean
Reine Fiske

Lyricists
Reine Fiske
Kevin Parker
Mike Dean
The Weeknd
Pharrell Williams
Travis Scott

Producers
Tame Impala

"Wake Up"

Composers
The Weeknd
Mike Dean
Frank Dukes
Travis Scott
Sevn Thomas
Wallis Lane

Lyricists
Frank Dukes
Travis Scott
Wallis Lane
Sevn Thomas
The Weeknd
Mike Dean

Producers
Sevn Thomas
Wallis Lane
Frank Dukes

"5% Tint"

Composers
Travis Scott
Mike Dean
FKi 1st
CyHi the Prynce

Lyricists
FKi 1st
Mike Dean
CyHi the Prynce​​​​​​​
Travis Scott

Producers
FKi 1st

"NC-17"

Composers
Boi-1da
Mike Dean
Travis Scott
21 Savage
Johnny Stefene

Lyricists
Boi-1da
Mike Dean
Travis Scott
21 Savage
Johnny Stefene

Producers
Cubeatz
Boi-1da

"Astrothunder"

Composers
Travis Scott
Thundercat
Frank Dukes
John Mayer

Lyricists
John Mayer
Thundercat
Frank Dukes
Travis Scott

Producers
Frank Dukes
John Mayer
Travis Scott
Thundercat

"Yosemite"

Composers
June James
Gunna
NAV
Travis Scott

Lyricists
Gunna
Travis Scott
June James
NAV

Producers
Turbo
June James

"Can't Say"

Composers
Sonny Digital
Mike Dean
Frank Dukes
Jacques Webster
WondaGurl
Don Toliver
London Cyr

Lyricists
WondaGurl
London Cyr
Travis Scott
Sonny Digital
Mike Dean
Frank Dukes
Don Toliver

Producers
WondaGurl
Frank Dukes

"Who? What!"

Composers
Quavo
Travis Scott
Takeoff​​​​​​​
Cardo
30 Roc

Lyricists
Cardo
Travis Scott
Quavo
30 Roc
Takeoff

Producers
30 Roc
Cardo

"Butterfly Effect"

Composers
Murda Beatz
Donald Paton
Travis Scott

Lyricists
Donald Paton
Jacques Webster
Murda Beatz

Producers
Murda Beatz

"Houstonfornication"

Composers
Sevn Thomas
Travis Scott
Wallis Lane

Lyricists
Travis Scott
Sevn Thomas
Wallis Lane

Producers
Sevn Thomas
Wallis Lane

"Coffee Bean"

Composers
Mike Dean
CyHi the Prynce
Nineteen85
Travis Scott
Tim Suby

Lyricists
Mike Dean
Nineteen85
Tim Suby
Travis Scott
CyHi the Prynce

Producers
Nineteen85