Summer Sixteen Tour/OVO Fest 2016 Recap
Read about our experience at night one of the annual event.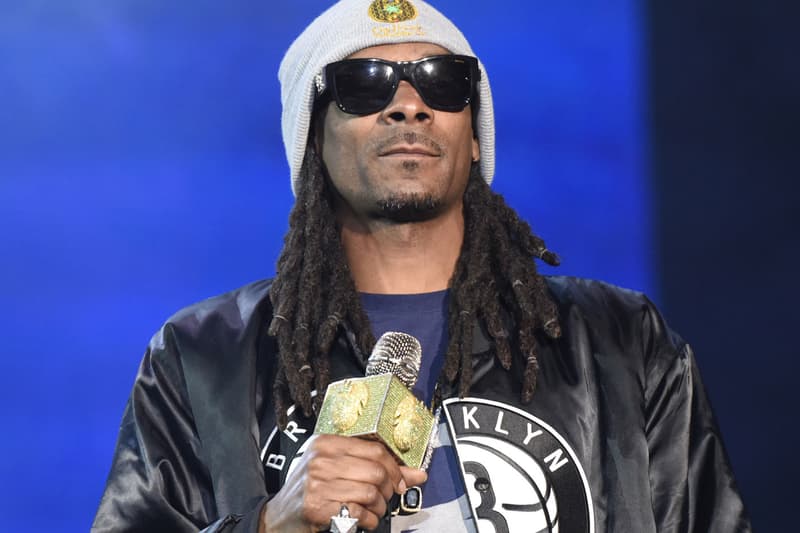 There's a running Internet joke of sorts that theres's a Drake lyric for every situation, which is why his lyrics are favored on social media for use in captions on Instagram by everyone from heartbroken teen girls to bottle-service bros. For proof that he really did "turn his birthday into a lifestyle," one has to look no further than his annual OVO Fest. In the seven years since its inception, it's become the biggest hip-hop event of the year for the city that he has so relentlessly professed his love for, which is especially notable in a city with a deep-rooted urban music culture. Over the past six installments, OVO Fest has followed a tried and true format that fans have come to know and love: a two-night event, with the first featuring an A-list, south-of-the-border act (OutKast and J. Cole were there the last two years), and then their hometown hero and a gaggle of insane surprise guests (everyone from Kanye West and G-Unit to Travis Scott and Eminem) on night two. Night two has always been Drake's victory lap, a spectacle designed to give his hometown fans something special in return for all they've given him over the years. The show has always been held at the outdoor Molson Amphitheatre on the shores of Lake Ontario — the perfect location for a summertime jam in The 6.
But alas all good things must come to an end and 2016 marked a huge change for OVO Fest as we have come to know it. This year, Snoop Dogg and Wiz Khalifa kicked it off on Friday at the familiar Molson Amphitheatre, before Drake and Future would throw down back-to-back shows on their Summer Sixteen tour at the slightly-bigger — by only about 4,000 seats — Air Canada Centre. There was a ton of confusion in the days leading up to the event about what was happening on what day — Would both events be identical or would there be different special guests each night? Was this still OVO Fest or was it Summer Sixteen? Some people were confused as to whether Drake would even be there on night one, leading the 6 God himself to address that rumor via Instagram. And as concertgoers filed into the ACC for night one, the mood was one of excitement, of course, but of quiet anxiety as well as many wondered what exactly they were going to be seeing today.
In the seven years since its inception, OVO Fest has become the biggest hip-hop event of the year for the city that Drake has so relentlessly professes his love for.
The show got started at 7:30 p.m. on the nose with OVO-affiliate Baka Not Nice warming up the stage. He's known for his multiple shoutouts from Drake on songs, as well as being the voice behind the "Scarborough Ting" voicemail sample on Nothing Was The Same's "From Time." Baka did the dreaded job of opening by performing a few of his own songs including the fan favorite "Whip" as well as getting the crowd hype to songs by Lil Uzi Vert and Migos.
Roy Wood$ was next up to bat, taking the stage solo to perform a number of his hit songs including "Get You Good" and "Drama" from his EXIS EP, and newer material from his Waking At Dawn album including "How I Feel" and his reggae-infused single "Gwan Big Up Urself." At just 20-years-old, he showed why he's one of OVO Sound's most exciting young acts, allowing his strong but sensitive vocals to shine while treating the crowd to some serious dance moves to boot. It's also worthy to note that Wood$ writes all his own material, a rarity in today's landscape where a pop song might have five or six writers credited (look at Beyonce's Lemonade for multiple examples). Performing on a large-scale tour like SummerSixteen will give Wood$ invaluable experience as he continues to hone his craft and further develop his stage presence and performance style. He's definitely one to keep watching.
After Wood$ left the stage, three backup singers in gospel choir robes took to the stage while the opening notes of dvsn's "Too Deep" came pounding through the sound system. dvsn is OVO Sound's latest act, and is made up of vocalist Daniel Daley and producer Nineteen85, who has also had production or co-production credits on a handful of Drake's biggest hits including "Hotline Bling," "One Dance," and "Hold On We're Going Home." Whereas Wood$ offers a modern, brooding version of R&B, dvsn's gospel harmonies and glittery productions would be at home among Jodeci, Boyz II Men, or any of those other male R&B groups of the '90s. Daley put on an absolutely impressive vocal display with a crowd-pleasing set that included fan favourites from dvsn's debut album, Sept. 5, as well as covers of Aaliyah's "One In A Million" and Michael Jackson's "Billie Jean."
1 of 5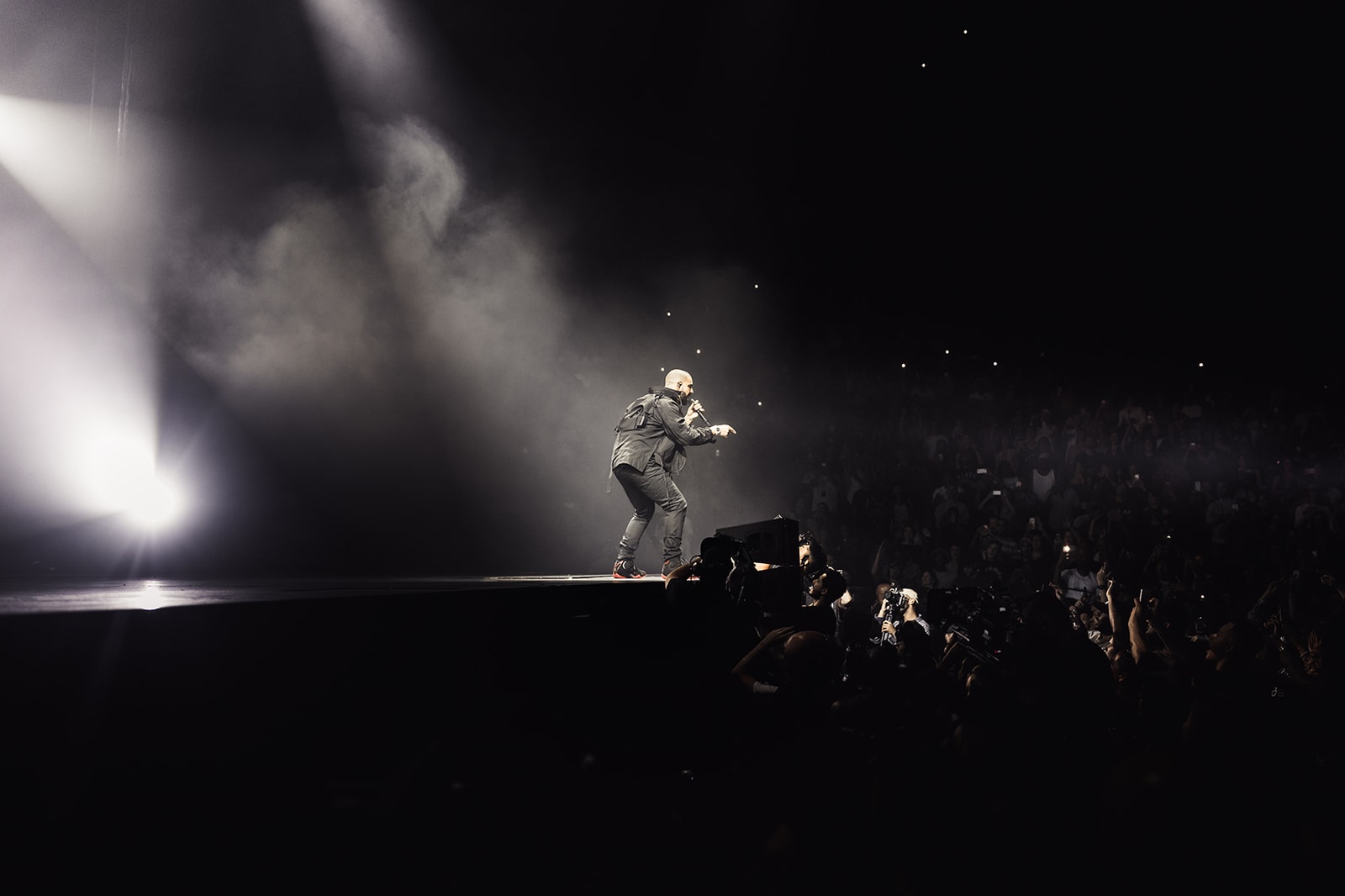 2 of 5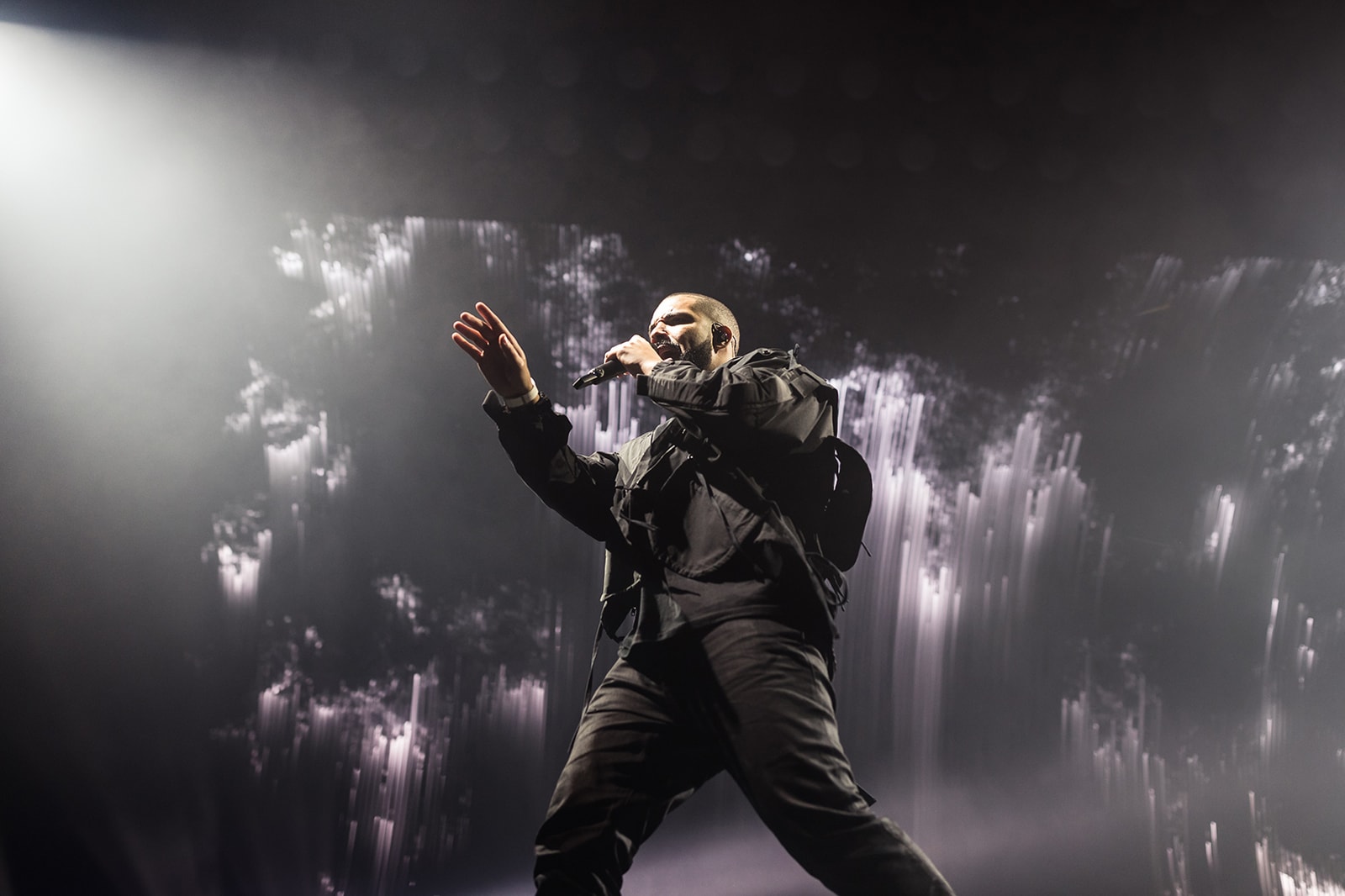 3 of 5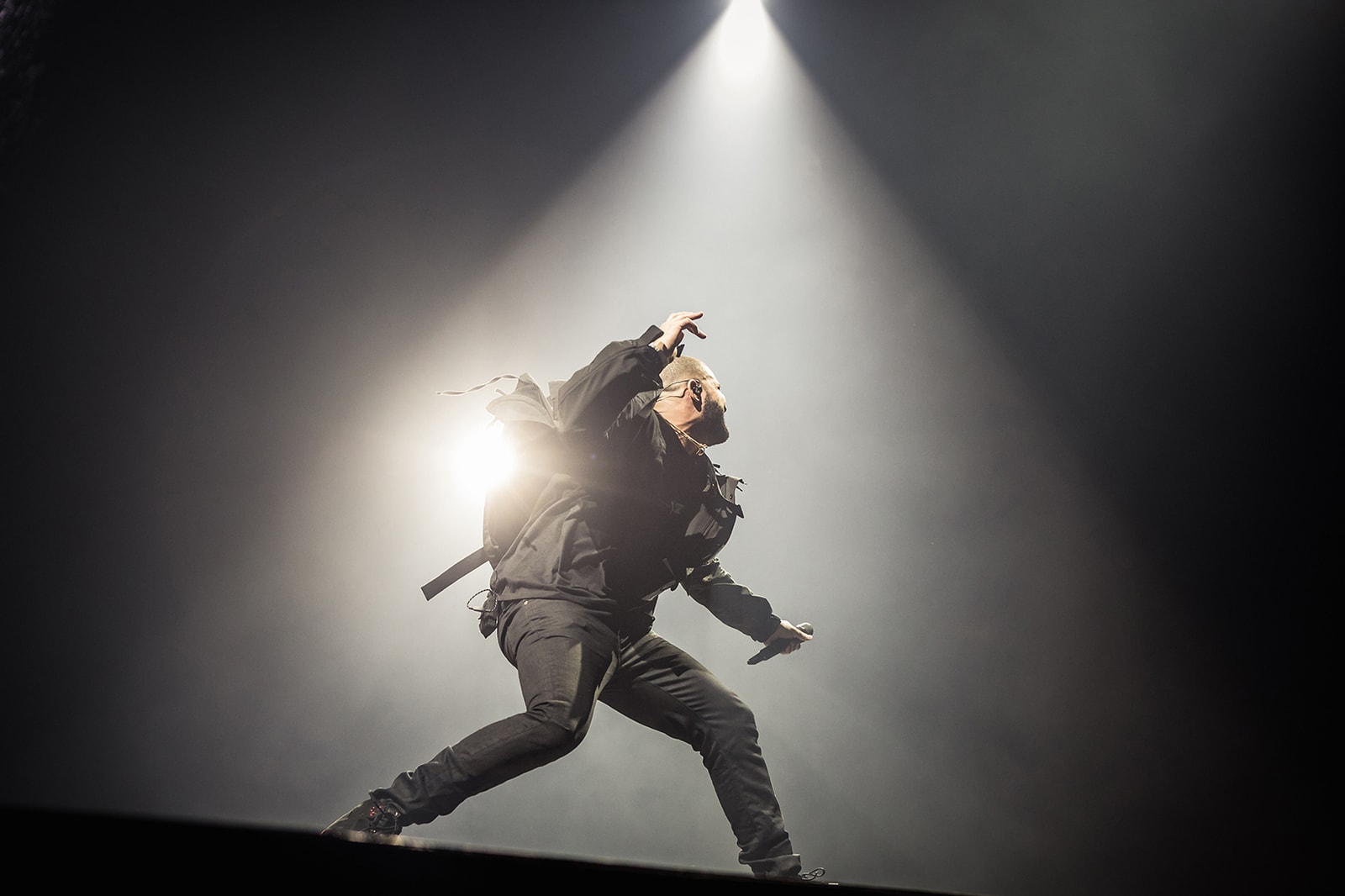 4 of 5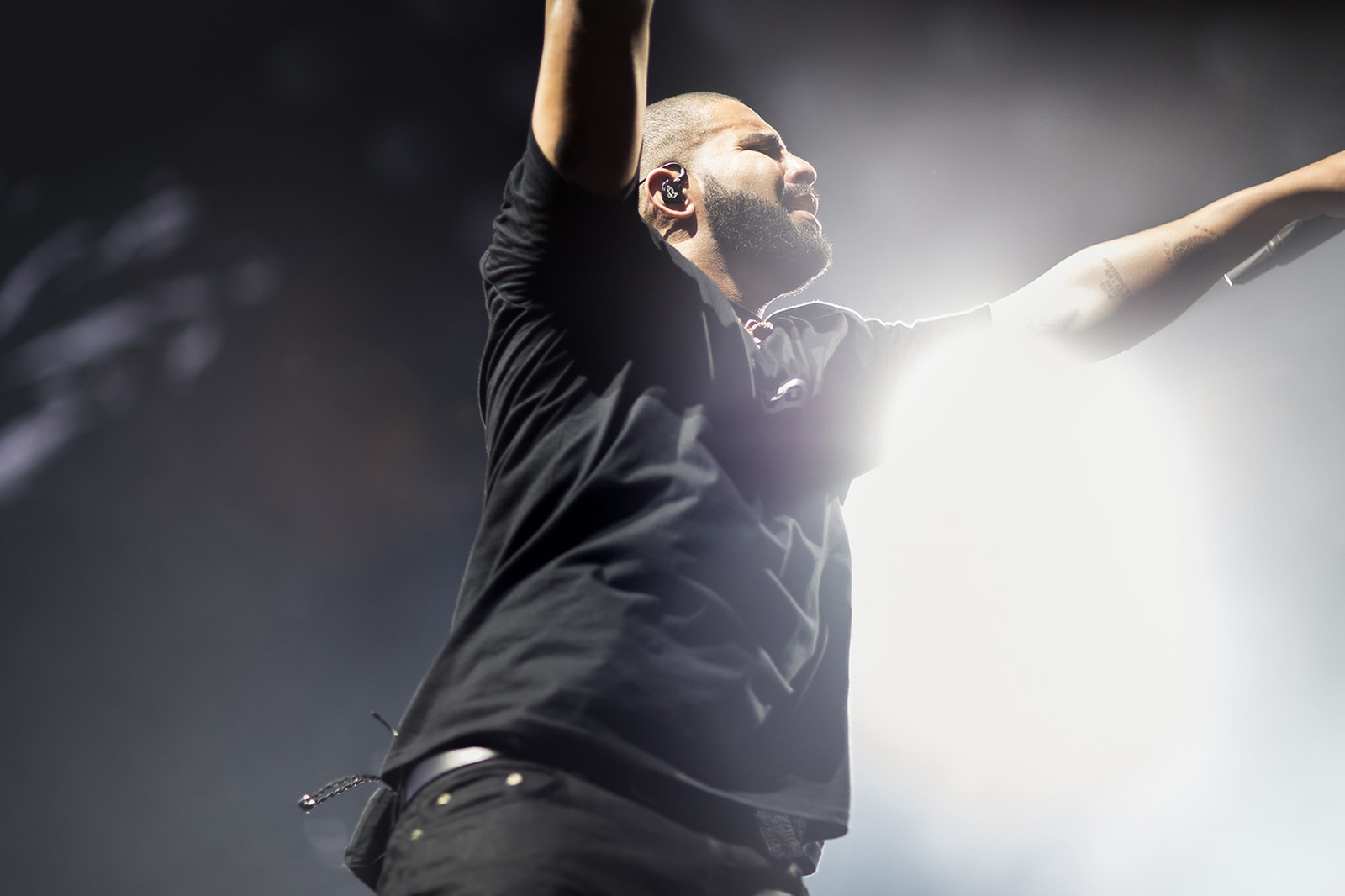 5 of 5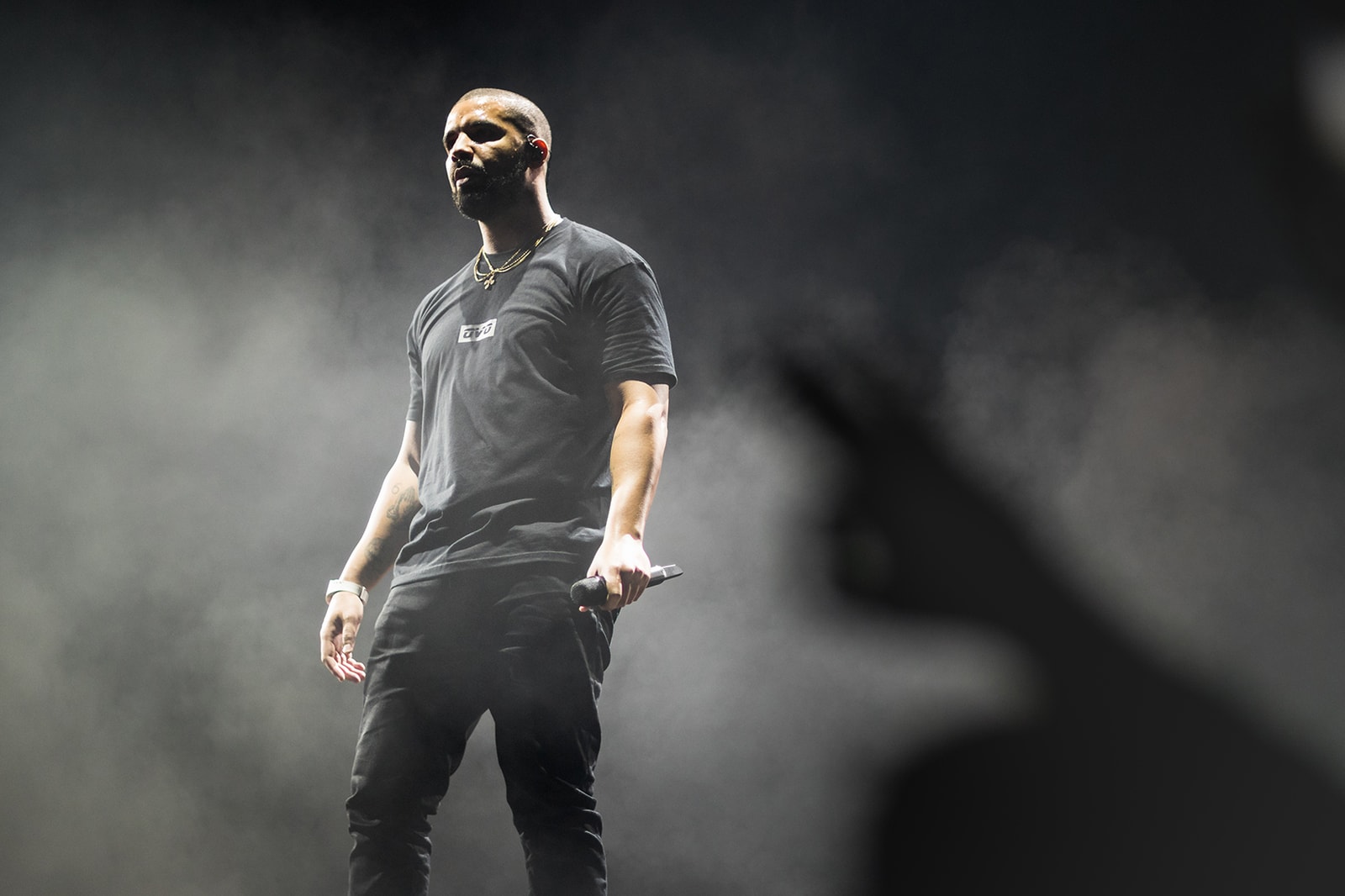 And then finally, after a very long break, the moment finally arrived. Drake took the stage to the appropriate "Summer Sixteen" among a blast of pyrotechnics and cheers from his hometown disciples. He launched into a string of songs from his latest smash album Views including "Still Here," "Keep The Family Close" and the crowd-favorite "Feel No Ways." It was then time for a trip down memory lane with "Headlines," "Trophies," "HYFR" and "0-to-100." The line in the latter "I should probably sign to Hit Boy cause I got all the hits boy" was looped as a cheeky signifier of what was to come. This is when Drake shines, when he lets his well-earned ego all hang out for a few minutes, reminding everyone why he is in the position he is: he knows how to make hit records. He rolled through them quickly, giving the crowd at the most one verse and one chorus of everything from "6 God" to "We Made It" to "Blessings" to "Versace" to "I'm On One." The sheer number of Drake's hit records is staggering, and especially when presented in this rapid fire way.
This was the section of the show where the "Back-to-Back" line "I took a break from Views but now it's back to that" would have been appropriate as the boy went back into a more downtempo section where he showed off his singing chops (which have gotten noticeably better over the years, especially in a live setting) with songs like "Child's Play," "Fire and Desire," and "Come And See Me." dvsn's Daley again graced the stage to join his label boss for "Faithful," before Drake was back at it solo for another stretch of crowd-favorites from "The Motto" to Fetty Wap's Summer '15 smash "My Way" and Drake's latest DJ Khaled collaborative banger "For Free."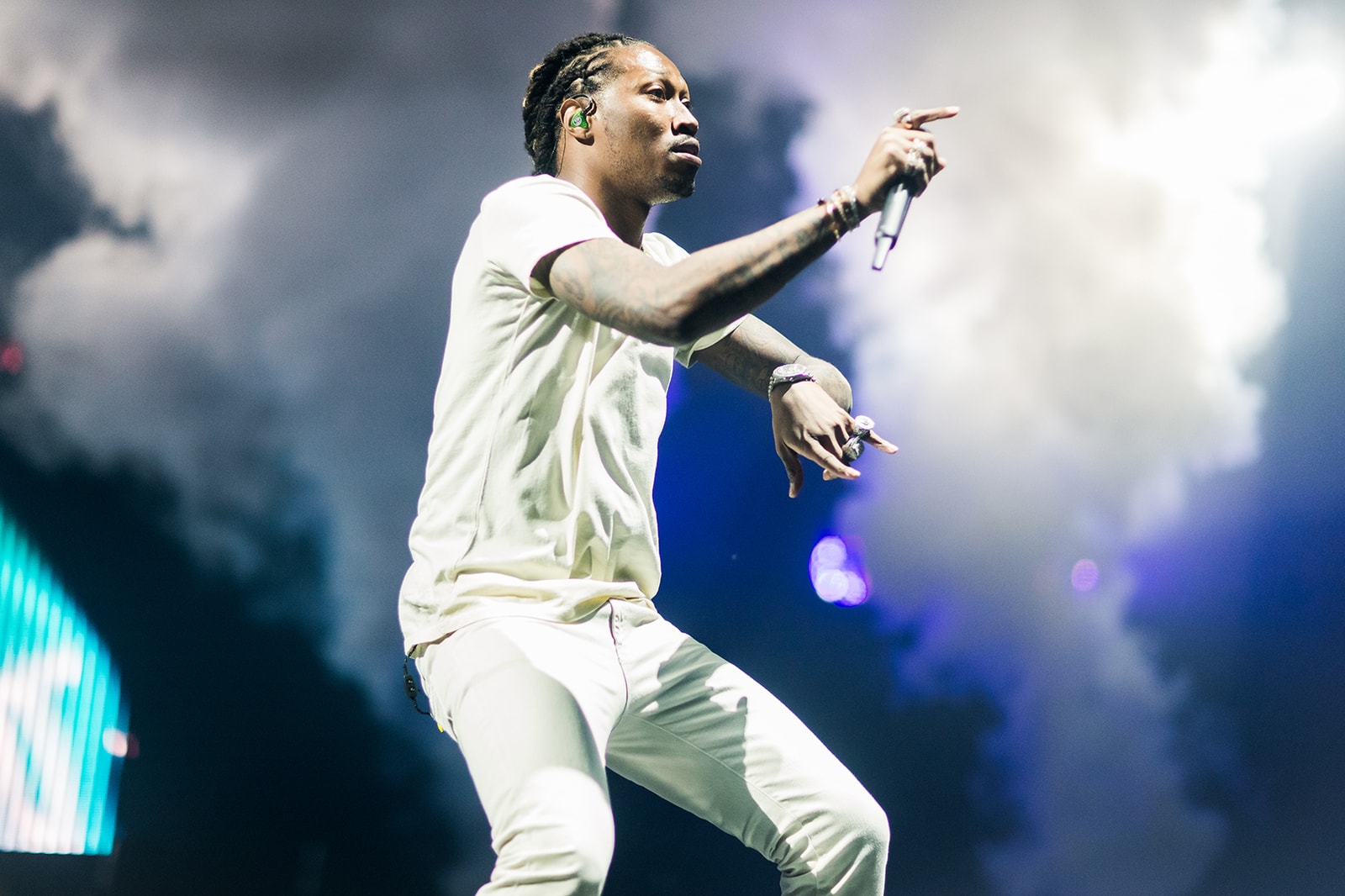 Future then joined Drake for "Grammys," with Future then continuing on solo for his portion of the show. Future's live shows are known for their incredible energy which is the result of a perfect storm of his signature stage presence (and dance moves) while performing his already-turnt-up trap bangers, and DJ Esco's hypeman skills. This time he also brought four backup dancers along for the ride, who managed to take the show to new levels of lit. Future treated the crowd to a slew of his hits including "Blase," "Bugatti," "Same Damn Time," "Commas" and "March Madness." He was then joined again by Drake for "Big Rings" and "Jumpman," at which point the energy in the ACC was at a fever pitch.
Drake taunted the crowd, asking if we were happy now and if we were still with him. He pretended to ponder and said that because it was OVO Fest, we deserved to be spoiled. And with that one command, we found ourselves #blessed by the 6 God once again as the sound of the wobbly synths filled the stadium and a rising platform holding none other than Rihanna appeared from beneath the stage. The loudest screams of the night filled the arena as Rihanna performed "Needed Me" and "Bitch Better Have My Money" before Drake joined his frequent collaborator and rumored love-interest for their smash hit "Work" and a first-ever performance of "Too Good." Rihanna was the perfect guest considering that OVO Fest weekend coincided with Toronto's annual Caribbean Festival, otherwise known as Caribana. The chemistry between her and Drake is undeniable, and her surprise appearance was the treat that attendees were hoping for.
Drake kept the island vibes rolling with "Controlla" and his first-ever number one hit "One Dance," before taking the crowd for a final lap with some of his newest and hypest bangers, including "Pop Style," "Hype" and what might be the Toronto anthem "Know Yourself." He finished the show with "Energy" and "Legend" before thanking everyone profusely and promises more surprises on night two.
As Drake has helped us learn, it's okay if you might feel "nothing was the same." We need to grow and evolve, and he himself has done so in spades over the past years.
And just like that the four-hour show was over; another OVO Fest night one in the books. It was an incredible show with all the pieces that you'd expect from a stadium event perfectly in place: high energy, great pace, great performers and an amazing stage design. An honourable mention needs to go to Mike Carson, the creative behind the visuals for the show, which were absolutely on point the whole night.  With all that being said, it simply didn't really have the same feeling as OVO Fests of years past. It felt like yet another Drake show, albeit a great one, at the ACC — a venue he has been in multiple times, and as recently as last year's Jungle Tour. Was it missing the outdoor, open-air vibe of the Molson Amphitheatre? Some concertgoers even spoke of missing the party on "The Lawns" which is the Molson's equivalent to the nosebleed section. Or maybe it was the format switch; perhaps some of the magic in years past was the energy and anticipation built up by knowing you weren't going to see Drake until night two. Either way, it felt different.
With that said, as Drake has helped us learn, it's okay if you might feel "nothing was the same." We need to grow and evolve, and he himself has done so in spades over the past years: as an artist — everything from his lyrical content to his singing to his performance have all improved exponentially since he burst onto the scene in 2009 with So Far Gone — but also as a brand. OVO has grown to include a label, a clothing line, two brick-and-mortar stores in two countries; Drake even recently branched out into the world of food and beverage with his trendy Toronto eatery Fring's. This isn't the same artist and man he was seven years ago when he launched OVO Fest, and so the event itself has to grow with him. While the first year might have been a bit of growing pains, you know that he'll keep trying until he gets it right and people will be along for the ride. On "Underground Kings," from his second studio album Take Care, Drake declares "I do it for the city, cause you know the city love it." It's damn near impossible to argue with either statement.