Introducing Brand ROKIT: Ball Is Life Meets Skate or Die
We explore the brand that's blending the cultures of basketball and skate.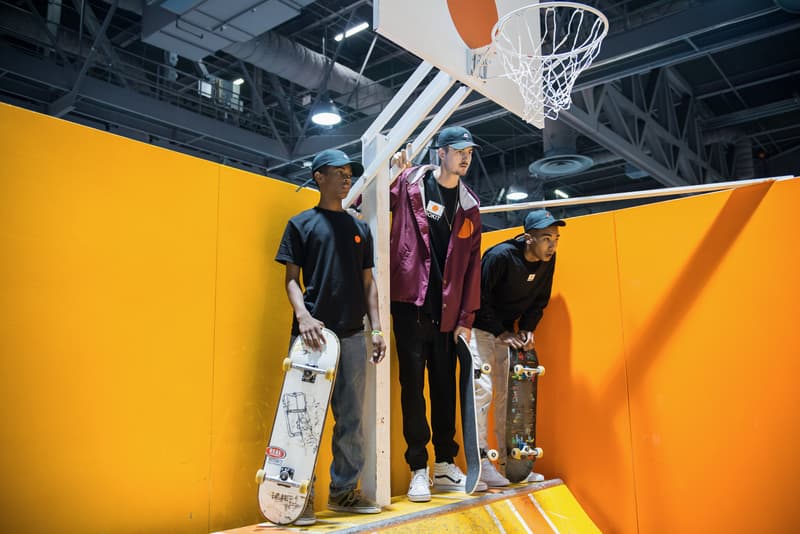 1 of 10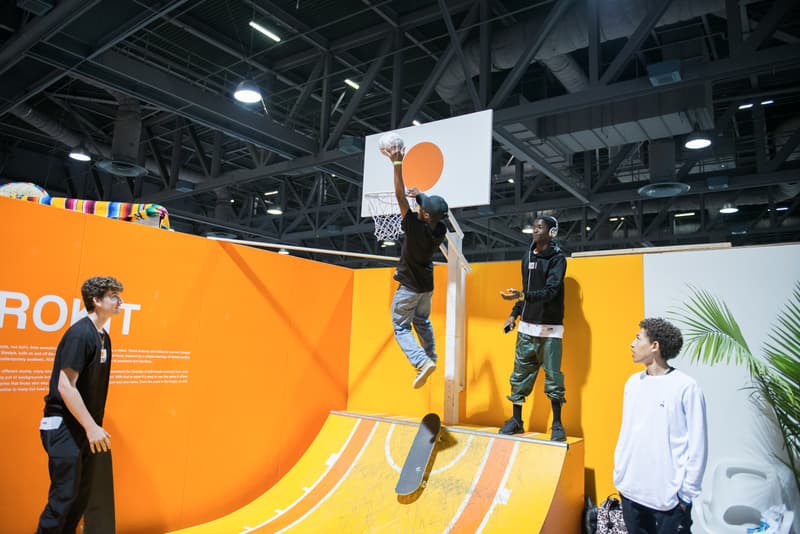 2 of 10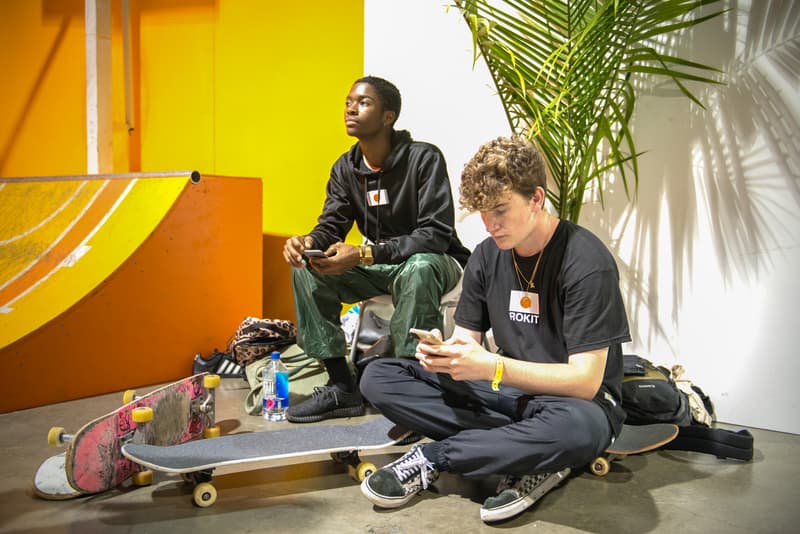 3 of 10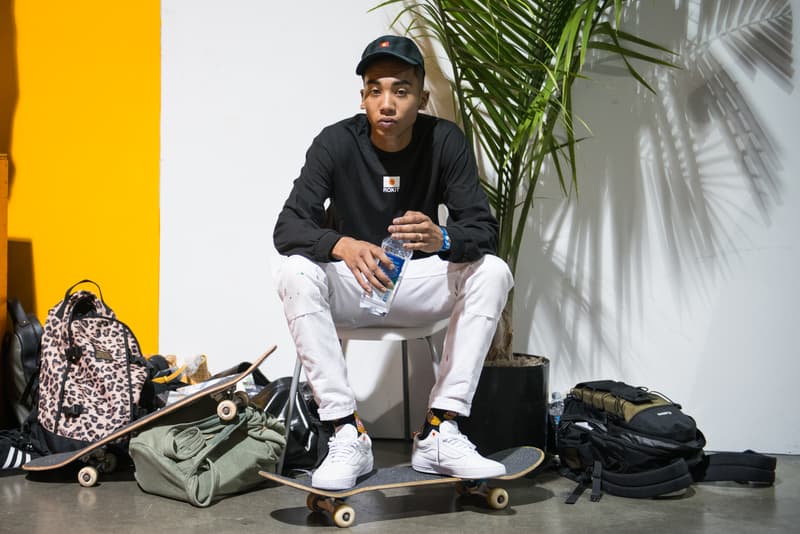 4 of 10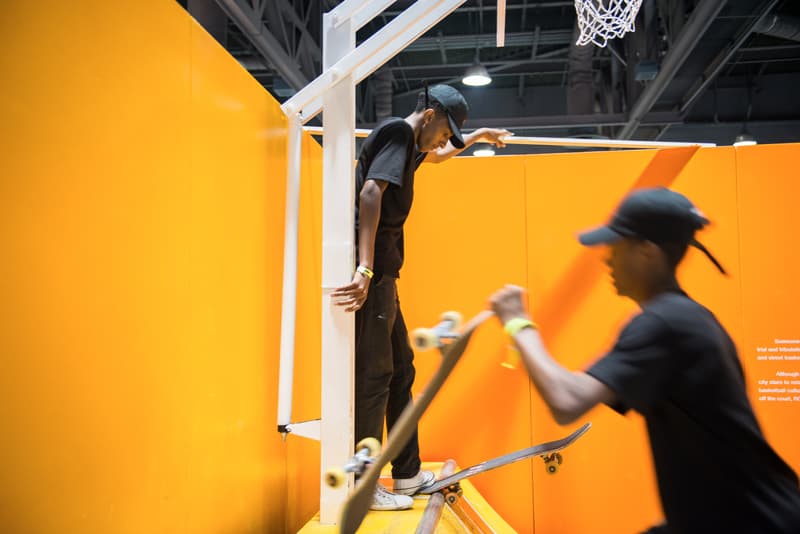 5 of 10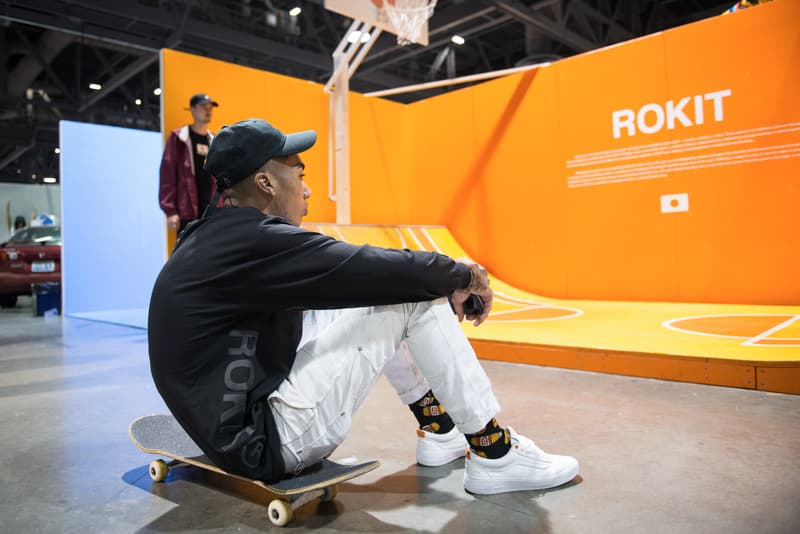 6 of 10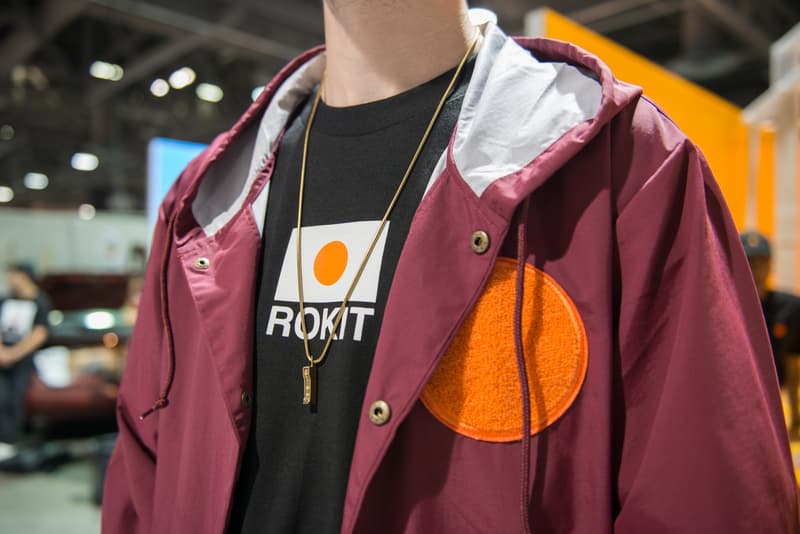 7 of 10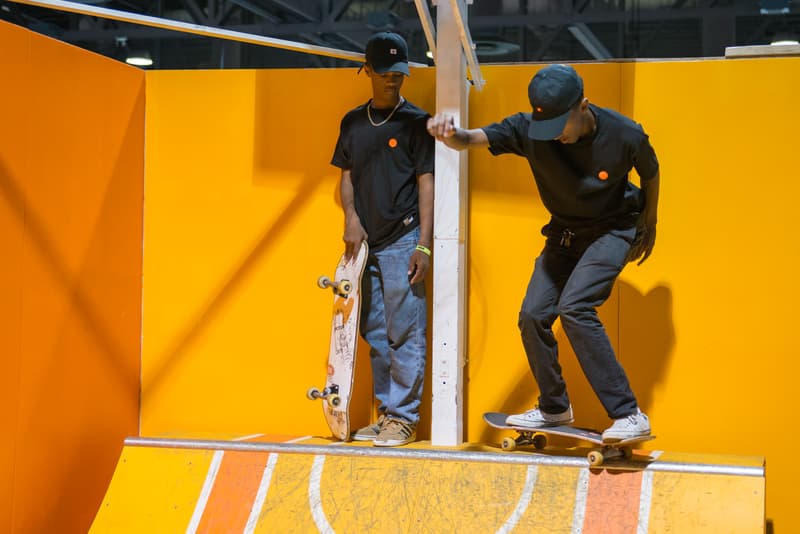 8 of 10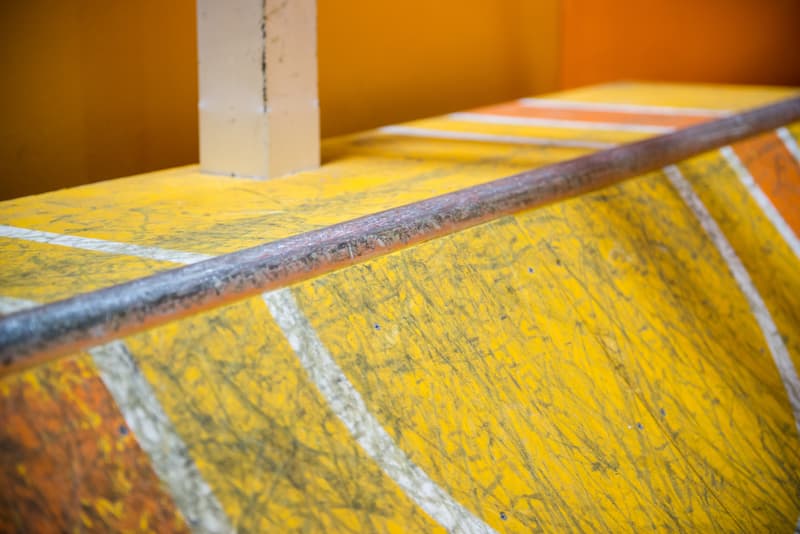 9 of 10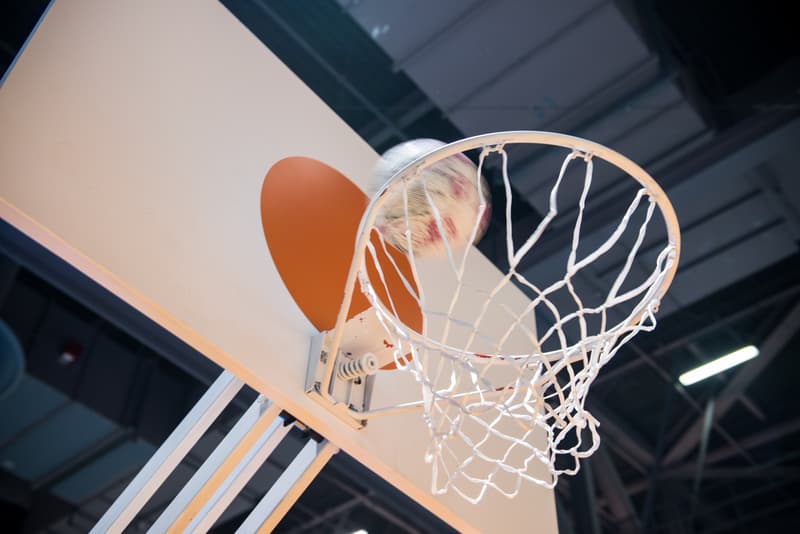 10 of 10
Every once in a while, we come across something new, something that stands out from the myriad of brand concepts and fledgling labels that have taken the risk of stepping into the fashion ring. This year, we came across one such brand during out annual trip out to AGENDA Trade Show. It's called ROKIT. The name may ring a bell from our post earlier in the year where ROKIT debuted itself on our feed through its collaborative effort with Vans and Shoe Surgeon. But it wasn't until we reached the bright orange half pipe with two basketball nets on either end – the brand's AGENDA booth setup – where we got to meet the ones responsible for such a charade – their booth was arguably the busiest during the two day event in Long Beach – and for the brand itself and what it stands for.
To put it simply, ROKIT has blended both worlds of basketball and skateboarding together under a coherent entity that leans on contemporary, minimalistic Japanese aesthetics. You may now be saying "well fuck you, I like to skate and ball is also life!," and that may be true for many of you, but why we're writing about ROKIT is because they're the first (on our radar at least) that has successfully put the two together as a lifestyle brand that's already amassed a team of kid ambassadors. So what really is a "lifestyle" brand? According to Bam Barcena, one of the three creatives behind ROKIT, it's when you build a brand that represents more than just the clothes. A lifestyle brand is when you embody in full force the culture, be it niche or mainstream, that the brand represents. This means building a community around the brand, offering events, starting a movement… On top of all that, you get to wear dope shit as well. It's great.
But skepticism is all part of the job, and the brand is still fresh on the scene with only a few items currently out, so we wanted to find out whether Bam, his brother Ryan Barcena aka RIONISM, and the brand's centerpiece Nico Guardalabene were legit to their cause. In that vein, we decided to sit them down for their first ever collective interview to figure out where the idea came from, why they wanted to represent these particular two pillars of street culture, and how they did it.
---
Starting off by having you guys introduce the brand, can you tell us about the name ROKIT and where it came from?
NICO: ROKIT represents the kids who are playing basketball and skateboarding.
RIONISM: The ROKIT movement came out of slang from Nico. He grew up in the Bay Area… in Berkley. It was just a word that was thrown around all the time so it encapsulated this movement. I thought it would be perfect to describe our lifestyles and all of our friends having grown up skating.
NICO: There was a park up the street from my house and I used to skate there and play basketball with my friends. And I felt like pushing that you don't necessarily have to be the best skater, but it's about having the love to skate and the love to play basketball. I played high school-organized basketball as well as a year in college. Basketball is in my blood, and when I didn't have a car I'd be skateboarding all over the place.
Can you describe the time in which you wanted to encapsulate that lifestyle into an entity, a brand that you can offer other people?
NICO: Me, Bam, and Ryan were talking and figuring out what we wanted to do. Ryan was like "yo man, we skate and hoop, what if we take those two worlds and merge them into one?"
RYAN: Then it was like why don't we just do a brand on you (Nico), like where you come from, instead of building a picture around a lifestyle that we did not necessarily lead. So for the longest time we would call him ROKIT before the brand was even around.
So it's a manifestation of you, Nico?
NICO: Exactly. We've seen it come to life. We cater to the youth and the places we hang out at. Venice is a prime example. There's a skate park there and also a famous hoop court for street ball. Now these kids are seeing it like "I'm not just categorized as a skateboarder, I can play basketball too." That makes people more comfortable with being who they are.
RYAN: You choose what you wanna do. One day you wanna skateboard, one day you wanna play basketball — It's a hybrid of the two worlds.
I wanna talk about the overall aesthetic – it's obviously minimalistic in its own way. Describe the look and how that came about.
NICO: We wanted the design to be a cleaner aesthetic for the brand's DNA to show through the product and the way we presented it. As far as the logo itself, it's orange in color – it highlights the basketball element. It represents that everything comes full circle. It's not just people who have to play basketball, it's for people who love to watch the sport.
Moving on to your roles within the brand, can you detail what each of you guys do?
NICO: I'm the owner and founder. [Ryan and Bam] are the creative directors and brand managers. We work as a team. We do everything together but we all have our different roles to play at the end of the day.
RYAN: We have that mentality where I'll be doing a design and I'm sure Nico will be out in front of the press and I'm sure Bam will be in line and managing the brand as a whole, but each of us like to stress that as a small company, we all have to wear multiple hats. There's only three of us. If I can't make a production run, Nico may have to run to the factory and pick up the slacks if I'm not available.
NICO: I also still work for Undefeated as well, I have a 9-5 job. That makes me go harder too, when I get home I'm still working. It's a hustle.
What are your plans for marketing the brand and building awareness? We've seen The Shoe Surgeon collab you guys did together with Vans. What else do you have in store for bringing the brand out there?
NICO: We have numerous collaborations coming out. Our summer collection is coming soon, and we've got a pop-up. It's about getting out there and showing them what it is. People are seeing the photos and seeing our [AGENDA] instillation and now they get it, now it's in your face. Here we are.
RYAN: With the icon and logo's subtle resemblance to the Japanese flag, we have a good amount of traction and support in the Japanese streetwear community. We've been getting a lot of love from them out there. There's no animosity — we have that support. It's going to be a big market for us moving forward.
BAM: I think it's expanding from the concept, and going beyond the perspective of just showing clothes. You've got trade shows that are just showing clothes. We want to expand the story and collaborate with different artists. It's a marriage of two things that people have known for a long time so we want to do it differently.
The three of you are already involved with the industry outside of ROKIT. What does this venture offer you guys that is refreshing or different?
NICO: First, there's this new change in tides. Like I said before, these kids that aren't just into skateboarding can feel a part of something else. It's a movement too, and now people are starting to get it, and it's just going to grow from there.
RYAN: Conceptually the brand is like nothing I've seen before. Honestly, at the end of the day, it's fun to work on. But at the same time it's interesting to be a part of this "changing of the guard." We're at the forefront of the new youth wave standing next to our peers at Enclave like Matt McCormick who's an artist. We get to be a part of that wave and seeing it from the front rather than following from the behind.
BAM: For me, I think it's about bringing out the inner youth in all of you. It's honest. Sometimes we fail to see that the youth wave is always changing. It's something new. For us it's about having fun rather than approaching it as a business.
Tell me about the ROKIT team, the kids at the booth that are representing the brand. How did it come together.
NICO: It's the kids out here in LA… The ones that come by Undefeated all the time and just kick it. Just like myself, I noticed they skate and play ball too — do their thing — and I noticed it's a movement.
BAM: The interesting thing about this project is realigning with the youth, working with these kids on the team. One is an aspiring a graphic artist, another hopes to be pro skater one day, and there' even one who's already established himself as a legit model in a fashion agency… It reminds be of when I first started and worked under Alyasha [Owerka-Moore] and other guys I looked up to. They gave me a chance and got my foot through the door into the industry. I wanted to do the same and give it back to the kids."
So did they get what the brand was about instantly?
NICO: Yeah, we came together as a collective to figure it out. Bam came up with The Shoe Surgeon sneaker idea. I think that was a good way to bring the brand out and let people see what it is. And now the collection is building momentum, there are different celebrities wearing it. They want to be part of something that's new first, because nobody knew what it was, but now they do.
You guys have mentioned a few things that we can already look forward to, but is there anything upcoming that you want to officially announce?
BAM: We're gonna do a collaboration pop-up store at Institution in Vegas with Northern Thai restaurant Lotus of Siam. We're also participating in Complex Con where we're gonna do an art installation and introduce a slew of collaborations that have never been done with this concept. A few well known artists and brands that are involved with basketball and skating are gonna come solidify the presence of the brand.
Do you guys have any big-time goals with the brand?
NICO: Being able to do big collaborations with other brands that we look up to like Vans again would be dope.
Ryan: I think the concept of maybe making a new store. Maybe taking a game of H-O-R-S-E and S-K-A-T-E and create a new game like Skateball, that would be game-changing stuff. Something interactive of that nature.