Putin Appoints Steven Seagal As Russia's Special Envoy to the U.S.
A special representative promoting humanitarian ties between the nations.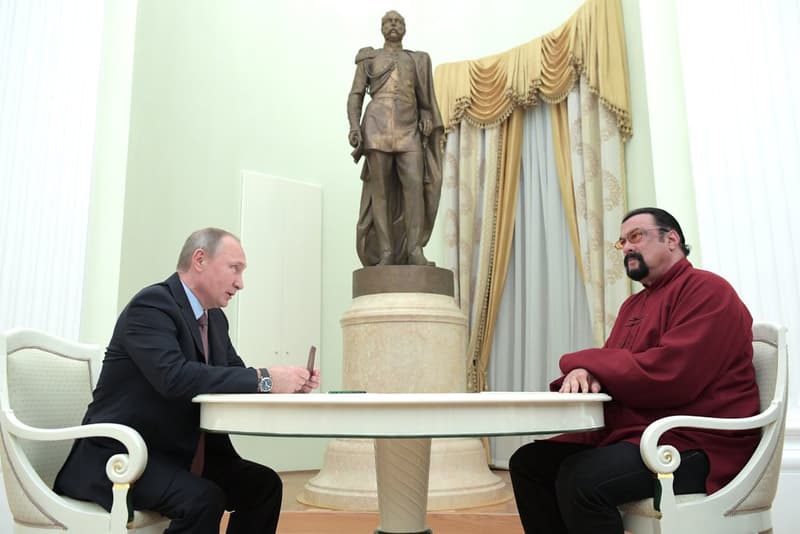 Following a publicized meeting with Vladimir Putin at the Kremlin in 2016, Russian officials have now appointed Steven Seagal as the nations' special envoy to the United States.
Known for his roles in action films, Seagal will now serve as a special representative to improve relations between the U.S. and Russia. According to the Russian Foreign Ministry who announced the appointment, the 66-year-old actor will overlook the humanitarian field, including cooperation in culture, arts, public and youth exchanges. Taking to Twitter, Seagal noted that he is "deeply humbled and honored" by the unpaid position and hopes "we can strive for peace, harmony and positive results in the world." Steven Seagal has served as somewhat of a Russian public figure in recent years, occasionally appearing on state television after publicly becoming a Russian citizen and receiving a passport personally from Putin in 2016.
Catch the announcement of Steven Seagal's appointment and the response he tweeted below.
Steven Seagal @sseagalofficial, who is a Russian citizen, has been appointed as a special representative of the Russian Foreign Ministry @mfa_russia in charge of the ??#RussiaUS?? humanitarian ties

➡️ https://t.co/JxYrEdqoig pic.twitter.com/9Mo6CDxLF7

— Russia in USA ?? (@RusEmbUSA) August 4, 2018
I am deeply humbled and honoured to have been appointed as a special representative of the Russian Foreign Ministry in charge of Russian and American Humanitarian ties.
I hope we can strive for peace, harmony and positive results in the world.
I take this honour very seriously pic.twitter.com/LTuUxsk1aZ

— Steven Seagal (@sseagalofficial) August 5, 2018