Dave Bautista to Quit His Role as Drax the Destroyer if Original Script Is Not Used
A 'GOTG' without James Gunn is not what he signed up for.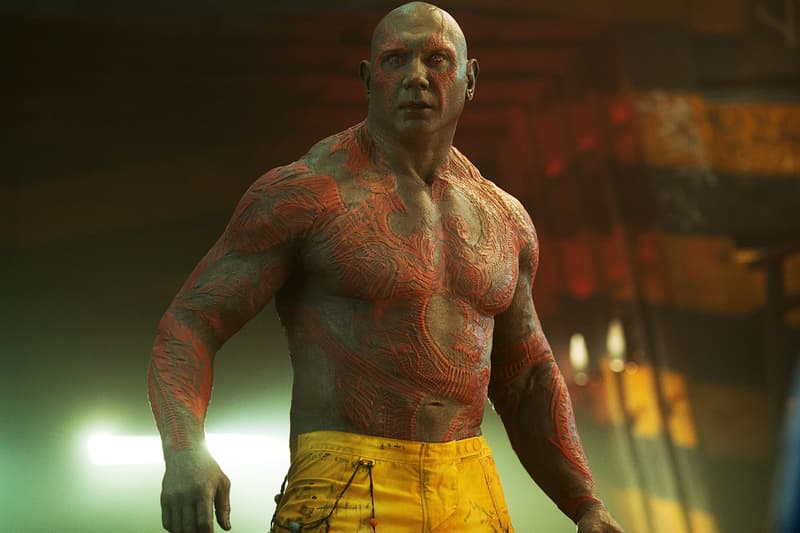 It seems as though the Guardians of the Galaxy/James Gunn plot thickens, as Dave Bautista, who plays Drax the Destroyer recently spoke out for the first time following the director's dismissal for insensitive tweets made some years ago. Just last week, the franchise's entire cast, including Chris Pratt, Zoe Saldana and Bautista himself, banded together, signing an open letter in support of Gunn, while requesting to have him reinstated onto the project.
Over this past weekend, Bautista engaged with a Twitter follower, saying he would fulfill his obligation to remain on and play his role, however, sang a different tune when speaking with Shortlist, stating "Where I'm at right now is that if [Marvel] don't use that script, then I'm going to ask them to release me from my contract, cut me out or recast me. Later adding, "I'd be doing James a disservice if I didn't."
Also in the interview, the actor had the following to say:
"Nobody's defending his tweets, but this was a smear campaign on a good man."

"I spoke to Chris Pratt the day after it happened and he's a bit religious so he wanted time to pray and figure it out, but I was more like: f*ck this. This is bullshit. James is one of the kindest, most decent people I've met."
I will do what Im legally obligated to do but @Guardians without @JamesGunn is not what I signed up for. GOTG w/o @JamesGunn just isn't GOTG. Its also pretty nauseating to work for someone who'd empower a smear campaign by fascists #cybernazis . That's just how I feel https://t.co/Ym4FwruVDu

— Dave Bautista (@DaveBautista) August 5, 2018
Be sure to stay tuned as the story unfolds. Meanwhile, in other entertainment news, Marvel reportedly pulled the plug on Donald Glover's Deadpool series.