Football Legend Zinedine Zidane Bestows "ZZ10" Playground to Saint-Denis
To celebrate France's 20th anniversary of winning the 1998 World Cup.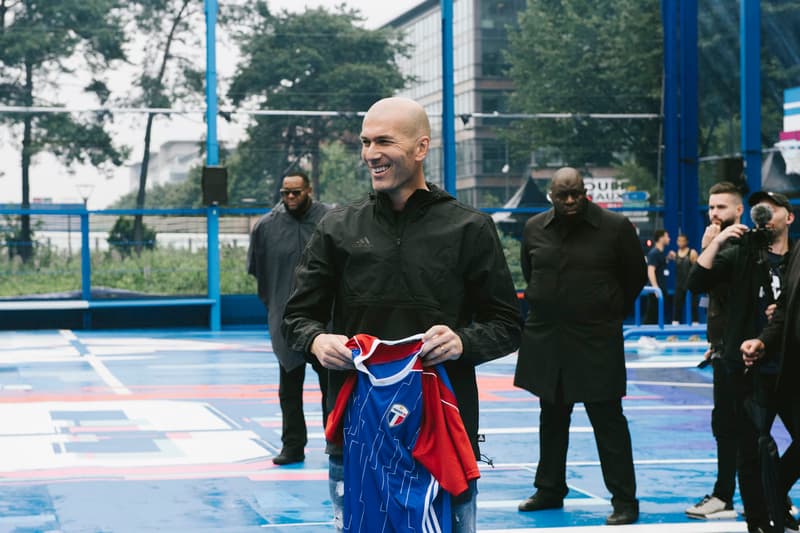 Zinedine Zidane may have just stepped down from Spain's most powerful club Real Madrid, after leading them to three successive Champions League titles, but that doesn't mean the living legend has gone into hiding. Making a special rainy day afternoon appearance this past Monday, Zidane, more endearingly known as Zizou, captivated the large Saint-Denis crowds as he bestowed his collaborative gift with adidas to the city: the "ZZ10" Playground. Adding to the reveal came the celebrations of France's 20th anniversary of winning the FIFA World Cup, which was also hosted by Les Bleus back in 1998. Situated in the outskirts of Paris en route to the Stade de France, the playground's base has been designed to represent a large graphic print of Zidane's famous number 10 kit that he wore during the 1998 FIFA World Cup Final win over Brazil. Luckily enough, HYPEBEAST France was there to take it all in.
Famous French journalist Thomas Thouroude was present trying to amp up the crowd, however, no one could steal the limelight from the man of the hour, Zidane. Upon his arrival, the gloomy day weather could no longer hinder the celebrations as the crowd instantly lit up with excitement. Amongst the invited guests were groups of primary school kids, local youth clubs and the famed Red Star F.C.
Soon Zidane took the mic, "With the rain it's a shame, but it doesn't matter. It's the story that counts and the fact that 20 years later, it's good… it's good to find yourself, to remind yourself a little of what you have lived, between what you will live today and tomorrow, it's great." Zidane continued by reminiscing about his football past when he needed two T-shirts to create a goal and how happy he was to see such a grand stadium being presented to the city. "I really like going back to the history of it all, the story being that my dad used to work here before this stadium existed. So this is a beautiful moment for me," Zidane shared with the crowd, marking a historic part of his life even before his 1998 World Cup appearance, signaling in a way, a return to his roots.
Following his personal speech, some quick selfies and the cutting of a metaphorical ribbon, the youngsters were then invited onto the pitch to play a little "competitive" match with Zidane who was also joined by a number of his famous team-mates from the same World Cup winning team from two decades ago including Laurent Blanc, Fabien Barthez, Christian Karembeu, and Robert Pirès. The mayor of Saint-Denis Laurent Russier also had a few words to share, "We want this public space to be used in the best way, and we hope that young people, teenagers and adults alike can find their place here. We want all the citizens to be able to appreciate this playground." Russier explained the "ZZ10" in a bit more detail, "in essence, it is a private initiative with adidas along with the legend that is Zinedine Zidane, so we knew that we couldn't do something with all the inhabitants. What counts is the heritage. The most important thing is that there is a legacy."
As the celebrations started coming to a close, Zidane answered one last question that had been burning on everyone's mind: what will he do in the future? "I'm resting and I can only think about it right now, to rest," he shared. As Zidane and his famous friends leave the court, media in tow, the "ZZ10" playground quickly gets overtaken by the youth hoping to live out their own dreams.
The original piece was written by Alexandre Pauwels of HYPEBEAST France.