Virgil Abloh Teases Designs for His First Louis Vuitton Sneaker
Along with clothing, bags and accessories.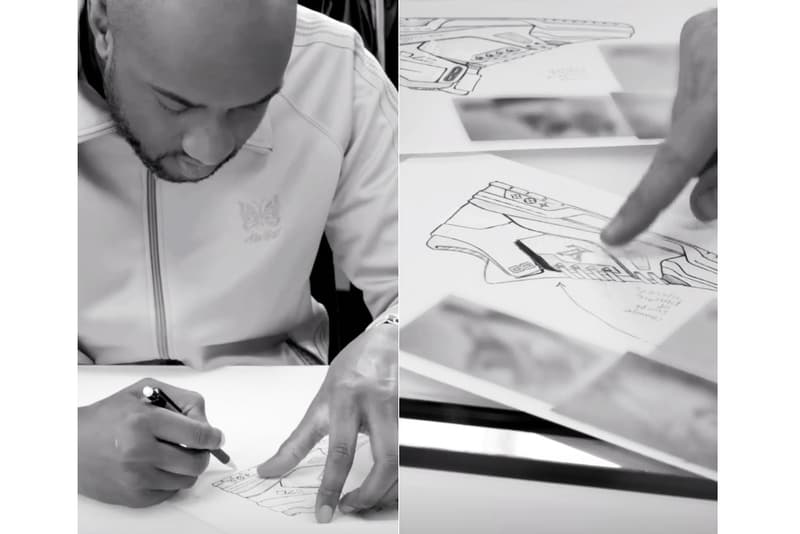 Following the designer's latest footage inside the Louis Vuitton atelier, Virgil Abloh has once again taken to Instagram to tease some new creations. Through Louis Vuitton's social media, Abloh has revealed several key designs and details about the goods debuting at the brand's upcoming Spring/Summer 2019 collection.
Described by Abloh as "what I think … is a classic sneaker," the creative reveals a sketch for a mid-top design, emblazoned with the LV monogram and iconic floral pattern. Describing the creation to an assistant, the designer — wearing an AWGE x NEEDLES track jacket — notes that he'd like to add gold or porcelain touches to the sneaker "to make it feel more rich." The porcelain details will also tie in with his bag designs, which feature chains crafted from porcelain to replace the original straps, further handiwork will give the impression that the chains were "fired in a kiln." Accompanying a tote is a small shoulder bag, both executed in classic brown leather with the LV monogram.
Tantalizingly few shots of the clothing appear in the stories, but what is there appears to be classic Abloh: graphic tees, sporty influences, oversized coats and slouchy tailoring. The house's monogram and branding appear throughout, with an oversized "LV" placed on the rear of a massive coat. Bold prints appear on trench coat-inspired jackets, while a snap button-accented cape is executed in all-black, matching several low-key tees and trousers. Pouches appear throughout the range; a holster bag-style vest offers two built-in options, and Abloh sticks a small coin purse onto a layering piece-in-progress, noting that he wants to "like take a Louis piece and stick it on [the vest]."
Check out Abloh in action below:
Most recently, we took a closer look at the goods from the final Kim Jones-designed LV collection.