Jaguar Vector Racing's V20E Breaks World Electric Speed Record
Ruling the land and seas.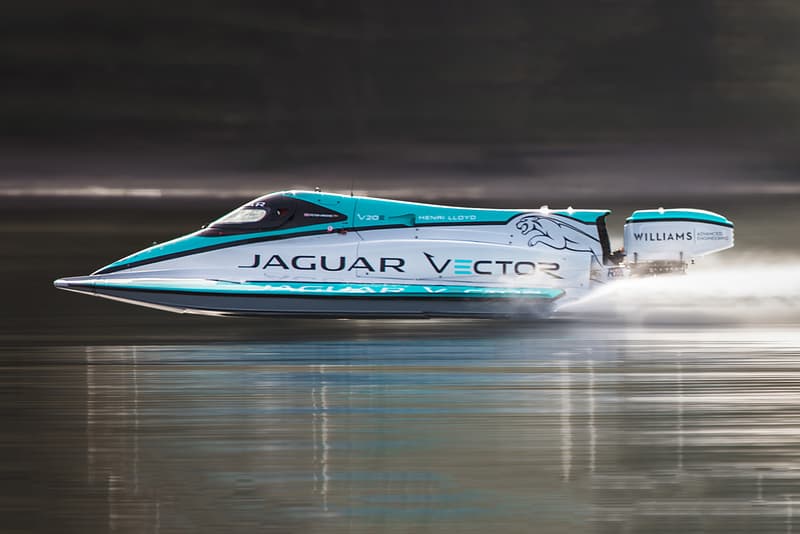 Luxury automakers Jaguar has graced our pages numerous times throughout the years for its impressive catalog of cars that span such vehicles as the I-Pace, D-Type, and E-Type, amongst a legion of others. While the brand's boat division remains somewhat of a mystery to some, Jaguar, in tandem with Jaguar Vector and Williams Advanced Engineering has taken monumental steps in changing that perception altogether.
Through the raw animalistic power of their joint Jaguar Vector Racing V20E vessel, the trio broke the world and UK electric speed records, reaching an average speed of 88.61 mph on England's Coniston Water. Although not much is known technology-wise, it is believed that the speedboat uses the same power process Jaguar and Williams use in Formula E. All three companies are set to work closely together going forward, which can only mean forward progression for the electric speed boating scene.
In case you missed it, Honda upgraded its HondaJet with a new "Elite" model.
What we've learnt on the track, we've taken to the water. @JaguarVector Racing and @WilliamsAdvEng have broken the outright world and national electric speed records in a battery-powered boat, recording a new average speed of 88.61mph (142.60km/h) #RaceToInnovate pic.twitter.com/48jpOoBO0w

— Jaguar Racing (@JaguarRacing) June 16, 2018