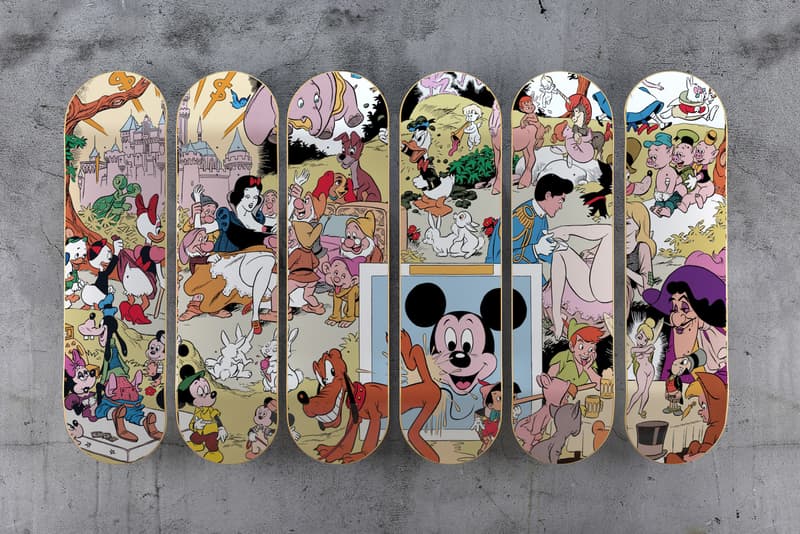 Best Art Drops: Limited Skate Decks, Sculptures & Paint Extinguishers
Highlighting iconic artists Wally Wood, Keiichi Tanaami and more.
---
Since the early 1950s, skateboarding started out as an alternative method for Californian surfers to cruise on concrete. The original inventor of the first skate deck remains unknown, but since its popularity peaked in the 1960s, countless customized boards have hit the global market, as per Skateboarding Magazine. As the once leisure activity turned professional sport's popularity continues to rise, platforms dedicated to selling skate decks as limited-edition pieces of art also continue to emerge. Take Supreme's artist collaboration decks for instance or the Skateroom 's collectible boards intended to be mounted on a wall just like a painting.
For this week's best art drops, we highlight coveted artist skate decks alongside other limited collectible artworks created by leading international artists. Read on to learn more and let us know if you're willing to cop.
Wally Wood's Disneyland Memorial Orgy Printed On Boom-Art Skate Decks
Release Date: Available now at Boom-Art
Release Price: Approximately $662 USD
The artwork of Influential artist and one of MAD magazine's founding cartoonist, Wally Wood, is now embellished on a polyptych skateboard series. Portions of Wood's famous Disneyland Memorial Orgy is emblazoned on a total of six skate decks, forming the complete picture when placed next to each other. The satirical visual was initially published in 1967 by Paul Krassner in his underground publication called The Realist. The six-piece board series is available for purchase for €570 EUR (approx. $662 USD).
Skateroom Teams Up With Jean Jullien, Steven Harrington and Jeremyville for Limited Boards
Release Date: June 19 at the Skateroom and select shops
Release Price: TBC
The Skateroom joined forces with acclaimed artists Jean Jullien, Steven Harrington and Jeremyville for a series of limited-edition decks. Each artist has created new works portraying their signature motifs on a triptych series, in addition to a standalone version. For example, Jullien's The Bowl artwork is embellished on the triptych, while The Trangle artwork is wrapped on the single board option. Both works boast the artist's playfully drawn characters in vivid tones. Conclusively, each artist will release a unique number of editions alongside hand-signed certificates. The collection will be available at the Skateroom's official website and select shops, such as The Standard High Line and The Standard Spa in Miami Beach, later today.
Keiichi Tanaami & APPortfolio Connect on a Special Skate Deck
Release Date: June 24 at APPortfolio
Release Price: Approximately $105 USD
Legendary Post-War Japanese artist Keiichi Tanaami partnered with APPortfolio on a selection of skate decks. The collaborative offering boasts Tanaami's famed humanoid characters, monsters, and ancient deities. Several of Tanaami's psychedelic-meets-erotica works are currently residing at NANZUKA gallery in Tokyo, Japan. An official launch for the skate decks is expected on June 24 at APPortfolio's website.
Daniel Arsham to Release Limited HOURGLASS Sculpture
Release Date: June 22 at 12 p.m. EST on Daniel Arsham's website
Release Price: TBC
Daniel Arsham is set to drop a small selection of his HOURGLASS sculpture. The collectible is presumably constructed out of gypsum cement, fine sand particles, and glass. An eroded vintage camera is encased in one glass bulb that seemingly features the same details as the artist's Future Relic from 2012. Expect an official release at Arsham's official website on June 22 at 12 p.m. EST. Only 500 units have been made with pricing details to be confirmed.
Kidult to Drop Custom Paint Extinguishers
Release Date: June 20 at Kidult's official website
Release Price: Approximately $174 USD
Anonymous street artist Kidult will release a limited run of bespoke extinguishers, all signed-and-numbered. The functional art object will arrive in a matte black finish alongside "Kidult" lettering embellished across its metal body. Paint isn't included with each extinguisher, but it's refillable. Purchase one starting June 20 at Kidult's official website for approximately $174 USD each.