The Five Best Collections From Mercedes-Benz Fashion Week Tbilisi Fall/Winter 2018
The best presentations and most exciting designers from the tiny European nation.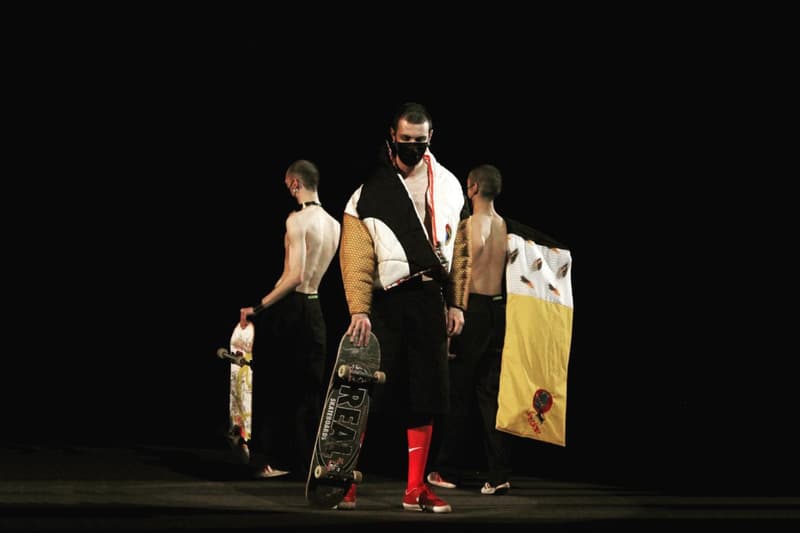 Georgia is a small Eastern European country that most Americans mistake for the state of the same name. Until recently, Georgia's most famous exports included liquor and ore, but Balenciaga and Vetements designer Demna Gvasalia put the nation on the map as a potential front-runner in the world of contemporary fashion. The last two years have welcomed many international journalists to the country's capital, Tbilisi, for its biannual fashion week, and while a Gvasalia successor has yet to emerge, the country's fledgling design scene has been on a steady rise.
The fashion culture in Georgia is rooted in the country's post-Soviet background, with tastes informed by the precedents set by Western designers. Womenswear collections outnumber the menswear, but what menswear is on hand offers surprising variety. Though universal fashion trends still dictate much of what is showcased seasonally (oversized tailoring and deconstruction still reign supreme), there are occasional flashes of uncommon dynamism and designers who are unafraid to push beyond the boundaries of favored tropes.
Still, with so much attention granted to designers in major metropolitans like Paris, New York and Tokyo, those who participate in smaller Fashion Weeks may be unfairly glossed over, regardless of innovative designs or adventurous decisions. Though Gvasalia put the country's fashion culture on the map, the strength of his name alone isn't enough to curry favor; the designers must deliver strong collections and the impetus is on international editors to pay attention to brands making bold moves.
Below, our five favorite collections of Mercedes-Benz Fashion Week Tbilisi Fall/Winter 2018.
Anuka Keburia
Founded in 2006, Anuka Keburia's eponymous label initially sold handmade shoes before branching out into ready-to-wear exactly one decade later. The original focus on quality has not shifted, with plenty of goods crafted in her native Georgia. Handmade textiles like leather and knitwear are one of the country's underappreciated specialties, and Keburia provides generous examples of the former. Most looks showcased matching handbags and footwear, crafted from soft leather to complement the flowing looks. Fall/Winter 2018 sees the brand retaining its focus on comfort, with oversized shirts and jackets layered over brightly-hued leggings, keeping close to current trends while evolving beyond pastiche. High neck knits granted the flowing range a sense of regality, undercut by playful, gauzy layers and the penultimate look, an extraordinary high-waisted pant/skirt/dress hybrid.
Tamra
No other Georgian label leaned as close to streetwear as Tamra's Fall/Winter 2018 presentation, perhaps the most playful showcase of the week. Referential logos ranged from a Chanel flip to a retro embroidered PlayStation decal, all complemented by oversized sweatsuits and board shorts. Some models skated down the runway in puffy quilted mufflers, but all wore black face masks that occasionally bore Japanese characters, almost like a tribute to the playfulness of Japanese street style of yesteryear. The playful patterns, effortless cuts and tongue-in-cheek styling (one model bore a single boxing glove, another toted a plastic soda cup) elevated the range beyond simple street fodder, realizing the designer's vision of offbeat menswear.
Aznauri
One of two brands helmed by Irakli Rusadze, Aznauri offers an array of wardrobe staples reimagined with a genderless bent. Items boast generous cuts and muted neutral tones — the latter being a key trait of traditional Georgian clothing. Grey, black and dark navy recurred throughout, allowing for effortless mixing and matching. Naturally, the clothing was boosted beyond mere minimalism, with plenty of otherwise unfettered goods reimagined in shiny leather. Workwear classics — like boxy shirts, cargo pants and trench coats — were subverted with bold patterns and unconventional cuts, like a cropped, fully-zipped take on a stadium jacket, blurring the lines between masculine roots and feminine freedom.
Ingorokva
One of the longest-running labels to show at this year's event, Tamuna Ingorokva's label was founded in 2002. Known for its minimalist-minded designs and sleek shapes, Ingorokva quietly developed its signature style while nodding to contemporary tastes. The soft silhouettes of flowing coats, gowns, trousers and blouses were contrasted with dark hues and ragged knits. Meanwhile, pastel dresses pitted their understated femininity with slouchy leather jackets and boots patterned in snakeskin. Elsewhere, several gauzy, barely-there tops were accented with equally-minimal photographic prints, standing in opposition to layered leather looks, seen later in the showcase. The breadth of the offering was carried by the high level of craft, ensuring that everything from the stripped-down grey wool coat to the hybrid short/skirt felt cohesive.
Situationist
Irakli Rusadze's first foray into fashion, Situationist is the culmination of a decade spent learning his craft. Playing off of genderless design motifs also explored by Aznauri, Situationist leans closer to womenswear with its skirts and hourglass silhouettes. For Fall/Winter 2018, Rusadze toyed with leather, one of Georgia's prime craft materials. Cowhide jackets and corsets offered a tanned contrast to blacked-out tailoring and drapey dresses. As the collection developed, the silhouettes grew fuller as the garments began to stray from the darker palette. Earthy browns, greens and greys appeared alongside navy, with the final looks lacking dark colors entirely. That three menswear looks were so easily slotted in alongside the women's' is a testament to Rusadze's uninhibited vision, which creates scenarios in which cropped blazers are as at ease on the male figure as they are on the female.
For more from Mercedes-Benz Fashion Week Tbilisi Fall/Winter 2018, check out the best streetstyle of the week and select quotes from the talk with Gosha Rubchinskiy.