The Best of Gosha Rubchinskiy's Speech at Tbilisi Fashion Week
The designer talks about the end of his brand, meeting Adrian Joffe, and his advice to up-and-comers.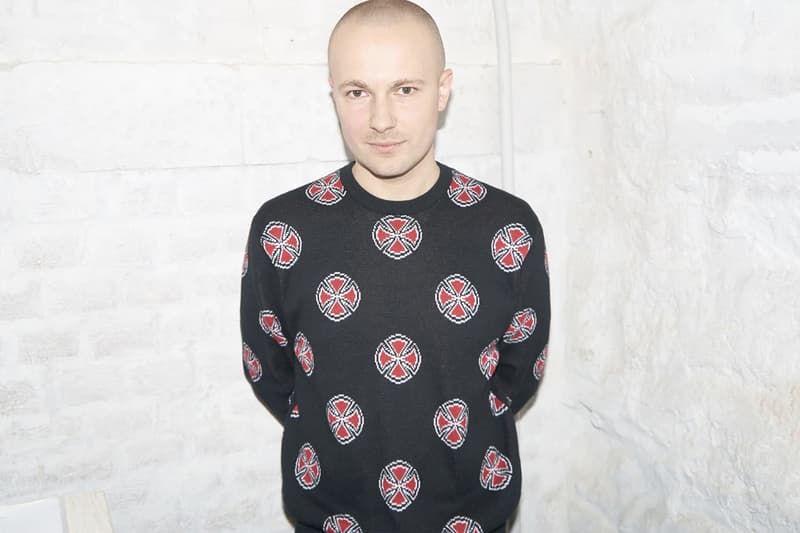 Last month, Gosha Rubchinskiy shocked fans with an official announcement that the Gosha Rubchinskiy brand has come to "the end as you've known it." Not many details were given as to why, but the designer did mention in our last interview that he was "a bit tired of doing season-to-season collections." Shedding more light on the situation for Tbilisi Fashion Week, Rubchinskiy took the stage at Bassiani, an empty pool which has been converted into a nightclub. There, he showed a video from his upcoming Fall/Winter 2018 collection, followed by a small speech in Russian and talk with a panel about the end of his brand, meeting Adrian Joffe, and advice he has for up-and-comers.
Below is a translated segment from Vogue:
On street fashion uniting youth.
"We live in such a time when politics is everything we hear and see in the news, and it has the goal to separate a whole country and people from each other. So, artists must try to find a way to connect people across the world. At one time, everyone was united by rock music or film, and then hip-hop music, and now it is fashion for the youth: street fashion. I think that young people are pulled toward clothes. At one time, 20 years ago, they stood in lines at music stores, waiting for a new release of songs of their favorite group, and now they are waiting for a new release of sneakers or a new collection of their favorite brand. People have a longing for a need to stand in line and meet one another and the occasion for that today is clothing. I think that this situation may be used to unite people."
He doesn't see himself as a designer. 
"I don't believe I'm a designer. I am more likely to tell you a 'history.' If you have something to share, you may do this through different ways and creating a collection is just one way of sharing your thoughts and ideas. It is interesting to work with photographs and different projects. In principle, this project Gosha Rubchinskiy, which started 10 years ago that we stopped this year, was also an art project."
The existential end to his brand.
"Every idea has a time and what I wanted to express, I expressed it. I believe that in the state that [Gosha Rubchinskiy] exists, it is a good condition to end this history and start a new one."
On not knowing who Adrian Joffee was when they met at a dinner.
"It was a history of friendship. I met Adrian Joffe, the husband of Rei Kawakubo and the head of Comme des Garçons, at a dinner of friends. I absolutely did not know who he was. He asked me what I did and I said I was trying to make clothes, 'trying' because it isn't so easy to make clothes in Russia. He said, 'I am also connected with fashion and that it would be interesting to see what sort of collection you are doing. Let's meet tomorrow and you will show me something.' We met the next day and I showed him video and photographs of what we did, and he said, 'We have a store in London and we can try to sell your things in our store.' I thought, Let's try to sew some more. We sent the clothes from Moscow to London through Serbia. Then, when the collection reached London, it sold within a week. The money that we made went to logistics. So, when Adrian asked me the question if there were more clothes to sell, I said, unfortunately not, and there wouldn't be any more, since I'm not interested. So, we thought [about] what to do. And Adrian decided to work together and we would try to sew the collection ourselves to try and see what would happen. And with little steps, here we are now."
Rubchinskiy's retail plans for Moscow.
"We are opening a skate shop in Moscow. It will be a type of place where kids can buy a skateboard, gather, and talk with one another."
His advice to aspiring designers.
"You need to find within yourself what you want to say to people and that's not just in creating clothing or design but in principle. If you want to do something, you need to understand what you want to say because when it comes down to it, people buy not clothes but a history. You can buy a white shirt anywhere. If you want to create your own brand, you need to understand what it's about. What kind of song do you want to sing? Of course, if this song is talented and is attractive, people will love it and will sing with you."
About the Kanye West tattoo.
"It was drawn by Valentin [Fufaev]. I think it is better to ask Kanye West."
Join Our Discussions on Discord
The HYPEBEAST Discord Server is a community where conversations on cultural topics can be taken further.