10 Drops You Don't Want To Miss This Week
Those suitcases are going to cost ya.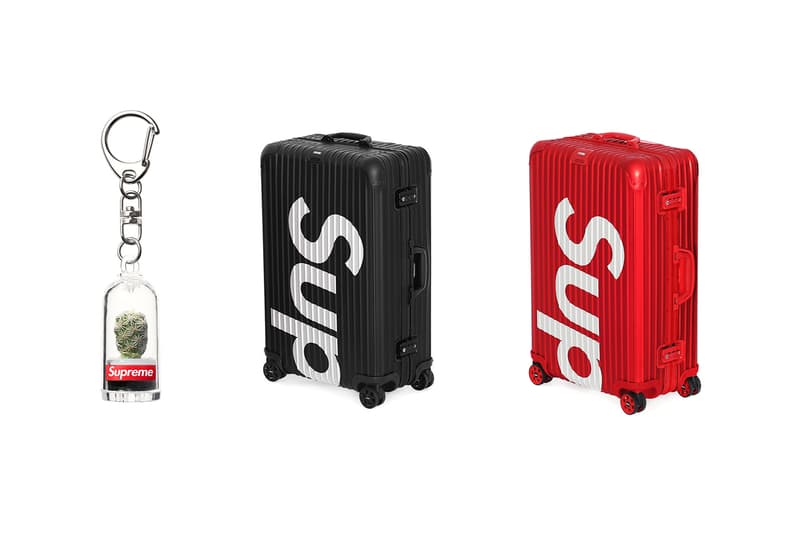 This week's 10 drops you don't want to miss is yet again overshadowed by Supreme and its bold move in collaborating with another one of LVMH's premium-house brands. Choosing to work off Rimowa's iconic 45L and 82L suitcases, Supreme has catered to two sides, as they offer both a bold red color, and a less conspicuous black iteration, although let's be honest, it's going to be very hard to miss spotting the large "Sup" printed across the entire body of the travel companions.
Elsewhere, we see a number of healthy collaborations in the form of HYPEBEAST's very own pop-up with Arthur Kar, a Champion x BEAMS artist-focus collection, the highly-anticipated Undefeated x adidas drop, the previously-teased James Harden x Y-3 capsule, and the sacai x fragment design "Official Bootleg" range. Exclusives stay strong as A Bathing Ape celebrates 12 years in Hong Kong with a special Shark hoodie + BE@RBRICK combo, while BBC pays homage to Tokyo with a set of kanji-heavy basics. Cannabis fans are also represented with OGs in the game, HUF, once again showing its support for the plant as they release a special "Hotel Smokers Lounge 420" collection just in time for the joyous date of 4-20.
HYPEBEAST x L'art de l'automobile "KAR WASH" Capsule
For one day only, HYPEBEAST teams up with L'art de l'automobile/KAR Studio for a special pop-up at Los Angeles' Sunset Car Wash. Releasing side-by-side with the Cadillac Allante T-shirt capsule, the "KAR WASH" range is comprised of a dual-branded tee, an air freshener and rubber "Time to Shine" 3D keychain. Those in the area can swing by to the '80s-styled event for some food and a chance to pick up the limited collection.
When: Available April 11
Where: HYPEBEAST x L'art de l'automobile "KAR WASH" one day temporary store
UNDEFEATED x adidas Capsule
After being teased heavily, UNDEFEATED and adidas are finally releasing their latest athletic-influenced collaborative capsule this week. Building on their relationship, the Los Angeles-based streetwear label and German sportswear giant came together on a 19-piece collection, centered around performance-wear and tactical gear. Subdued tones accent the "Desert Camo" pattern, which is used extensively throughout the range of collaborative garments and footwear. Some notable pieces include a breathable GORE-TEX® jacket and UNDEFEATED's take on the sporty technical fleece top and compression base layer shirt. Lastly, the UltraBOOST and adizero adios 3 footwear options round out the powerhouse collaborative capsule.
When: April 14
Where: In-store and online at both adidas and UNDEFEATED
Palace Spring/Summer 2018 Second Release
Palace Skateboard's latest expansive Spring 2018 drop explores playful motifs to put together a sure-to-be-hyped vibrant collection. Unsurprisingly, graphics dominate the range, which spans from outerwear and sweaters, to leg-wear and accessories. Sportswear influences also shine through, while traditional cut-and-sew garments show off Palace's diversity in design. Some standout pieces include the luxe snakeskin boots and loafers, along with the unique camouflage print pants and jacket.
When: April 13
Where: In-store and online at Palace's web store
James Harden x Y-3 Collection
Y-3 meets West Coast native James Harden for a special collaboration. Extending its transpacific collaboration to encapsulate the NBA player's style of play and Yohji Yamamoto's design lens, each piece was methodically designed into each other's fold. Y-3 stays true to its original DNA by keeping to its monochromatic base, while inflecting elements of Japanese culture in standout hues. The symbolic Botan flower is seen throughout the collaboration, a flower often used in ikebana, a reflection of honor, respect and good fortune. Other design details are informed by Harden's off-court style sensibilities in the form of shorts, hoodies, a reversible blouson, a bomber and more. Choice footwear rounds out the collection — the Y-3 BYW BBALL, Tangutsu and Bashyo.
When: April 13
Where: In-store and online at Y-3's web store.
sacai x fragment design "Official Bootlegs" Capsule
"I think there's a space within sacai that's never been explored," says Hiroshi Fujiwara in our interview on HYPEBEAST Radio. What started out as a small project between Hiroshi and Chitose Abe has progressed to an exclusive collection of "official bootlegs" intended on exploring the idea of bootleg merch. Spanning various tees, coach jackets, sweatshirts and New Era hats, the collection pays tribute to a range of satirical graphics — for example, graphics such as "SACAI / (NOT sacai)" or "Approved Bootleg" are emblazoned throughout. Hidden plaid materials are tucked inside the coach jackets for bonus material, while subtle sacai and fragment design branding show out at the front of the tees in typewriter typeface.
When: Available now
Where: Exclusively at HBX
BEAMS x Champion 2018 Artist Series Collection
Champion recently connected with Japanese retailer BEAMS on the continuation of its lauded Artist Series. Following up last year's inaugural release, the latest drop brought together four artists to offer exclusive takes on Champion's iconic "C" logo. Limited to just 100 pieces per style, original works by Jean Jullien and Yu Nagaba return from the first collection as well as Yusuke Hanai and Call Me Georges are printed on the athletic apparels' classic sweatshirt and T-shirt offerings.
When: Available now
Where: Champion London flagship store
Supreme Spring/Summer 2018 Drop 8
This week's Supreme drop sees a heavy release of outerwear coupled with the unexpected collaboration between the German (now LVMH-owned) luggage maker Rimowa. Starting with the soft goods, Supreme releases the partnership between the Martin Luther King, Jr. estate in the form of a hoodie in three bold colors. In the outerwear department, we see a 13oz denim jacket with tapestry detailing, a "World Famous" all-over print pullover, and a heavy and bright quilted vinyl jacket. Completing the drop are the Rimowa 45L and 82L suitcases, which are sure to sell out in record time, and the cactus keychain – a fan favorite.
When: April 12 — 11:00 am GMT (for London), 11:00 am EST (for NYC), and Japan will see an April 14 release
Where: Supreme NYC, LA, JP, European locations and online at Supreme's web store
Billionaire Boys Club TOKYO Collection
BBC returns with its latest TOKYO capsule collection, carrying through its famous mantra: "Wealth is of the heart and mind, not the pocket." Japanese Katakana graphics appear on a slew of hoodies and tees, spelling out "Billionaire Boys Club" in reverse, while "HEART AND MIND" is printed over two hoodies. Completing the capsule is a black long-sleeve T-shirt with a kanji "heart" calligraphy at the back.
When: April 13
Where: NYC flagship shop and official webstore
A Bathing Ape 12th Anniversary Hong Kong Capsule
Since it's launch in 1993, BAPE has become an undeniable stalwart in streetwear. This week, the Japanese label is releasing a special commemorative capsule to honor the 12th anniversary of its Hong Kong stores. Linking up with Medicom Toy, the special range features a classic APE CAMO Shark Hoodie complete with BE@RBRICK ears and HKG branding, along with a matching special collector's edition BE@RBRICK in both 400% and 100% sizes. While T-shirts showcasing Baby Milo at Cheung Chau's famed bun festival, printed sweat-shorts and shark masks round out the commemorative collection.
When: April 14
Where: BAPE Hong Kong
HUF "Hotel Smokers Lounge 420" Collection
As the latter half of April approaches, HUF is set to release a commemorative collection appropriately titled the HUF Hotel Smokers Lounge 420. Engulfed under vibrant candy-colored hues are a roundup of pieces that pay homage to the faux-holiday. Variations of the "Strains" tee and "Tropical Plants" hoodie show out in glowing graphics. Referential colors fill the spread with shades of pink and mint green. The "420 Al Fresco" graphic motif is yet another featured highlight among the pieces that completes the collection.
When: April 12
Where: HUF flagship and web store