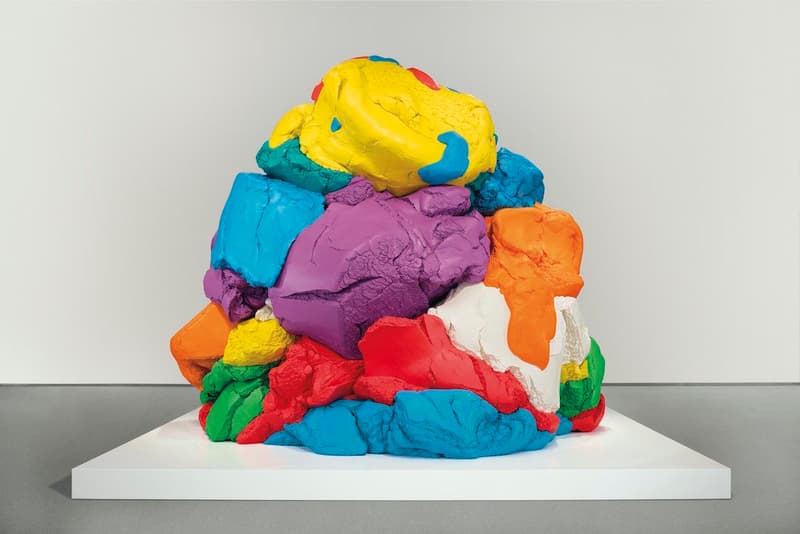 Jeff Koons's 'Play-Doh' May Garner $20 Million USD at Auction
20 years in the making.
---
Inspired by a Play-Doh creation offered by his then-infant son, it took Jeff Koons about two decades to create Play-Doh. First bankrolled by two benefactors in the '90s, the project received their ongoing support as it continued to develop and was finally completed in 2014 after Koons' notoriously high standards of craftsmanship were met. Held in place by gravity alone, the aluminum pieces were crafted by hand, from the layers of paint down to the tedious process of notching realistic cracks in each piece. Now, the iconic sculpture is going up for auction.
Christie's is set to host the sale of the sculpture, part of Koons' heralded "Celebration" series. Consigned from a European collection, Play-Doh's sale price is estimated to be a minimum of $20 million USD, as it's the first of the Play-Doh pieces to go under the gavel.
The sculpture will be available for public viewing ahead of the May 17 auction at the Christie's headquarters in New York's Rockefeller Center from April 13 to April 19, April 28 to May 5 and one last time before the sale, from May 12 to May 17.
Most recently, David Zwirner brought several Koons pieces to Art Basel Hong Kong.
Christie's New York
20 Rockefeller Plaza
New York, NY 10020
United States