Corona & Sugarfina Introduce Beer-Flavored Gummies for Cinco de Mayo
They're non-alcoholic, though.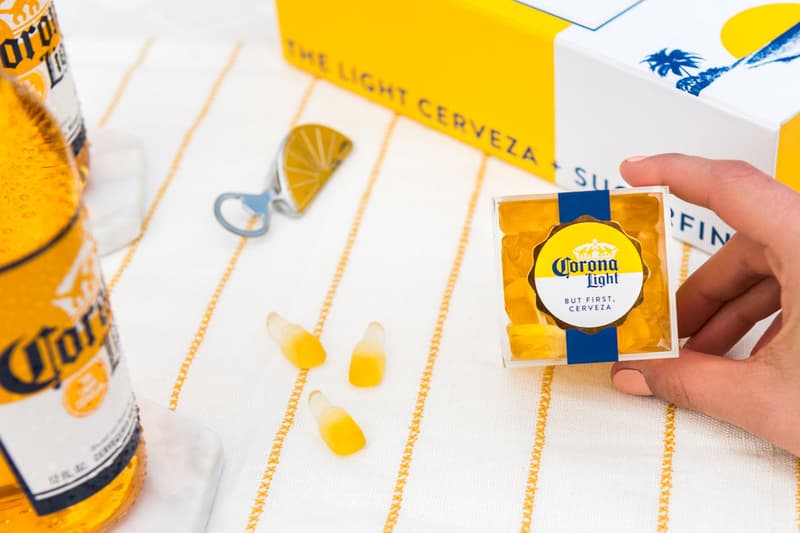 For those unfamiliar, Sugarfina is one of the brands leading the charge for adults with a sweet tooth and is continuing to build a market out of that aforementioned cross-section, partnering with Corona for a new line of gummies.
Taking their inspirational cues from Cinco de Mayo celebrations, Corona and Sugarfina have teamed up for the Sugarfina + The Light Cerveza collection. "Introducing a refreshing pairing of crisp, cool flavors, just in time for summer," reads the official Sugarfina statement. "Our Sugarfina + The Light Cerveza collection made in partnership with Corona Light includes everything you need to find a beachside taste bud paradise. Sunshine and good vibes in a bite-sized gummy? We'll cheers to that."
A non-alcoholic offering, the Sugarfina x Corona collection is open to all audiences. Specifically, consumers can count on the collaborative effort to bring them the "But First, Cerveza" and "Here For a Good Lime" candies; the former is shaped like a beer and takes its tastes from Corona Light, while the latter — fittingly — boasts a pure lime flavor.
You can take a look at the new Corona x Sugarfina gummies for Cinco de Mayo above, and head over to the partnership's official website for more information and to purchase the goods. The items will hit stores on May 1.
Last year, Sugarfina teamed up with Sanrio for a Hello Kitty-themed candy collection.