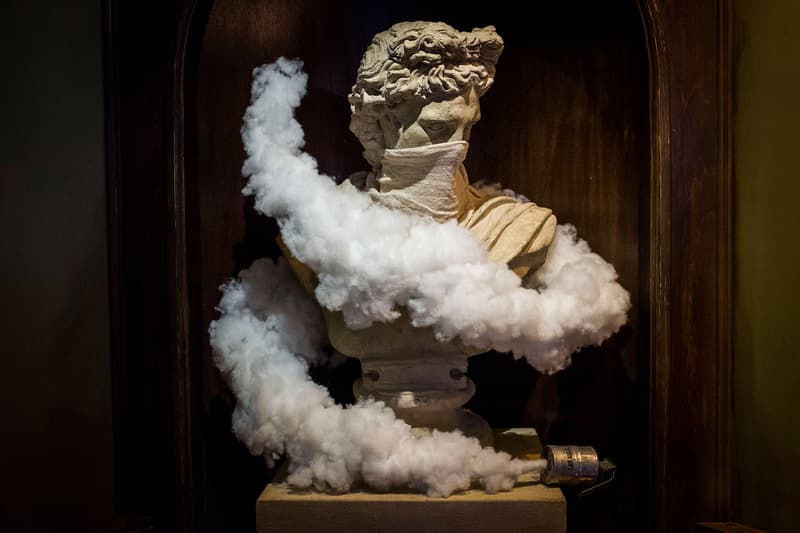 Best Art Drops This Week: Banksy Sculptures, KAWS Merch, & More
Including limited Haroshi skate deck figures.
---
Finding limited edition prints online isn't an easy task, especially if your favorite artist has already sold out of the work you wanted to purchase on his or her own web shops. What makes matters worse is when these rare art collectibles are only sold in-store at a location that is half the world away from you. Luckily, there are numerous websites that represent a multitude of artists and cater to various art genres such as Case Studyo that specializes in purveying a diverse range of contemporary art pieces made by leading creatives.
View this week's list of best art drops below and let us know if any of these items are on your radar.
Banksy Releases Exclusive 'Defeated' Wall Section Souvenirs
Banksy recently dropped a new series of Wall Section souvenirs available only in-store at the elusive artist's The Walled Off Hotel in Bethlem. Dubbed Defeated, the three new art collectibles are crafted out of concrete excavated from the controversial barrier wall that divides Israel from the Palestinian territories. Two objects depict a tower while the other sculpture conveys a heart-shaped carving. All pieces were handpainted by local craftspeople in the region.
Visit The Walled Off Hotel's official website to learn more.
The Walled Off Hotel
Caritas Street 182
Bethlehem
KAWS to Launch Limited SEEING/WATCHING Merchandise
KAWS teamed up with AllRightsReserved Ltd. and developer Wharf Group to launch an exclusive online pre-sale for his SEEING/WATCHING permanent art installation. The exclusive capsule consists of limited edition plushes, T-shirts, keychains, glass sets and tote bags. Following the pre-sale, the 10 piece selection will be available only at a themed pop-up at Changsha IFS, which showcases archival Companion and BFF artworks, sketches of SEEING/WATCHING as well as process photos and videos.
Official pricing details have yet to be confirmed. The online pre-sale for the SEEING/WATCHING merch will be available exclusively at DING DONG Takuhaibin starting April 26 with a follow-up release at the Changsha IFS pop-up.
Haroshi Drops Small Guzo Sculptures for NANZUKA
Tokyo's NANZUKA Gallery will drop a new series of Guzo sculptures crafted by acclaimed Japanese artist, Haroshi. The small figurines were meticulously sculpted by hand and made of multiple skateboard decks, a technique that Haroshi has executed pristinely from the past 20 years. These collectible artworks will only be available at NANZUKA's booth (B036) at the annual Art Cologne fair in Germany starting April 18. Visit Art Cologne's official website to learn more.
Art Cologne
Messepl. 1,
Köln, Germany 50679
Nobuyoshi Araki Releases Limited Edition Catalogs for NYC Exhibit
Legendary Japanese photographer Nobuyoshi Araki has launched his first-ever solo show at the Taka Ishii Gallery in New York. The presentation spotlights archival photos he captured in the 20 years leading up to his wife's passing in the '90s. Highlights include urbanscape visuals from his "Tokyo in Autumn, 1984" series which were shot with a Pentax 6×7, "Pseudo – Diary (1980)" which includes photos with intentionally manipulated dates, and "The First Year of HEISEI: Nobuyoshi Araki" from 1989 which revolves around the theme of death. Moreover, Araki's "Vintage Prints" show currently has a limited run of 500 catalogs up for grabs until April 28 at the Taka Ishii Gallery.
Taka Ishii Gallery
23 E 67th St
New York, NY 10065
Last Chance to Cop DirtyRobot's Limited Edition Prints
The work of Birmingham-born illustrator Daniel Isles, better known as "DirtyRobot," continues to gain popularity online, especially on Instagram. When he's not working on commissioned projects for various clients such as Capcom UK, the artist is regularly churning out striking illustrations that depict his signature, futuristic characters. His latest batch of limited edition prints is currently on sale at his online shop with a majority costing around $30 USD in various measurements.