Jeff Hamilton Just Wants "Recognition and Credit" For Supreme's NBA Collab
"I'd love to do a special collaborative jacket for Supreme as well. [...] But I haven't been able to get a hold of James Jebbia myself."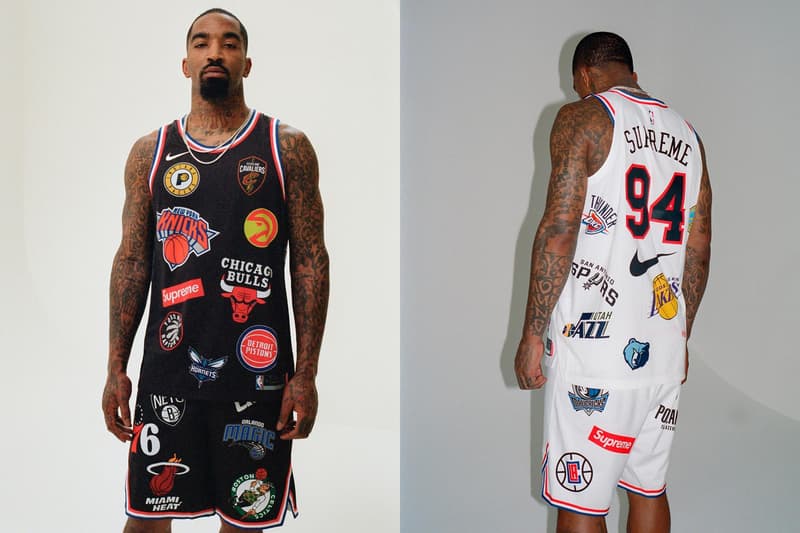 Last week, we shared an early look at the collaborative Nike Air Force 1 Mid from Supreme, which welcomed NBA team logos throughout its black leather upper.
For many, it conjured memories of rappers and celebrities — most notably The Diplomats – from the early 2000's sporting leather bombers with a collage of NBA team logos. Those jackets were designed exclusively by one man, Jeff Hamilton, who's crafted custom outerwear pieces for everyone from Guns N' Roses and Madonna, to Kobe Bryant and Drake. Although he hasn't produced NBA-centic pieces very often over the last few years, lovers of hip-hop and early streetwear jumped at the idea of Hamilton returning to form, and alongside Supreme, at that.
Interestingly enough, the nostalgic release was not developed in collaboration with Hamilton, which leaves us wondering why Supreme, a brand that regularly honors its long list of inspirations, didn't reach out to the likely originator.
In an exclusive interview with Hamilton, we talked about his beginnings in fashion, working alongside legendary figures in entertainment and sports, and his feelings about Supreme reimagining his iconic creation.
"People from Nike asked if I collected a check and I said 'No, and if there is one, I never got it.' I don't even care about the check. Don't get me wrong, I'd love a check but I'd just like regular recognition and regular credit for what I've done. I'd think that'd be something nice."
How did your journey in fashion begin?
I started in the early '80s from France. When I got started, I was basically hustling the streets, buying, selling, jobbing and doing whatever I could do to make a living. I really never had design in my life even though I thought I had good taste. Low and behold, I hooked up with the people from Guess and I was the first licensee of Guess ever and I started Guess Jeans for men in 1983.
My license expired in 1986 and that's when I converted to my own line in Jeff Hamilton. Then I started making crazy jackets that I never even knew I could produce because they were so complicated. One thing led to another and I got George Michael to wear one of my jackets in his videos. Next thing you know, I'm making jackets for Andrew Dice Clay, Mike Tyson and others. Before I knew it Michael Jordan and Magic Johnson were calling me to make them custom jackets. Shortly after, that I got the licenses for the NFL, NBA, NHL, NASCAR, etc.
Still today, I feel like a kid when I'm meeting all of these celebrities and iconic people that I grew up with. I started designing jackets and I always tried to push the envelope and stay edgy. I never fell into the basic concept of designing something. I like complication, I like things that not everyone can duplicate. By doing that, I created an identity to where if you looked at a jacket that was flashy, right away you'd know it was from me.
What was the inspiration behind the all-over logo pieces and did you know right away they would be such a big hit among hip-hop's elite?
In the late '80s and early '90s everybody was obsessed with the Raiders, White Sox and Bulls. To me, it was cool to incorporate them all. I'm an NBA fan and with me staying in Los Angeles, I love the Lakers, but I'm also a big fan of LeBron James. The idea was to create a piece for the NBA fan and the beauty of it was that each year a new logo or maybe a new team was added as an extension. Everyone wanted an updated piece, especially since NASCAR drivers would constantly get new sponsors for example. Now, it's timeless and it's a piece that people want to keep updating. Then it started getting crazy with the different colors and tones, such as Cam'ron's pink edition.
Drake wore one of your pieces at the NBA All-Star game in 2016, how did that come about?
Drake's team reached out to me a few years back and wanted to do something special for the retirement of Kobe. I essentially interviewed them to find out what they were looking for and we called it "Farewell to Mamba." We did the whole jacket with the face on it and of course we had to get tons of approval from teams and the NBA for all the logos.
I worked out a deal with him where I'd give him a better price and all I needed was a shoutout on Instagram. To make a long story short, the shoutout on Instagram got over two million likes and over that weekend my Instagram blew up over 50,000 people, just to show you his powerful presence on social media. It was very fulfilling and that's the type of things I like to do.
Migos actually wanted me to do a jacket for them for this year's All-Star game but unfortunately they wanted to have it done in three days, which wasn't enough time to do it. But I've had the pleasure of working with people such as Fabolous, Tyga, Gucci Mane, Floyd Mayweather and many others.
Now to the elephant in the room: did Supreme contact you in regards to the collaborative Air Force 1?
Supreme never contacted me. I have a tremendous relationship with Nike over the years through Michael Jordan, but they specifically called me and asked if I was aware of the shoe and I told them "no one asked me about it." Obviously I don't own the rights to the designs due to the licensing, but I would've expected to get a mention such as "Inspired by Jeff Hamilton." Myself, as an artist, when I create a piece of art that's inspired by the likes of Damien Hirst or Andy Warhol, I'd mention them. I was a little disappointed, but I'm also flattered.
If you had collaborated on the design, would you have done anything differently?
Probably the placement of the logos, something like that or some special packaging. Maybe offer the first 100 or 200 pairs to be signed or limited-edition letter signed by me detailing how the shoe came about.
I'd love to do a special collaborative jacket for Supreme as well. I've tried to reach out to some of their bankers but I haven't been able to get a hold of James Jebbia myself.
How does it feel knowing many consider you the unspoken inspiration behind this Supreme collaboration?
I want to stay as humble as can be. For me, I do everything from a source of love and passion. I don't even look at the dollar sign when I do my work. It makes me happy when my work can make others happy. The kids know the history through social media and other outlets and know that Jeff Hamilton was behind the designs. I know from the comments on my [Instagram] page and it warms my heart.
Can we expect any new projects in 2018?
Yes, I'll be relaunching Jeff Hamilton as a full line that's still directed towards the urban market. Basically, it's going to be a continuation of what I've done in the past. It'll be more generic Jeff Hamilton at a price that's reasonable. The idea is also to have every item be a limited-edition so there won't be more than 300 pieces per style.
And what about some of the NBA team logo pieces resurfacing?
It's possible. I'm more interested in doing collabs and capsule collections versus having full blown licenses.