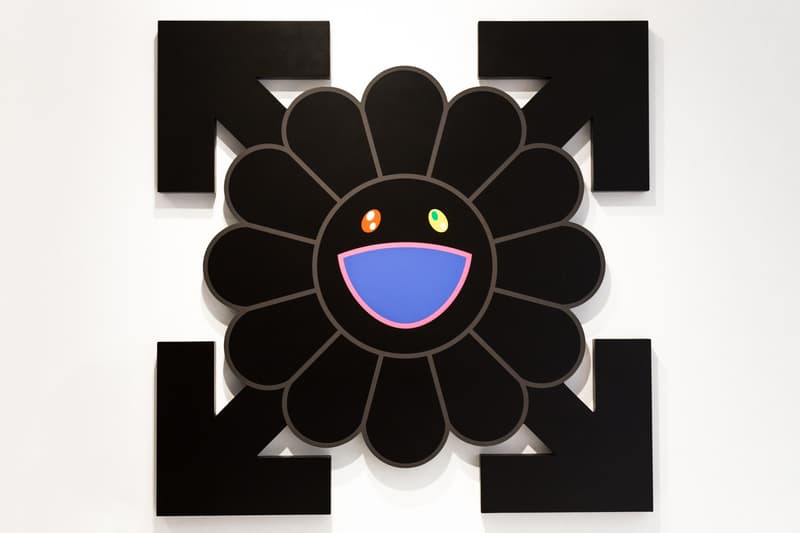 Best New Art: Virgil Abloh, OSGEMEOS, YOSHIROTTEN & More
Including Sarah Bahbah's "F*ck Me, F*ck You" exhibit in NYC.
---
It's hard to deny social media's influence on today's society, especially in the art industry. According to Gotham Magazine, "80 percent of all Generation Y art buyers bought fine art online" back in 2016. Not only are online sales of contemporary art increasing, but artists are interacting with their fans more on social channels. Artists such as Takashi Murakami are taking advantage of social media to relay new works as well as create pieces that his fans will go absolutely bonkers about, such as his latest collaboration with Virgil Abloh. Other artists such as Sarah Bahbah have utilized the digital platforms to convey meme-like pieces that reflect the cultural attitude of the Internet, while also raising awareness for underlying issues of modern feminism.
Check out the list of current and upcoming shows below that have made a splash on social media and let us know of any other exhibits you plan on attending.
Virgil Abloh's "PAY PER VIEW" Solo Show at Kaikai Kiki Gallery
This past February, Virgil Abloh and Takashi Murakami launched their collaborative "Future History" exhibit at Gagosian London. Now, the Off-White™ designer is set to launch his very own solo show in Japan. Abloh will take over the famed Japanese artist's Kaikai Kiki gallery space in Tokyo for his artistic debut, titled "PAY PER VIEW." Collectively, the exhibit will spotlight varying artworks that reflect consumer culture, advertising and media's influence on today's society.
Expect "PAY PER VIEW" to commence at Kaikai Kiki gallery this March 16.
Kaikai Kiki Gallery
Motoazabu Crest Bldg. B1F
2-3-30 Motoazabu,
Minato-ku, Tokyo 106-0046
Japan
OSGEMEOS' First Solo Show in Hong Kong
Brazilian street art duo OSGEMEOS is preparing to launch their first-ever solo show in Hong Kong. Titled "Déjà Vu," the presentation will fill the Lehmann Maupin Gallery with new large-scale paintings featuring the artists' signature yellow characters, mixed-media sound installations and more never-before-seen works. The exhibit will take place during Art Basel Hong Kong starting March 26. Visit Lehmann Maupin Gallery's official website to learn more about the show.
Lehmann Maupin Hong Kong
407 Pedder Building
12 Pedder Street, Hong Kong
Sarah Bahbah's "F*ck Me, F*ck You" Exhibition in NYC
Artist Sarah Bahbah is widely-praised for her visceral artworks inspired by film stills. Her works predominantly touch on themes of love and pain, as well as aim to showcase the raw emotions of young females. Bahbah is currently displaying new pieces for her first solo show in New York City, titled "F*ck Me, F*ck You." The presentation is taking place at the Castle Fitzjohns Gallery in Manhattan's Lower East Side district. The show will conclude this March 25.
Castle Fitzjohns Gallery
98 Orchard Street
New York, NY 10002
YOSHIROTTEN's "FUTURE NATURE" Exhibition in Japan
YOSHIROTTEN will launch his first exhibit in almost five years. Titled "FUTURE NATURE," the exhibit will feature 30 brand new artworks reflecting the "visualization of invisible things." The Japanese graphic artist is widely-recognized for his distorted digital pieces, subverted photographs, and discolored creations among other things. Several installations, as well as sculptures, will also be on display. Not to mention, YOSHIROTTEN will release a new book, dubbed GASBOOK 33 YOSHIROTTEN, relaying a slew of the artist's most iconic works.
The exhibition launches at Tokyo's TOLOT/heuristic SHINONOME on March 10.
TOLOT/heuristic SHINONOME
2-9-13 Shinonome, Koto-ku
Tokyo, Japan 135-0062
Liu Bolin & Ruinart's "Invisible Hands" Exhibition in Hong Kong
Chinese performance artist and photographer Liu Bolin is praised for his camouflage art, immersing himself in diverse environments to appear invisible. Bolin recently teamed up with Ruinart for a new exhibition titled "The Invisible Hands." Photos will be on display at the show spotlighting the artist blending himself into several backdrops located in Maison Ruinart — a historical cellar that's a listed Unesco World Heritage Site. The works will be on view during Art Basel Hong Kong 2018 between March 29-31.
Hong Kong Art Basel
Convention & Exhibition Centre
1 Harbour Road
Wan Chai
Hong Kong, China