Palace's Lev Tanju Discusses Why He Loves Making "Dodgy" Clothing
"Everyone in the office wears dodgy shit. So we're gonna make dodgy shit sometimes."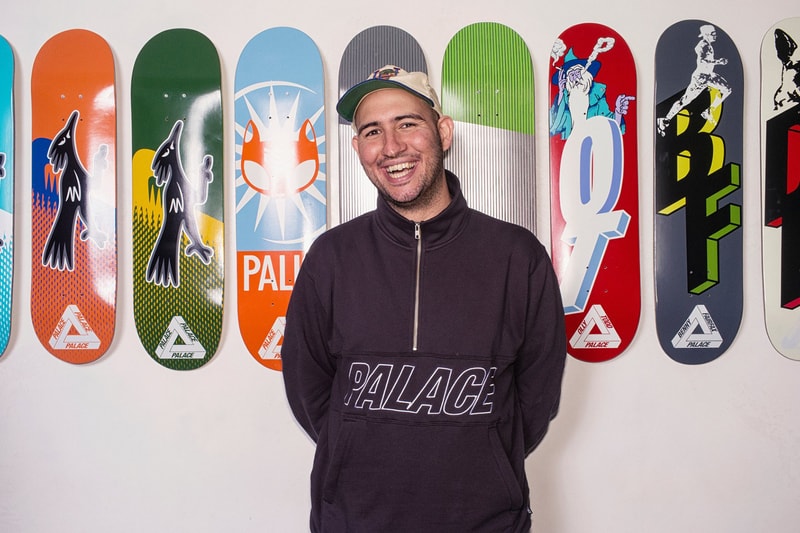 Palace founder Lev Tanju recently spoke in an wide-ranging interview about the foundations of the company, the design process and his key influences amongst other topics. Free Skateboard Mag caught up with Tanju about the brand's early days and why he wanted to create a specifically British skate brand.
On calling the brand Palace:
"At first it was going to be called PWBC. But people weren't into it because some of the guys from the crew rode for Blueprint and Landscape or whatever. So I was like all right, fuck it, I'll change the name to Palace last minute. It was a blessing though because now I actually prefer Palace. But it's good, it still holds true to what it's about you know. And it is about the house and where we all came from, living together. It's nice to be able to bring your friends with you and do all that shit together. Well actually they brought me here really. All this is from hanging out with them and filming them, you know what I mean? It's their skating. They're just my favourite skaters. That's all it is really. None of this would exist without them."
On the appeal of the brand:
"Different types of people were into it from the start really… When we ripped off Versace tees and stuff like that, people that didn't skate also liked it. Which is cool because I've never been that guy who's like 'you can't wear it because you don't skate', you know?' It's made for whoever wants to wear it. I'm not making Chanel t-shirts to just sell to fucking skaters you know what I mean? I just made Chanel t-shirts because we wanted to make Chanel t-shirts. Everything we put out is just stuff we want to do, that's it. If other people buy it, then they buy it. If a skater likes it, they like it. I don't care like what you like, innit. If you don't like it, lump it. That's what my mum used to say. It doesn't matter. Buy some other shit. Or don't! All I care about is that the guys that skate for Palace, my friends like it."
If he ever looked back and thought something they made was bad:
"Uh yeah I guess, but it's kind of funny innit? Stinking shit's funny you know what I mean? I'm up for stinking shit…..[People are like] 'surely you're not serious' and I'm always like 'yeah I'm serious. I like fucking pink hats.' Or whatever… You know what I mean? I dress weird. Everyone in the office wears dodgy shit. So we're gonna make dodgy shit sometimes."
On the brand's key influence:
"Femi (Bukunola) influenced me man. So I guess that's going to have an effect on the brand. But you know I always loved Ralph shit. Femi used to always wear gnarly Ralph shit… And tracksuit bottoms with mad shoes on. I definitely took some shit out of that."
You can read the entire interview at Free Skateboard Mag. Palace recently unveiled its latest collaboration with Reebok, working on the Workout Lo model.