Chinese Police Are Using Facial Recognition Sunglasses for Surveillance
The tech has already aided in capturing several suspected wanted in major cases.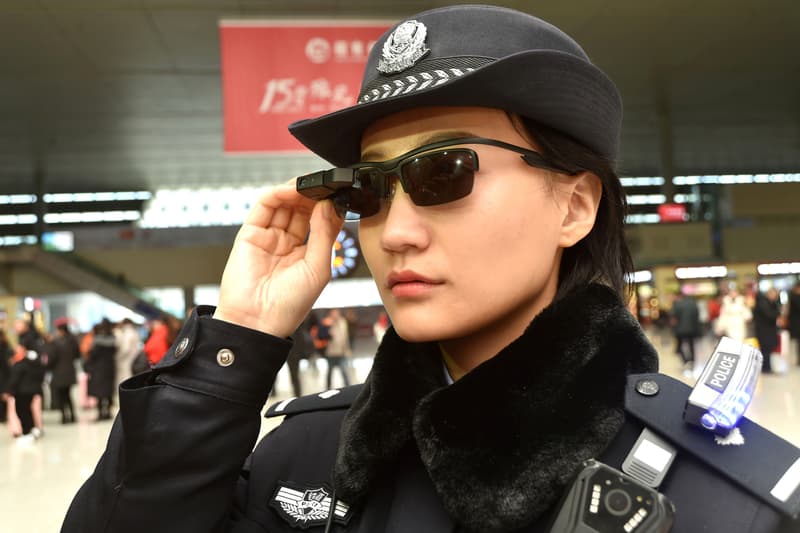 China's police are utilizing sunglasses with built-in facial recognition at Zhengzhou train stations to scan travelers during the upcoming Lunar New Year. The holiday is known as one of the largest human migration events in the world, and the tech has already aided in capturing several suspected wanted in major cases and at least 26 travelers with false identities. In recent years, China has been researching advanced tracking tech that includes developing AI to identify people and follow them digitally around cities.
Some suggest China will have more than 600 million CCTV cameras by 2020, all updated with advanced features like gait recognition, which identifies walking patterns. The cameras currently has some setbacks with facial recognition tech, as they're stationary devices and deliver blurry imagery. Beijing-based LLVision Technology Co., who built the glasses had its chief executive Wu Fei explain that the company worked with local police to develop the technology to suit their needs. "By making wearable glasses, with AI on the front end, you get instant and accurate feedback. You can decide right away what the next interaction is going to be," he told sources.
LLVision says they're able to recognize individuals from a pre-loaded database of 10,000 suspects in just 100 milliseconds, but cautions that accuracy levels in real-life usage may vary due "environmental noise." The sunglasses are controlled by a connected mobile unit and sell for ¥3,999 CNY, or $636 USD, with facial recognition at an additional price. William Nee, a China researcher at Amnesty International, told WSJ: "The potential to give individual police officers facial-recognition technology in sunglasses could eventually make China's surveillance state all the more ubiquitous."
In other news from China, the country is experimenting with social rankings in a new app, similar to a Black Mirror episode.
This is not Google Glass, but facial recognition glass connected to Chinese police database. Deployed to a Zhengzhou railway station 5 days ago, it has detected at least 7 fugitives and 26 fake ID holders. #surveillance pic.twitter.com/eXrzRgORam

— FAN Wenxin (@xinwenfan) February 6, 2018
Just spoke to @BBCWorld about China's facial-recognition glasses and raised an argument @ClareAngelyn made to me after the print story ran: it might be scarier if the devices DON'T work as advertised. Why? https://t.co/T6LM9BxWCT

— Josh Chin 李肇华 (@joshchin) February 8, 2018