8 Drops You Don't Want to Miss This Week
Featuring BAPE x adidas Snowboarding, Off-White, CDG, and Supreme.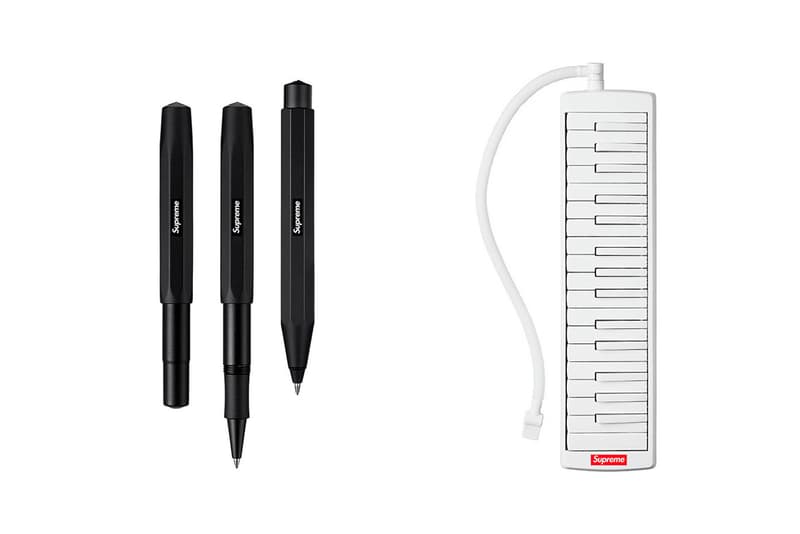 This week's list of weekly product drops sees a starting chapter for a few staple names on our website. Palace kicks off its newest flagship store in Tokyo, releasing a capsule of hoodies, shirts, and small leather goods, while COMME des GARÇONS pushes through with an all-new line of clothing under the name "CDG" — CDG also goes on to enlist Ignored Prayers as a collaborator for the start of this digital-focused label.
Elsewhere, BAPE readies for Winter sports with adidas, as they release an assortment of snowboard gear spanning from a ski jacket, snow pants, and snow boots. Helmut Lang capitalizes on the Halloween celebration by re-introducing an archival collection from 2003 — the pumpkin-themed Halloween capsule collection.
Key items this week include BAPE's holographic snow boots, Palace's JP-exclusive FUJI hoodie and PALBOY II hoodie, the CDG labcoat, and finally, the Supreme x Hohner Melodica and all items from the Supreme x Levi's FW18 denim outerwear collection.
Supreme Autumn 2018 Collection Drop 11
Supreme is back on its weekly rollout and the New York City streetwear staple is giving us one of their more consistent collabs. Alongside denim mainstay Levi's, the duo will drop some colorful selections of jeans, overalls and denim jackets for the cool-weather season. There will also be the usual items as well from the mainline — logo branded sweats, hoodies, tees and hats. For fans of the accessories, expect the premium Kaweco® pens to drop as well as the Hohner® melodica with the mini red box logo.
When: November 1
Where: Supreme Online and Retail Stores in NY, Brooklyn, London, France, and Japan
Helmut Lang FW18 Halloween Capsule
Helmut Lang Halloween Capsule Collection
This Halloween, Helmut Lang is reviving some old brand traditions with a limited edition Halloween capsule collection that references the label's archive designs. The new release is an updated reissue of the Helmut Lang 2003 capsule, which focuses on archive graphic print T-shirts and hoodies in classic black and "Pumpkin" orange color schemes, as well as a black transparent stripe crewneck sweater. Prices range between $175 and $295 USD.
When: Now
Where: Helmut Lang web store
COMME des GARÇONS x Ignored Prayers "CDG" Global Launch
Kicking off its digital-focused CDG label, COMME des GARÇONS tapped Los Angeles's Ignored Prayers for a new trio of a collaborative T-shirt. Centered around the already distinctive CDG branding and haphazardly scrawled "GET LOST" graphic, the impeccably mesh the design sensibilities of both labels. Each white shirt hosts an array of black, green or blue prints placed in an orthodox manner on the front and back.
When: November 1
Where: CDG International Web Store & Dover Street Market Locations
Off-White x Vitkac FW18 Collection
Virgil Abloh's Off-White™ has teamed up with luxury retailer Vitkac on a collaborative capsule for Fall/Winter 2018. The new joint offering, dubbed "SIMPLICITY," includes a selection of streetwear staples such as graphic print hoodies, sweatshirts, T-shirts and sweatpants. The pieces are offered in essential black and white options with the famous Off-White™ X logo in a multicolor outline rendering. Completing the capsule is a 3.0 Polo sneaker and rubber industrial belt in a limited edition red/white colorway.
When: Now
Where: Off-White™ web store
adidas Snowboarding x BAPE FW18 Collection
To close off another year, adidas Snowboarding and BAPE recently came together on a Winter sporting focused capsule collection. The special range is comprised of a duo of boarding jackets sporting triangular blocks, Three Stripes branding and BAPE camo outlines expressed with an iridescent reflective heat overlay complete with matching pants and a hoodie. Rounding up the collection is an adidas Skateboarding 3ST.002 model and a pair of snow boots decorated in a similar fashion.
When: November 3
Where: adidas & Sel
Palace Autumn 2018 Collection Drop 12 + Tokyo Exclusives
This week Palace isn't holding back, alongside its expected Week 12 drop the fledgling label is also dropping a range of special items to commemorate the forthcoming opening of its Tokyo flagship. Leading this weeks drop is a two-tone Tri-Ferg accented puffer jackets, regal looking long sleeve polo shirts and a striped Palace logo waist bags. Moving into the Tokyo exclusive pieces, we see a Mt. Fuji Tri-Ferg hoodie, a choice Pringle of Scotland collab and very fitting sushi and mecha-inspired T-shirts. For now, the Tokyo drop is exclusive to the new location, but stay tuned to see if we receive a wider release.
When: November 2
Where: Palace's Web Store and London/NY/TYO Flagships
COMME des GARÇONS "CDG" Global Launch Collection
To celebrate its 40th-anniversary this year, COMME des GARÇONS is launching its new CDG line with an expansive release of subtly designed goods that appeared at pop-ups earlier this year. Completed by the emblematic CDG logo, the range is comprised of apparel, accessories, and footwear. Standout apparel includes an elongated pullover raincoat with white CDG branding embellished across the chest, royal blue long coats with tonal black branding on the upper back section, quilted bombers, long-sleeve T-shirts with two-toned logos embellished on the sleeves and loose trousers with wide tapering. While notable footwear and accessories include all-over print low-top sneakers, striped scarves, and translucent shopping totes stick out from the diverse mix.
When: November 1
Where: CDG International Web Store & Dover Street Market Locations
Stüssy x Dover Street Market LA Exclusive Capsule
DSMLA x Stüssy Capsule Collection
To celebrate the official opening of the new Dover Street Market LA store, Stüssy is releasing a limited edition DSMLA capsule collection of apparel and accessories. The exclusive range includes graphic T-shirts, collared shirts, printed button-downs, bottoms, socks and hats. The collaborative designs fuse DSMLA branding with classic Stüssy graphics such as tie-dye, World Tour stacked logotypes, World Tribe branding and Rastafarian color prints.
When: November 2
Where: Dover Street Market Los Angeles store