Best Art Drops: Basquiat Skate Decks, Ron English 'Sunflower' Figures & More
Including new merch by Joshua Vides and Parra.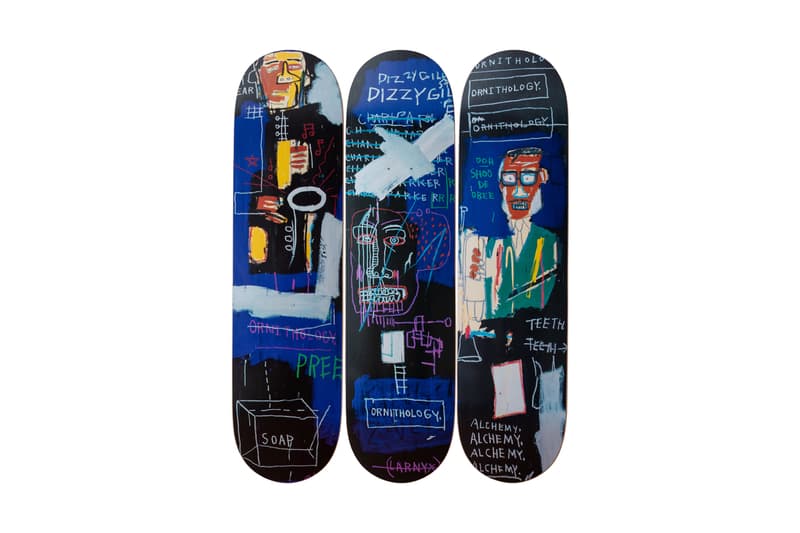 Every week we spotlight the best art drops by celebrated artists, galleries, museums and contemporary art platforms across the globe. Listed items normally encompass original artworks, prints, collectible figures, collaborative merchandise and more.
For our latest installment: the MoMA Design Store purveys The Skateroom's new partnership with the Estate of Jean-Michel Basquiat licensed by Artestar, Ron English recently released his anticipated Ice Blue Sunflowers, Visionaire teamed up with artist-activists on new protest posters, Joshua Vides introduces a new collaboration with Herschel Supply, and Parra launches his second drop of goods for the Fall/Winter 2018 season.
Learn more about the art releases below and let us know your favorites. Elsewhere in art, check out Takashi Murakami's "I Love It" Halloween costume.
Jean-Michel Basquiat x MoMA Design Store Exclusive Collection
Release Date: Available now at the MoMA Design Store website
Release Price: $14.90-$550 USD
The MoMA Design Store expands its collection with the Estate of Jean Michel Basquiat in a new offering for October. The range sees a special Basquiat Horn Players triptych of skate decks made in collaboration with The Skateroom and licensed by Artestar . Moreover, the late artist's Hollywood Africans artwork as a framed print, as well as tees and accessories.
Ron English x APPortfolio Ice Blue Sunflower Figures
Release Date: Available now at Floe Store
Release Price: $550 USD
Ron English is back with a new Grin series surrounding his popular Shocking Sunflower character. The offering consists of three iterations in ice blue: two Shocking Sunflower versions with one gold teeth option and one Shocking Rabbit Sunflower in varying shades of blue. All products were made in collaboration with leading art platform, APPortfolio.
Visionaire 68th Issue Protest Posters
Release Date: Available now at Visionaire's website
Release Price: $1,000 USD
Visionaire recently released its latest issue titled VISIONAIRE 68 NOW! The publication collaborated with the artists below to create artwork around causes that were personally important to them. Participants include Katerina Jebb & Tilda Swinton, Tiona Nekkia McClodden & Pusha T, Nan Goldin, and more. A total of 10 original protest posters which will be included in the latest issue, touch upon topics such as gun control, drug addiction, sexual assault, climate change and more.
The 68th edition will also serve as Visionaire's first open-source magazine, where people are encouraged to download the imagery for free and utilize them at marches, conventions, demonstrations, and rallies. A "Deluxe Edition" limited to just 200, hand-numbered copies are available to purchase, and includes printed versions of the posters.
Joshua Vides x Herschel Supply Capsule
Release Date: November 5 at RealityToIdea.com
Release Price: TBC
Joshua Vides joined forces with Herschel Supply on the bag mainstay's biggest collaboration of the year. The collection includes Herschel's iconic Little America backpack, Settlement pencil case, and Cruz hip pack that are aptly embellished with Vides' widely-recognized black and white sketch motif. These products will drop online this November 5 at Vides' Reality to Idea website.
Parra Fall/Winter 2018 Second Drop
Release Date: Available now
Release Price: $40-$180 USD
Parra extends his Fall/Winter 2018 apparel and accessories offerings with Drop 2. The nature-inspired selections include hats, reusable shopping bags, rain ponchos, fleece pullovers, embroidered hoodies, graphic tees, socks, and phone cases. Similar to the first release, the Dutch artist invokes Mother Earth by encompassing mountains, trees, and scenic landscapes as minimalist graphics on the full batch of items.