Best Art Drops: Yayoi Kusama Skateboard Triptych, Lauren Tsai Sketchbook & More
Including new hand-painted multiple lithographs by Anthony Lister and a Basquiat BE@RBRICK.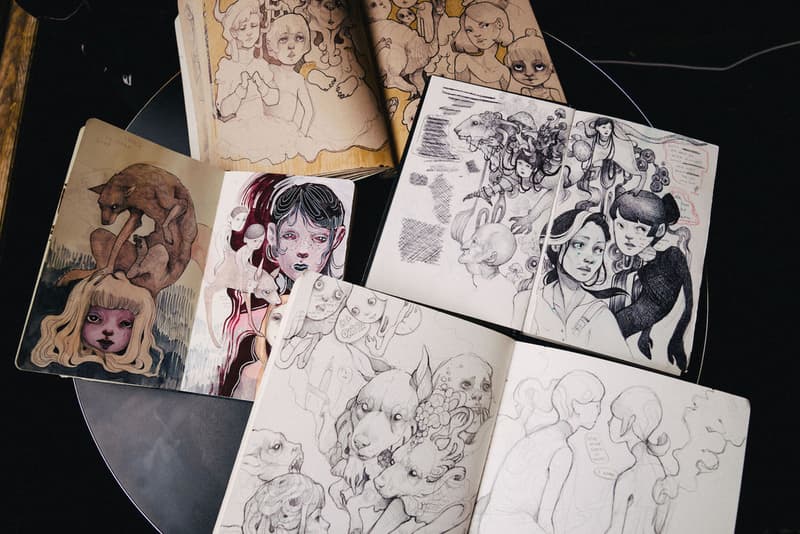 Every week we spotlight the best art drops by celebrated artists, galleries, museums and contemporary art platforms across the globe. Highlighted items typically include original artworks, prints, collectible figures, collaborative merchandise and more.
For our latest installment: the MoMA Design Store launched a new limited-edition skateboard triptych featuring Yayoi Kusama's famous Infinity Nets artwork; rising art phenom Lauren Tsai is set to release sketchbook copies of her otherworldly works; and Anthony Lister teamed up with Print Them All on new hand-painted lithographs, just to name a few.
Check out the list below and let us know any of your favorites. In other art stories, the Tokyo Metropolitan Art Museum will soon release Edvard Munch The Scream-inspired Pokémon Cards.
Yayoi Kusama x MoMA Design Store Infinity Nets (2000) Skateboard Triptych
Release Date: Available now on MoMA Design Store's website
Release Price: $800 USD | Member price: $700 USD
The MoMA Design Store continues its longstanding collaboration with legendary Japanese artist Yayoi Kusama. The partnered offering now highlights Kusama's famous Infinity Nets artwork from 2000 as a screenprint on a skateboard triptych. The release sees a limited-edition of 500 priced at $800 USD for each set.
Lauren Tsai's Sketchbook Releases at Bookmarc Tokyo
Release Date: October 20 exclusively at Bookmarc Harajuku in Tokyo, Japan
Release Price: TBC
Up-and-coming artist and renowned model Lauren Tsai is set to launch copies of her very first sketchbook, entitled It's All For You. The sketchbook will see an exclusive launch at Bookmarc Harajuku in Tokyo, Japan this October 20. "Between moving alone to a new city, loving, losing and pushing forward towards my dreams, this book remains my constant companion no matter how life changes and spins around me," said Tsai in an Instagram post.
Bookmarc Harajuku
4-26-14 Jingumae
Shibuya-ku, Tokyo
Japan
Hand-Painted Lithographs by Anthony Lister
Release Date: Available now on Print Them All's website
Release Price: $583 USD
Contemporary Australian-born painter and installation artist Anthony Lister joined forces with Print Them All on a limited-edition series of lithographs. Entitled Marylin Van Gogh Sun Flowers, the multiple is comprised of purple, pink and yellow editions, each sized at 89 cm x 68 cm (35.04 in. x 26.77 in). A total of 25 units were made for each signed and numbered edition.
André Saraiva x Tekla Mr. A Blanket
Release Date: Available now on Tekla's website
Release Price: $500 USD
Copenhagen-based homeware design studio Tekla teamed up with André Saraiva on a blanket for the iconic French artist's Hôtel Amour in Paris, France. The partnered offering sees the face of Saraiva's ubiquitous Mr. A character embellished in white across the front portion of the blanket. The item is predominantly wrapped in the artist's signature pink hue with cobranded details at the bottom portions.
Hôtel Amour

8 Rue de Navarin
Paris, France 75009
Jean-Michel Basquiat x Medicom Toy BE@RBRICK
Release Date: Available now at Medicom Toy Stockists
Release Price: ¥10,800 to ¥48,000 JPY (approx. $96 to $427 USD)
Medicom Toy recently unveiled a new collaboration with the Estate of Jean-Michel Basquiat. The duo released a new BE@RBRICK in varying sizes of 100%, 400% and 1000%. The partnered collectible sees the late iconic artist's Untitled (Jackson) artwork from 1982 wrapping the figure entirely. Each version features the same painting except with slightly different layouts due to their respective measurements.