Nike SB: Living Through the Trend, 15 Years Later
It may never come back, but it sure left its mark.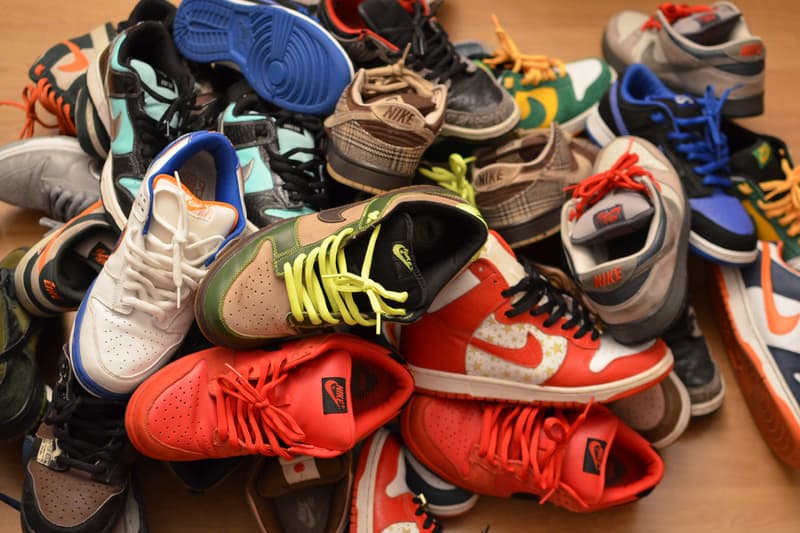 EDITOR'S NOTE: As someone who grew up collecting Nike SB sneakers since the brand's inception, spending every dollar I had on them even without actually knowing how to skate, this is my personal perspective on the brand over the last 15 years.
If you ask any OG sneakerhead in the scene, they'll tell you that the mid-2000s saw an unprecedented rise in popularity and mainstream relevance for the Nike SB Dunk Low and High. A perfect combination of cool color names and a burgeoning internet chatroom and forum culture came together to form a flawless formula of success that launched "the golden age" of the infant category within Nike. With an already cult-like following, spanning from "Be True To Your School (BTTYS)" collegiate colorways to co.jp editions, the Dunk was the perfect neutral silhouette to start a skateboarding division.
My first memories of the Nike SB brand aren't even related to skateboarding. Before the skate division was formed in 2002, I was already one of those people who were into Dunks because they were lighter, slimmer and overall better looking in shape than the Air Force 1 — a staple in New York City where I grew up. The pair that pulled me in hard was the 2003 Nike Dunk Low "Stash" — everything about it at the time (and even now) screamed New York City culture; the black and grey color scheme combined with the wet paint drip effect and graffiti signature was absolute perfection. So it didn't come as a surprise when I quickly discovered Pro B models — Nike Dunk Lows with fat tongues — by researching, asking around local shops and joining multiple internet forums. When the original Nike SB team of Richard Mulder, Danny Supa, Reese Forbes and Gino Iannucci was formed, I wasn't a skater, but I knew the Nike SB line was my style from the moment I set eyes on the blue and orange pair of Danny Supa Nike Dunk Lows.
ETHOS
The entire ethos of the Nike SB brand was built on looking good while skating in the products and not being afraid to rep the Swoosh. Without any restrictions, the renegade team behind the initial product releases pushed the boundaries for material usage and color blocking, paving the way for Nike SB's sneaker prominence. All sorts of suede, hemp, nubuck, tweed and leathers were utilized—nothing was out of bounds and that's what made the brand so easy to love. A literal "Just Do It" approach was possible because consequences were limited and experimentation was encouraged. Listening to feedback from the skate team, gum soles would dominate a plethora of early Dunk Low and High releases like the Wheat Forbes, Bisons, Barfs, Irons, Ostriches, Brown Pack, Homers and Slam City's. Whether or not the SB team intended for the Dunk to become a streetwear style icon, it was being sought by skaters, sneakerheads and collectors alike — eventually blowing up into a trend.
ACQUISITION
As is the case with most trends, a higher resale price followed each Nike SB around 2004-2007, when retail prices of $65-75 USD skyrocketed to $300+ USD on the secondary market. At the time, reselling was still in its infancy and paying 500% higher than retail was ludicrous, but I still did it. For myself and others embracing the Dunks, even with their limited supply and high prices, is what helped the SB brand and skateboarding as a whole gain relevance. Instead of watching skate videos where a sneaker debuted first, I found myself wanting to buy the latest Dunk and then go back and watch videos of guys shredding in them. I can't say for sure if others enjoyed the first few generations of the Dunks in the same manner I did, but I know that there were a ton of people who didn't skate and collected SBs.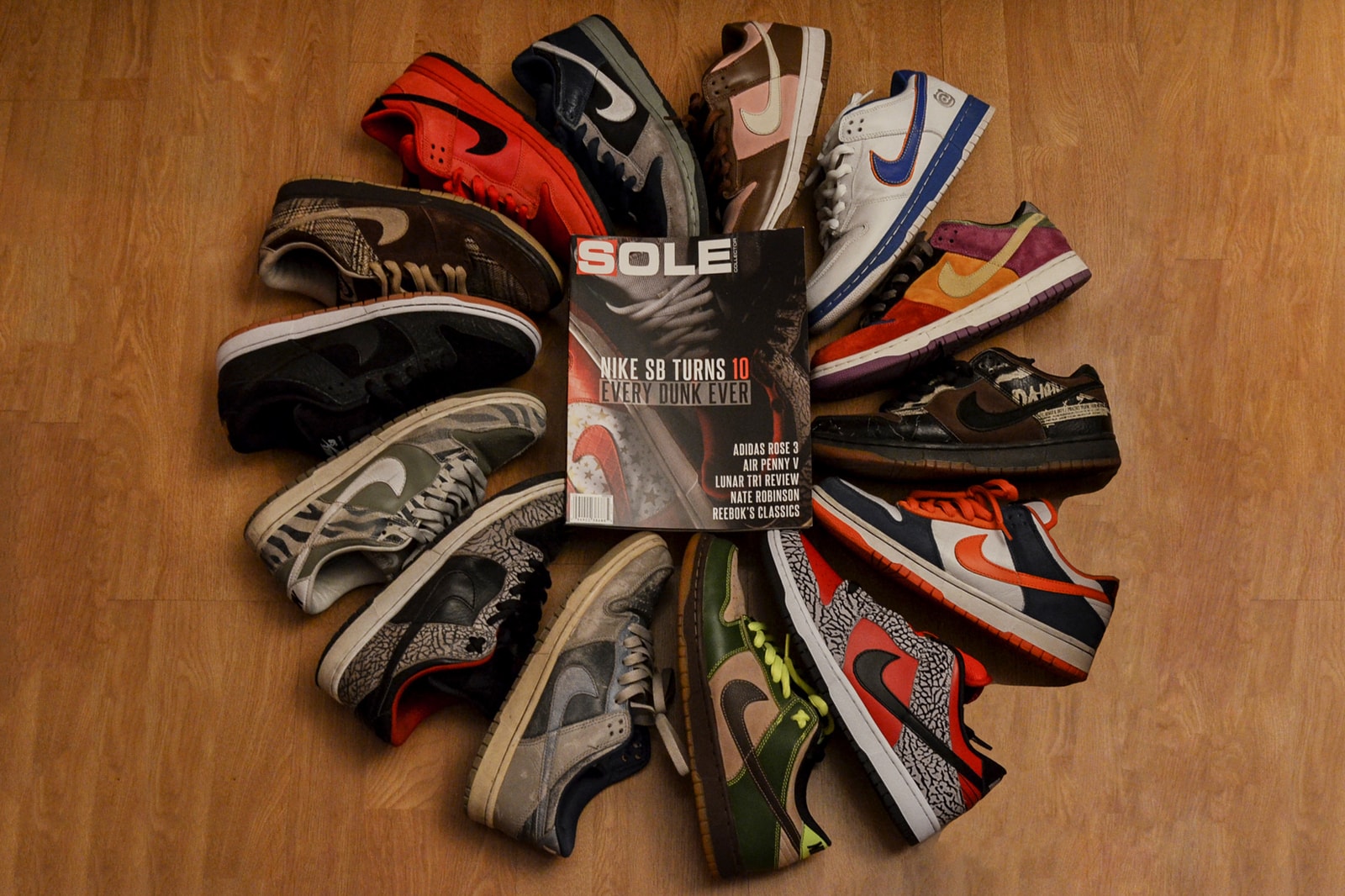 I definitely attribute the success of SB and my desire to have them to the cool color schemes which allowed us as a community to nickname each shoe and the coinciding box colors that signaled different eras. Aside from Jordans — the Air Jordan 1 was an extremely popular silhouette with skaters, especially legends like Lance Mountain — the nicknaming of sneakers to the point of universal acceptance both outside of and within Nike offices was unheard of. While Air Maxes and New Balances occasionally had nicknames, they weren't on the level of SB where every single shoe got a nickname immediately out of shops.
It's arguable that the Nike SB trend taught a multitude of people the hustle, which is quintessentially the lifeblood of streetwear.
And the only way to acquire a pair was to be in the know. With a limited number of pairs made each time and basically no marketing behind them, the mythical aura of each SB grew greater. After all, just because you asked a shop about a pair didn't mean they had to tell you — although back then most shops and employees were more than willing to help out the small population that wanted a pair for personal consumption. Speaking with Senior R&D Analyst Kevin Imamura, I posed the question of whether or not he thinks the SB phase would've happened had it started in the full-blown social media age.
Yes and no. Obviously, the speed with which the info traveled would've been different, but Dunk fandom had already been building in the big four shoe cities: Tokyo, New York, LA and London. So the names and the shoe info would've spread through word of mouth, just at a slower pace. Also keep in mind the SB program rarely did any traditional advertising around the Dunk, which also helped build the mystique. If you knew about them, then you knew and were forced to act. The quantities were so low that if you didn't grab them when you had the chance, you knew you would be missing out.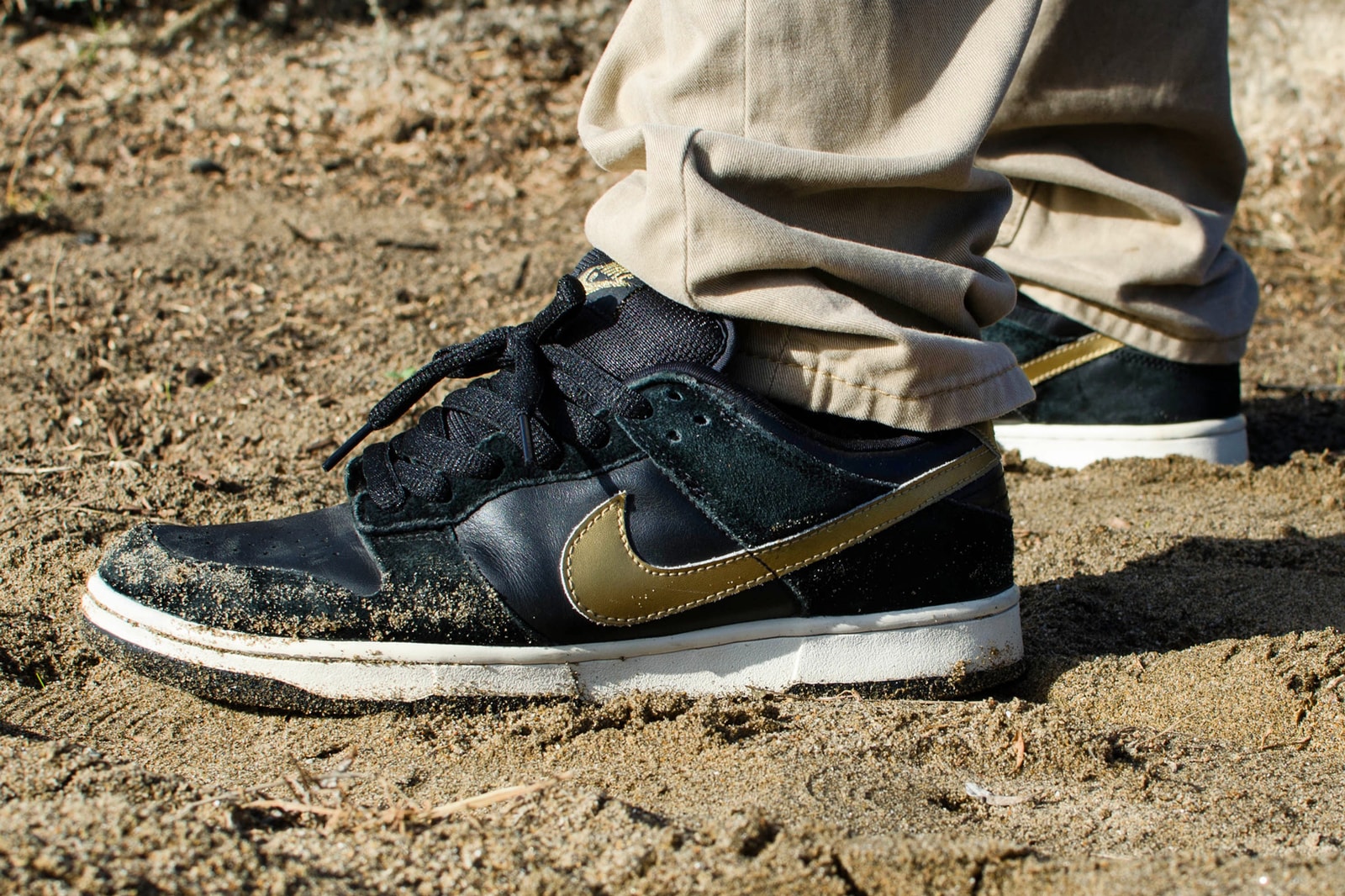 The beauty of having to be in the know and hunting down the necessary information to purchase a certain pair of SBs made the culture fun. It forced people like myself to become addicted to "the chase" and develop social skills that quite frankly, a lot of kids these days don't have. Skills that teach patience, hone communication, and stress the proper way to approach people and situations — currently lost on a generation where everything is available immediately and done via the internet. It's arguable that the Nike SB trend taught a multitude of people the hustle, which is quintessentially the lifeblood of streetwear. Chasing down pairs also created organic and individual stories which were another part of SB's success.
Thanks to the unique color codes Nike SB used — like True Red, Ghost, White-El Dorado, Nightshade and Shy Pink to name a few — it was easy for the community to come up with witty nicknames that stood out for each pair, which still resonates today. In addition, every pair had a unique design story and every buyer had their own story for obtaining a pair. This multi-layer connection with the brand name and other Nike SB collectors was unique because at the time, Jordans dominated the landscape here at home while Air Maxes and New Balances were all the rage abroad in Europe. I can clearly remember the story behind every pair I've owned because it wasn't uncommon for us to trade back then, which is part of the culture that has definitely seen a decline in recent years due to the the vast amount of fakes and lack of honesty amongst the community.
RECESSION
Following several years of bliss, Nike SB's rise came to a halt. Over the last decade, post-2006 Black Box era Nike SBs just didn't command the same demand that its predecessors did. Even while star riders like Paul Rodriguez, Stefan Janoski and Eric Koston have all gotten their own signature sneakers, none have been able to recreate the same cult following the way the Dunks did. While I, like many others, have wondered if Nike SB would ever regain the same luster and shine it had in the early days — the "Black Pigeon" was probably the closest it's come in recent memory — internally, it seems that the brand has accepted its current place and is looking forward, indifferent and unphased by popularity, motivated instead by technological advancement and the happiness of its athletes.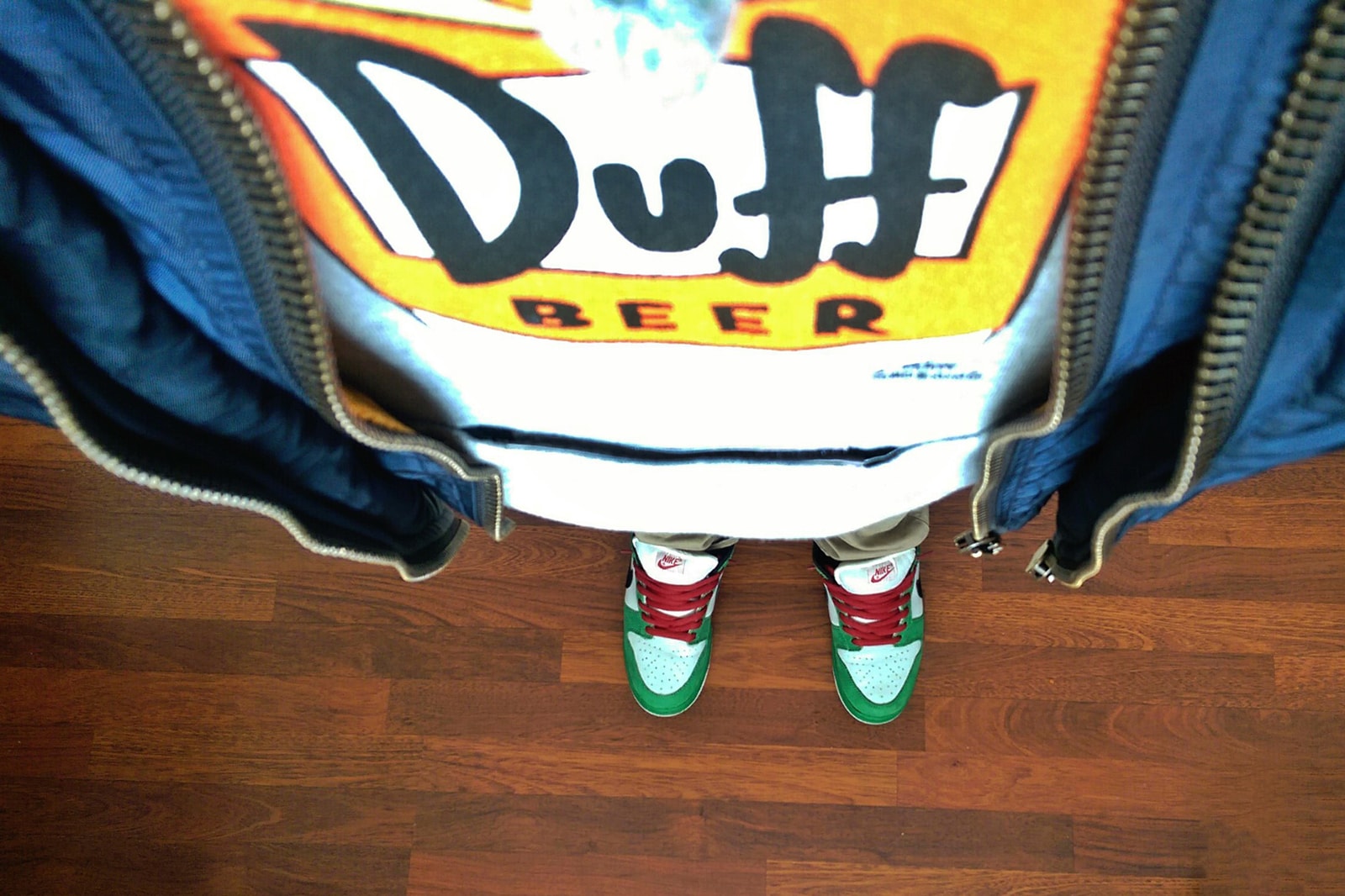 Embracing the Dunks, even with their limited supply and high prices, is what helped the SB brand and skateboarding as a whole gain relevance.
REBOUND
Fulfilling a lifelong dream to visit the Nike World Headquarters in December of 2017, I got a firsthand look at the future of the brand. For the Spring 2018 lineup, the design team stressed that style is key and that the design mentality moving forward would be "for the individual, not the trend." The skaters on the team wanted simplicity and by staying true to form, three classic Nike SB silhouettes — the Dunk Low, Janoski and Blazer Low — have been reworked and deconstructed. Not only has the design team tapped its skaters for feedback, but it has also pushed the boundaries of rolling out new signature sneakers by being hands-on with the skater — case in point, Nyjah Huston. The 23-year-old will officially have his first signature shoe launch on March 1 and the technology and design of the Nyjah Free proves that Nike's focus isn't on having its product become a trend again but instead on the sport of skateboarding and pushing the market, "a modern approach to skate innovation using only what you need," says Footwear Design Director August Benzien.
The reality is Nike SB has once again pushed the boundaries of what's possible as Imamura brings to my attention that storytelling — utilizing the latest technology — is still key: "We will continue to put out skate videos when the timing is right and our riders are ready to release their best footage. But on the future side of storytelling, Nike SB has already incorporated VR with two of our most recent launches: both the Momofuku and Pigeon Dunks utilized it. With the Pigeon, it was a combo of VR as well as a printed newspaper that helped tell the shoe's history. As for what is coming with Nyjah's shoe launch, I don't want to spoil any surprises."
Hearing first hand that Nike SB isn't concerned over being a trend anymore and is focused more than ever on its athletes goes to show that while they revered the spotlight in the past, they are also living in a reality where they are no longer the child on campus — rules, regulations and sales have to be met. The future of the brand may never recreate the luster of the past, but for someone like me who grew up in a brotherhood that propelled Nike SB to the top of streetwear's Mount Everest in the 2000s, this new direction is fresh and gives me hope that maybe one day another generation can once again experience what me and so many of my peers were able to live through. Long live Nike SB and the Dunk.