Five Times Kim Jones Brought Streetwear to the Runway
A look at the designer's seven-year tenure.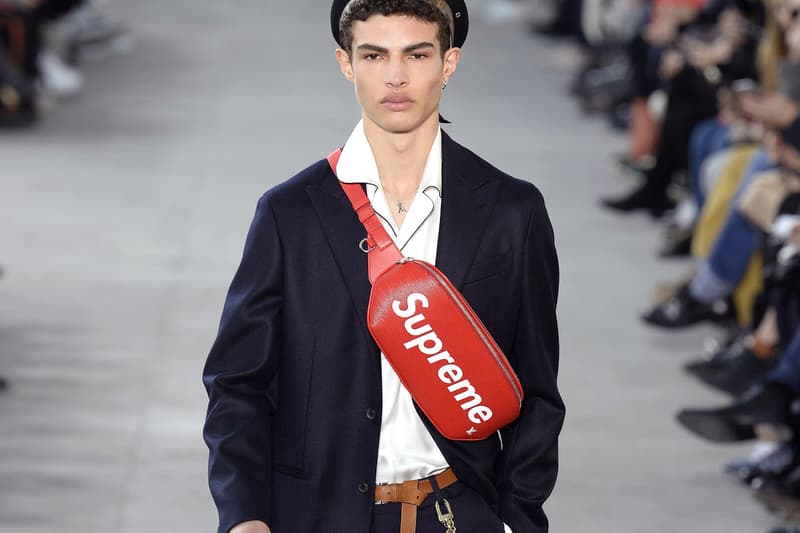 Kim Jones  delivered seven years of strong menswear designs as Artistic Director at Louis Vuitton, giving the luxury label's menswear line a necessary shot in the arm. Hired by the French legacy house in 2011, the Central Saint Martins graduate debuted his first collection in 2012 and quickly reformed the label's aesthetic through modernized designs and multicultural showcases.
Unique from his high fashion counterparts, Jones has always exerted a penchant for streetwear, stating that as a student he favored brands like Bape and Good Enough alongside influential labels like Helmut Lang. The youthfulness of street style bled into his eponymous label and Umbro collaborations, and followed Jones during his tenure at Louis Vuitton, where he merged tailored looks and street staples. He also famously brought streetwear's love of collaboration to high fashion, resulting in one of the most talked-about collections of the last decade: Supreme x Louis Vuitton Fall/Winter 2017.
With his final Louis Vuitton runway show held January 18, Jones leaves behind a legacy that merged critical success with commercial praise. In light of his final Louis Vuitton collection, we've culled together some of Jones's most influential collections that paved the way for streetwear's ongoing presence in the world of luxury fashion.
Spring/Summer 2013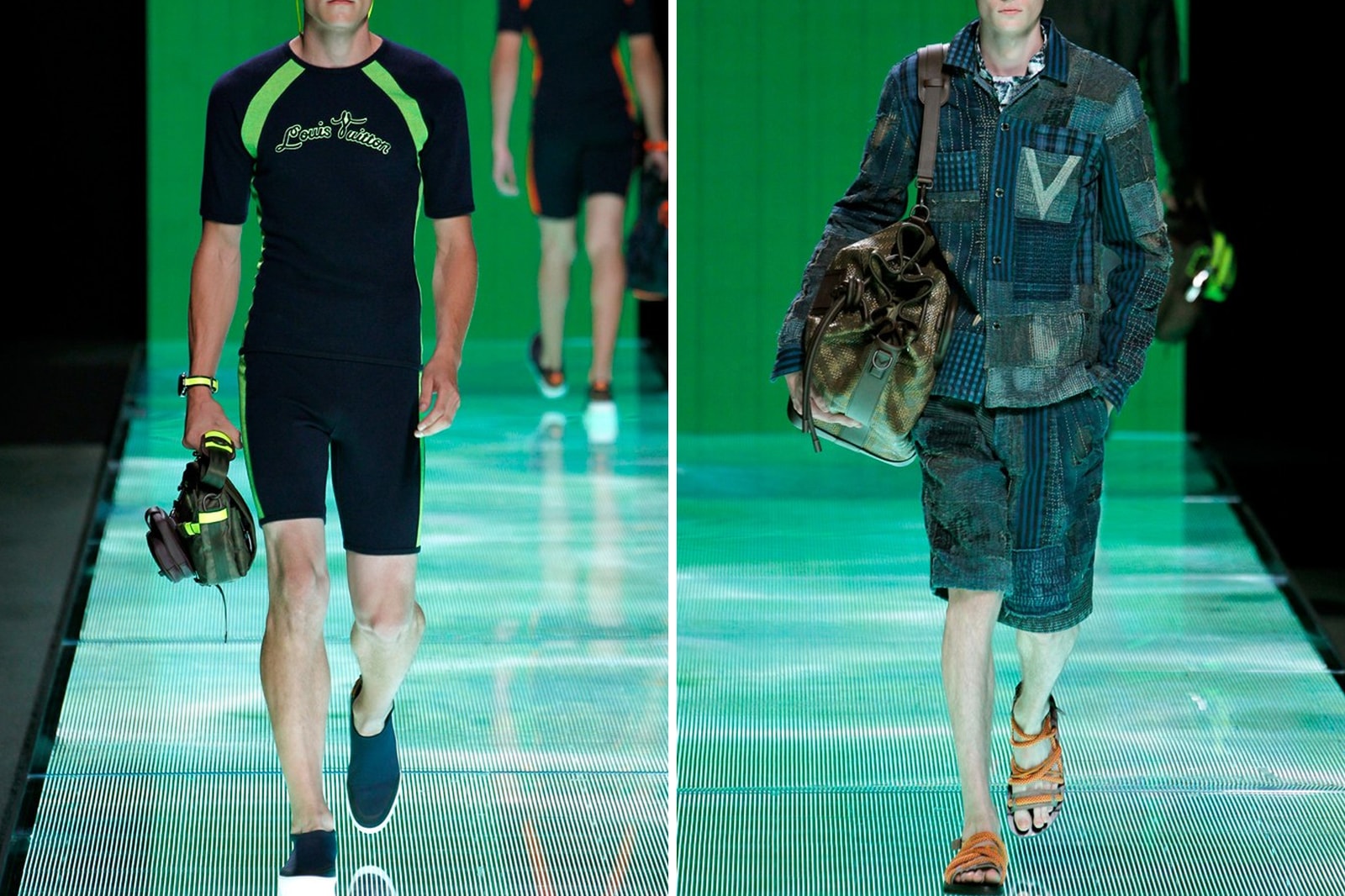 Although fashion had exited its grunge phase long ago, Jones heralded the return of rugged styling at fashion week with his expansive Spring/Summer 2013.This collection saw the runway debut of Japanese denim specialist brand Kapital — well-regarded for its handmade boro (patchwork) designs — and demonstrated that weathered denim and tailored clothing both had their places in high-end menswear. Despite Jones referencing streetwear more overtly in later Louis Vuitton collections, he included subtle nods in this early collection: several looks centered around sleek, logo-bearing sportswear and outdoor-inspired trek gear, two staples of street fashion.
Spring/Summer 2015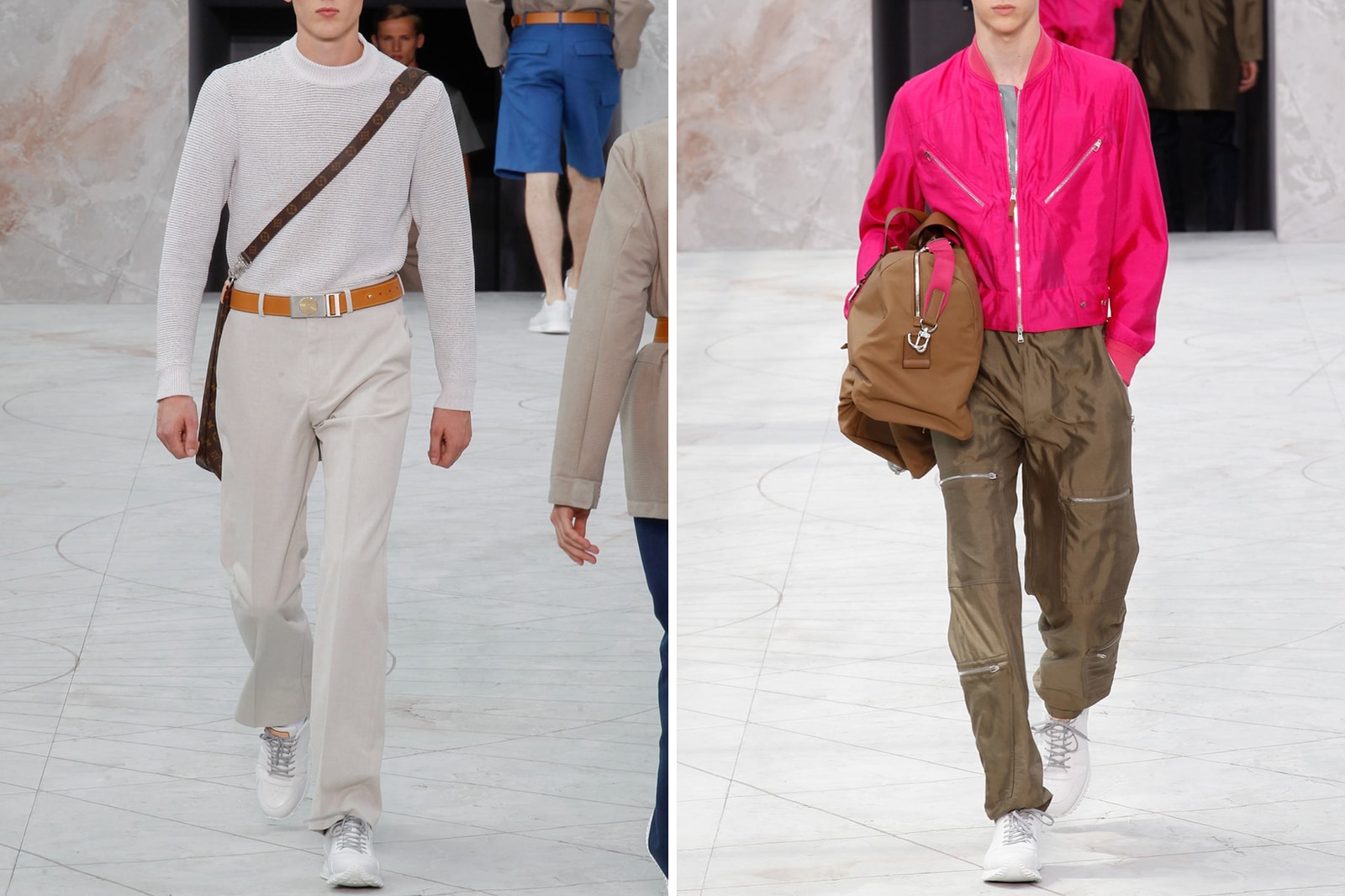 This was another suiting-heavy season for Louis Vuitton's menswear line, but Jones softened the looks by styling each with white, brown or black sneakers — a small step towards streetwear, but without a derby or oxford to be found, the collection does read more casual than past collections. However, Jones' ability to foresee trends is the most intriguing point of this collection, as the designer sent bold bomber jackets down the runway a full year before the style was adopted by every street style star and fast fashion retailer around the globe.
Spring/Summer 2016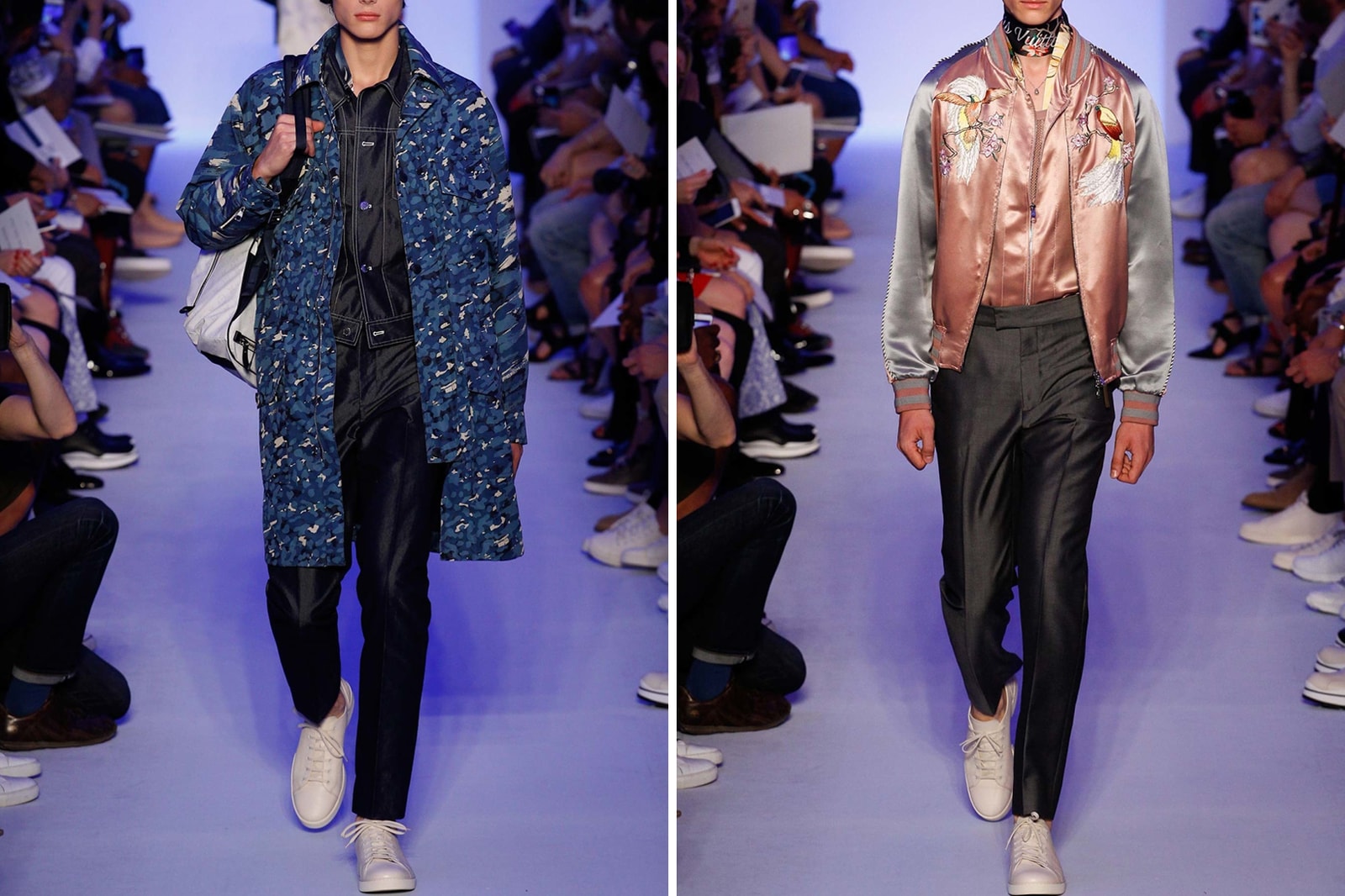 For Spring/Summer 2016, Jones once again utilized his clairvoyant powers to issue souvenir jackets and athletic gear before trends trickled down to the fashion-savvy, and predated 2017's sideline pants fad with this collection's accented trousers. The range also featured several all-over camouflage prints, a pattern favored by graphic-inclined streetwear labels. Of course, the streetwear set was most enthralled by that season's collaboration with Hiroshi Fujiwara's fragment design; an expansive drop that encompassed everything from co-branded T-shirts and stadium jackets to leather bags. It was particularly exciting because, until that point, never had the worlds of street and high fashion colluded together so freely.
Fall/Winter 2017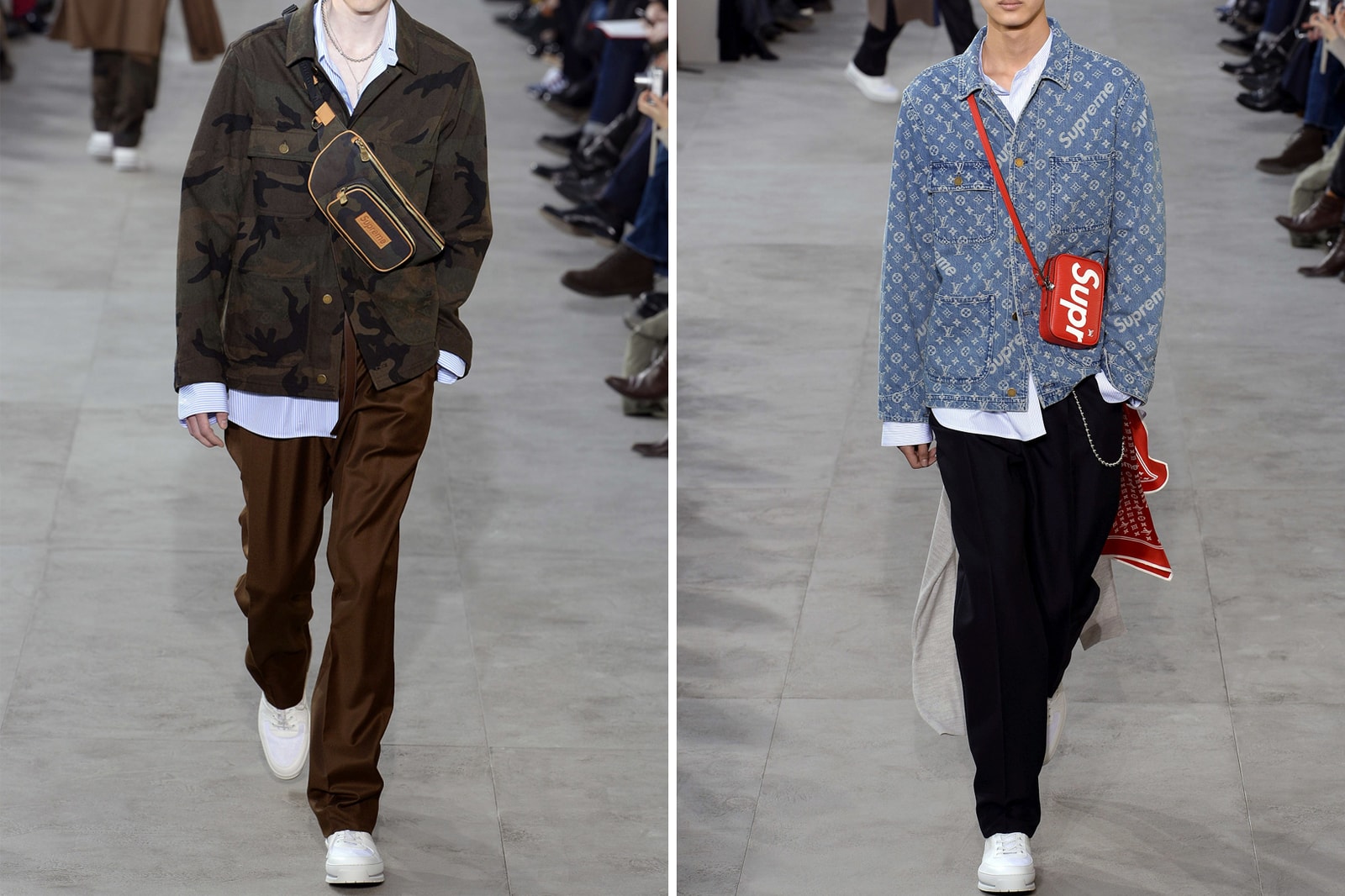 The much-discussed Supreme collection garnered the most press for Louis Vuitton's Spring/Summer 2017 menswear collection, but the actual collection was rife with wearable designs and trend-starting styling; the range revealed branded shoulder bags and half-tucked shirts when both trends were only in their infancy. Elsewhere, streetwear-friendly designs appeared in the form of white sneakers and printed goods — the latter of which juxtaposed art, camouflage, Supreme and Louis Vuitton co-branding.
Spring/Summer 2018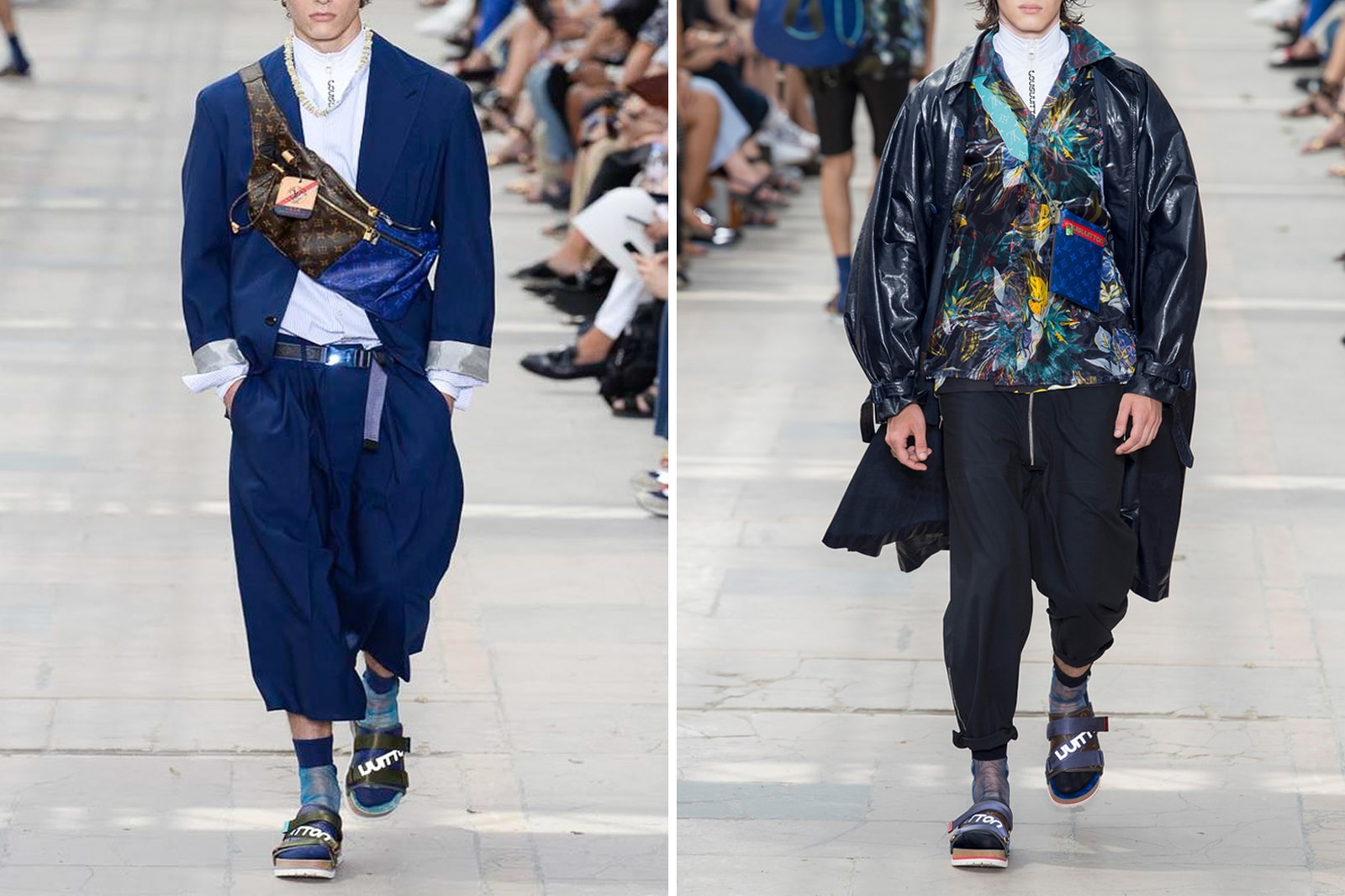 With high fashion and streetwear closer than ever before, Jones' follow-up to the incendiary Fall/Winter 2017 collection again blurred the line between the two. More graphic prints, athletic comfortwear and must-have bags were sent down the runway, with plenty of influence drawn from the trek gear trend. Similarly, a greater number of logos and desirable accessories appeared — including the monogrammed webbing belts and street-ready bucket hats — while the silhouettes of the season mostly tied into the relaxed cuts enjoyed by the trend-aware.
As Kim Jones and Louis Vuitton prepare for their next moves, take a look at his final Louis Vuitton show.