H&M to Recycle Offensive Hoodie, Parent of Model States "Get Over It"
The hoodie has been pulled from store shelves amidst public outcry.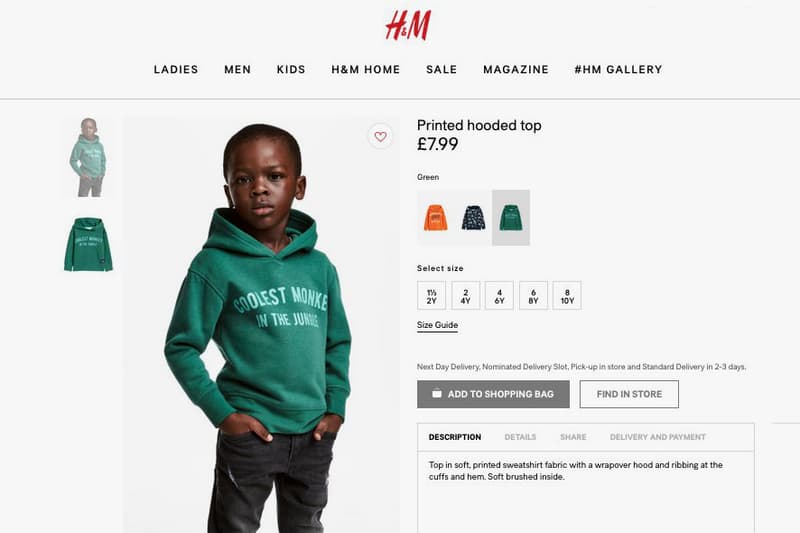 Fast-fashion giant H&M started off 2018 on the wrong foot, facing intense public scrutiny after an image of a black child modeling an offensive hoodie was found on its web store. Now, statements have emerged from both the company itself and the child's mother.
On the morning of January 9, an image of a black child wearing a hoodie emblazoned with "Coolest Monkey in the Jungle" was blasted by the public, with luminaries including Sean "Diddy" Combs and Questlove taking to Twitter to call out the Swedish company as both The Weeknd and G-Eazy dropped their collaborations with the mega-retailer.
Today, H&M issued a letter of apology, specifying the issues and taking responsibility for the insensitive styling: "This incident is accidental in nature, but this doesn't mean we don't take it extremely seriously or understand the upset and discomfort it has caused. We have taken down the image and we have removed the garment in question from sale. It will be recycled. We will now be doing everything we possibly can to prevent this from happening again in future. Racism and bias in any shape or form, conscious or unconscious, deliberate or accidental, are simply unacceptable and need to be eradicated from society. In this instance we have not been sensitive enough to this agenda."
Meanwhile, the child model's mother responded to the drama on Facebook. A few screenshots have surfaced of her comments, which include "stop crying Wolf all the time, unnecessary issue here … get over it." Reportedly, her and her son are from Kenya but based in Sweden. Check out the screenshot below and sound off with your thoughts in the comments.