God Save CÉLINE: We Need Hedi Slimane Now More Than Ever
What we can expect from the total-control-demanding director.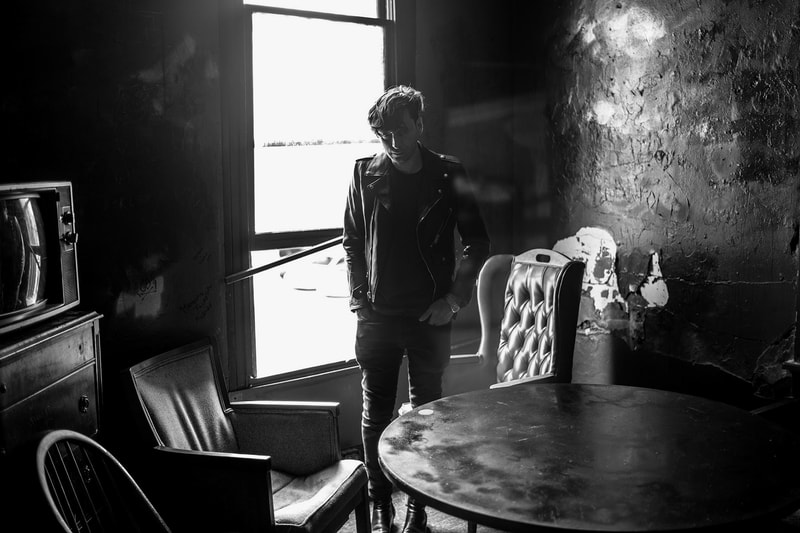 The biggest name of Paris Fashion Week is a designer who is not showing and hasn't stepped foot on the scene for two years. French-Tunisian-Italian designer Hedi Slimane is probably the most copied man in fashion today, and arguably the most influential force in the industry since the beginning of the 21st century. He not only brought back skinny jeans, he popularized the skinny-everything menswear looks we've seen for the better part of the last decade. He incepted the total-control, artist-in-chief approach to "creative direction" at luxury brands that we see the likes of Gucci, Balenciaga and Loewe endorsing today (not to mention contemporary streetwear labels like Off-White™, Noah and KITH). He expanded the role of designer to include marketing, communications, boutique design and celebrity endorsement.
And, as of February 1, Hedi Slimane is at the helm of CÉLINE. 
The world in 2018 is distinctly unpredictable — undergoing a significant period of cultural shift if you're an optimist; teetering on the edge of global meltdown and potential nuclear oblivion if you're not. "Strong Man" leaders the globe over are speaking freely and haphazardly, shattering norms and social morays in the process. Bad behavior at financial, political and cultural institutions is being exposed on a weekly basis. A prominent reaction in the liberal spheres of media, fashion and entertainment has been to endorse safe spaces and inclusive approaches, and often become prone to instant outrage. It's important for artists and designers today to have a point of view, but it seems more dangerous than ever to have an opinion.
Slimane is a bold and brilliant choice for CÉLINE precisely because he almost always has an opinion, and very rarely feels the need to defend it. He is a distinct and unapologetic personality not without controversy. His vision is exactly what has differentiated him from the start. Slimane is the spiritual successor to Yves Saint Laurent, whose label he worked at early in his career. Slimane famously injected the brand with a much-needed dose of relevance from 2012-2016 under the moniker Saint Laurent Paris. His approach is subtle, consistent and often intellectual, yet swiftly and voraciously commercialized. He plays with tropes like gender, status, nostalgia and art as easily as he manufactures trends like skintight suiting worn casually, raw denim stacked-high, urban cowboy statement boots and a healthy dose of glitter. And that's just the menswear — his "boho" and grunge aesthetics at Saint Laurent were debatably as influential in the realm of women's fashion.
As we look forward, with baited breath, to what a Slimane revival will look like in late 2018, it's worth investigating the importance of his influence as well as examine why the fashion industry needs him now more than ever before.
It's important for artists and designers today to have a point of view, but it seems more dangerous than ever to have an opinion.
CONTROL

Indoctrination into the cult of Slimane comes like Hemingway described bankruptcy — "gradually, then suddenly." The details are what you notice first. The elevation of a horizontal stitch on the back pocket of a pair of jeans into a signature "slash" at Dior Homme. The taxonomy of terms necessary to speak fluent Saint Laurent denim (eg: D02 M/SK-LW = Denim Cut, Men's/Fit Code-Rise Code). The artfully-restored 17th century L'Hôtel de Sénecterre, on Paris' Rive Gauche, rooted in the codes of Slimane's "Reform Project," a literal manifesto that approached an understanding (or "synopsis") of every element of Saint Laurent from a philosophical and aesthetic perspective. The man is obsessive, and it is appreciated. Menswear has always been and will continue to be his most influential craft largely because, as men, we rarely see this kind of attention to detail in our clothes outside of Saville Row. Slimane makes garments for men that make them feel the way a woman must when she dons that couture dress; like hot shit.
With Alessandro Michele opening floral-wrapped restaurants at Gucci, Virgil Abloh expanding his "BRAND" to everything from IKEA rugs to Nike kicks at Off-White™ and Haider Ackermann injecting his signature lush aesthetic into ultra high-end menswear at Berluti — the concept of designer as art director seems fairly common today. It was not so, however, back in 2000 when Slimane was assigned the project of inventing Dior Homme. Hedi is an accomplished photographer and obsessed with music. He is image-conscious and business-savvy. He extended his reach to everything from ad campaigns to a full line of high-end skincare at Dior (and was immortalized with a Kanye West lyric and song title). He injected Saint Laurent's retail network with a healthy dose of mirrored chrome, enveloped in stark white marble — supremely Insta-friendly without being gimmicky. Also at Saint Laurent, he changed the name, which some people didn't like. And which Slimane couldn't care less about. He has banned critics, celebrities and even Kanye from his shows for various reasons. He won't let anything disturb his vision.
Slimane makes garments for men that make them feel the way a woman must when she dons that couture dress; like hot shit.
Famously as 2007 negotiations fell apart to keep Slimane at Dior Homme and bequeath him with an eponymous label, he chose to exile himself (for the first time) rather than give up control of his name and management of his own brand. He is a control freak and the results of giving him the reins of a branded house, atelier and codes of design have never been disappointing from an artistic or financial perspective. His aesthetic is that of glamorous gutterpunk phantasmagoria. Broken sequins, pointed toes, fucked-up suede, secret trademarks embellished on back pockets of jeans and hems of tee shirts. When you see it on the street, if you know, then you're invited into a world where conversation is held in whispers. You're with someone else who cares about the little things. It's a wink. A nod. A recognition. And you walk on.
COLLABORATION
It may be the hottest term in fashion today, but Hedi Slimane kick-started the era of "collaborations" without ever having to enlist another fashion brand. Instead, he revitalized the ancient art of the muse. Artists cycle in and out of Slimane's world seasonally, injecting music, lyrics and designs into his pieces when fitting. Some of his "Secret Society" includes Libertines and Babyshambles front-man Pete Doherty, "Teen Artist" Lucia Santina Ribisi, singer and model Sky Ferreira, self-taught artist Arrington de Dionyso (who Slimane found via a poster for LA club The Smell), fine artist Alexander Muret, iconic West Coast artist Ed Ruscha, Daft Punk, Marilyn Manson, Courtney Love, Ariel Pink, Kevin Parker of Tame Impala and Kim Gordon of Sonic Youth, amongst others. His distinct form of collaboration is less democratic than what we see today, with brands swapping logos and silhouettes and calling it a day. Instead, he positions himself as a Philosopher King of sorts, absorbing culture and inviting those who strike a chord into his court.
As Yves Saint Laurent had Marrakech, Slimane has Los Angeles. The city itself is perhaps the strongest thread across his work. He famously refused to move to Paris after taking over at Saint Laurent, and will do the same at CÉLINE. His final show at his latest job was held at Palladium on Sunset Boulevard.
As high-end brands are lauded today for finally embracing streetwear brands (or, you know, letting them completely takeover your brand world), Hedi has been utilizing traditionally streetwear tactics like wild-posting, graphic screen-printed tees and skateboard art for the better part of a decade. He is distinctly inspired by California, and the City of Angels is perhaps his longest-running collaborative partner. Slimane curated a 2011 exhibit at MOCA called "California Song," inspired by and including photographs of West Coast bands like Girls, No Age, The Growlers, Ty Segal, Fidlar, Mystic Braves and more. He has published archives of photographs as Anthology of a Decade spanning from the UK to Germany (and his beloved Berlin) to Russia. But the US edition sparkles with his most personal and iconic imagery, almost all relegated to the West Coast and featuring the likes of Gore Vidal, Johnny Rotten and Brian Wilson alongside punks, skaters, surfers and still life.
As Slimane moves on to a new role at CÉLINE, he will undoubtedly bring his Secret Society along with him. The question of how he will tackle the concept of collaboration in a distinctly changed world of co-branded everything and over-hyped anything lingers like cigarette smoke in one of his photographs.
CONTEXT
With Hedi Slimane comes culture, celebrity and an aesthetic that is distinctly his and aggressively trend-averse. Yet CÉLINE's DNA as a brand is decidedly more elegant and even a drop egalitarian.
The label was founded in 1945 as a bespoke children's shoe business in gloomy post-war Paris. By the 1960s, founder CÉLINE Vipiana shifted strategies and ready-to-wear was launched, with the beige trench quickly becoming the brand's most iconic piece. LVMH acquired the brand in the late 1980s but didn't fully integrate it into the holding company's portfolio until the 1990s, when Michael Kors was appointed creative director. CÉLINE sunk into a middling no-man's land during the luxury boom of the early 2000s and seemed almost destined for obscurity after a revolving door of designers did nothing to revitalize the brand. Then, in 2008, came Phoebe Philo.
Philo's feminine, minimal approach perfectly meshed with the post-recession embrace of a "stealth wealth" look. She revolutionized the brand's accessories department, launching three iconic bag silhouettes. More importantly, she lent a distinguished female gaze to CÉLINE in a world where many women's lines are still designed by men. When Philo stepped down in December of 2017, many lamented her loss as a significant blow to the house. The sumptuous, graceful and chic CÉLINE of the last 10 years would be no more. So CÉLINE did what Don Draper would do — they changed the conversation. With Slimane, LVMH has installed probably the only person capable of not only filling Philo's shoes but also launching a men's division for one of the most feminine brands on the market.
Unlike many popular "creative directors" today, Hedi Slimane is a true designer.
Slimane likes to take us places in-keeping with his vibe: Bowie's Berlin, Cobain's Seattle, Doherty's London. Where will he take CÉLINE, a distinctly elegant and exceptionally French brand? We can hardly know, but we certainly can make some educated guesses. This will be Hedi's third "Reform Project" and he will most definitely take the history, context and codes of CÉLINE seriously as he re-assesses the brand. He will have familiar support. Hedi's old boss Sidney Toledano, Dior's renowned CEO, is set to return to the dream team in the role of head of LVMH Fashion Group, a kind of holding company which includes CÉLINE. He will have the total control he loves. He is artistic, creative and image director – and that title means something. Remember Dior Homme's skincare line? With control over fragrance, a huge money-maker in the fashion industry, he will no doubt propel CÉLINE to above the $1 billion USD in revenue it is cited to be fast-approaching already.
Most importantly, he will bring something new to the table. Unlike many popular "creative directors" today, Hedi Slimane is a true designer. He has blazed the path for the likes of Michele at Gucci, who is in a way his spiritual successor in his all-encompassing branded approach. But Slimane also prepped both culture and consumer for the cult of Vetements. Where Hedi is precise and provocative, Demna is gimmicky. He gives us what we want. He is a short-term thinker. He presents the absurd but he rarely agitates. His Balenciaga, a rising star in Kering's portfolio, is propelled forward by $1000 USD dad shoes and Bernie Sanders logo-flips. Now, for the first time in recent memory, the Gvasalias have something to be worried about.
Hedi Slimane has a lot on his plate. It's completely possible that his CÉLINE won't look too different from Saint Laurent. It's also possible that it will be a dramatic departure, something that disappoints or disturbs his diehard fans. Nonetheless, it's almost guaranteed to sell. And more importantly, for people who believe fashion can be an intellectual exercise, there's finally something new to look forward to. 
The nouveau CÉLINE's first shows are set for September 2018. Start saving now.