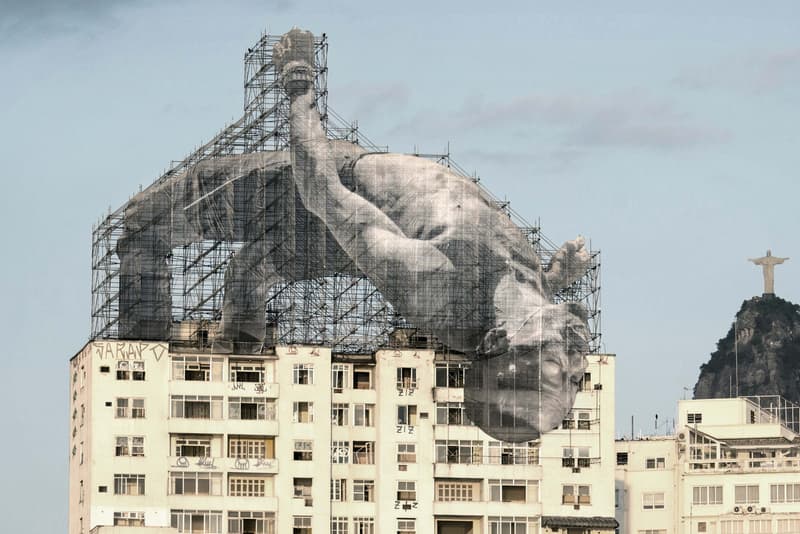 Best New Art: Damien Hirst Paintings, Helmut Lang Sculptures & More
Including a controversial museum policy at The Met.
---
Abstract art is often described as works that are hard to interpret and have informal compositions. To put it simply, these works don't reference anything from real life. Legendary Russian artist Wassily Kandinsky is widely-credited for being the first person to produce abstract paintings dating back to the late 18th century. These days, pure abstract works are hard to come across and you'll even find furry-browed critics claiming that the genre has been dead for over 40 years. However, as the zeitgeist continues to change so do collective attitudes of abstract works—which are now being conceived by all kinds of artists even musicians such as Chaz Bear of Toro Y Moi.
Check out some fresh abstract works by Chaz Bear and Damien Hirst alongside upcoming shows from across the globe.
Damien Hirst Creates New Spot Paintings for Upcoming Exhibit in England
Damien Hirst will present a new collection of his ongoing spot paintings as well as sculptures at Houghton Hall in Norfolk, England. Simply titled Colour Space Paintings and Outdoor Sculptures, the polarizing British artist will take over several rooms at the 18th-century mansion to display the artworks—250 in total. The largest painting in the series contains exactly 90,000 spots. "The works have been produced at Hirst's three studios in Devon, London and Gloucestershire, with each of his hired painters averaging 1,500 spots a day," The Guardian reported. The exhibit will officially launch on March 25 and conclude on July 15. Visit Houghton Hall's official website to learn more.
Houghton Hall
King's Lynn PE31 6UE
Norfolk, UK
JR to Launch New "GIANTS" Exhibit Featuring Large-Scale Sculptures
JR's world-renowned GIANTS project is the subject of a new exhibition at Lazinc's new flagship gallery in Mayfair, London. The French artist's large-scale sculptures, which depict human figures in a monochromatic palette, first made their debut at the 2016 Olympic Games in Rio de Janeiro, Brazil. The showcase will explore JR's processes in creating these sculptures via installations and mixed media pieces. "GIANTS" will be open to the public this January 12 up until February 28. Visit Lazinc's official website to learn more.
Lazinc Sackville
29 Sackville St.
Mayfair,
London W1S 3DX
United Kingdom
Artist-made Sculptures for Helmut Lang's Spring/Summer 2018 Accessories
Shayne Oliver of Helmut Lang recently commissioned an independent New York City-based artist to create sculptures inspired by the label's Spring/Summer 2018 accessories. The signature sculptures are normally placed beside or affixed to a particular subject, offering new interpretations of both the artwork and the item it's associated with. The collaborative art objects are currently on display at Helmut Lang's U.S. stores. Visit Helmut Lang for more details.
Chaz Bear of Toro Y Moi Prepares Vibrant Artwork for New LA Exhibit
Chazwick "Chaz" Bear of Toro Y Moi is hard at work preparing for a new solo exhibit at New Image Art in Los Angeles, California. Titled "Solidify The Gesture," the presentation is comprised of abstract paintings alongside mixed media works that draw inspiration from 1950s Abstract Expressionism and early 1960s Pop Art works. The exhibit is set to launch on January 13 up until February 10. Visit New Image Art's official website to learn more.
New Image Art

7920 Santa Monica Boulevard
Los Angeles, CA 90046
United States
The Met Museum to Charge Admission to Non-New Yorkers
The Metropolitan Museum of Art in New York City is under fire for changing a 50-year-old policy that involves charging non-New York residents to gain access to its collection. More precisely, folks visiting the Big Apple will need to pay an admission fee of $25 USD. The new policy is expected to begin on March 1, as per the New York Times. "What we're trying to do is find the right balance in generating revenue to support this enterprise and admissions income has fallen behind," the Met's president expressed to the publication. "Everybody who benefits from this institution is being asked to contribute to its well-being because we are fundamentally a community resource."
Metropolitan Museum of Art
1000 5th Ave
New York, NY 10028