How 032c's Debut Show Annihilated Convention at Pitti Uomo
"I don't think that the fashion industry expects any advice from us, nor do we particularly care to do so."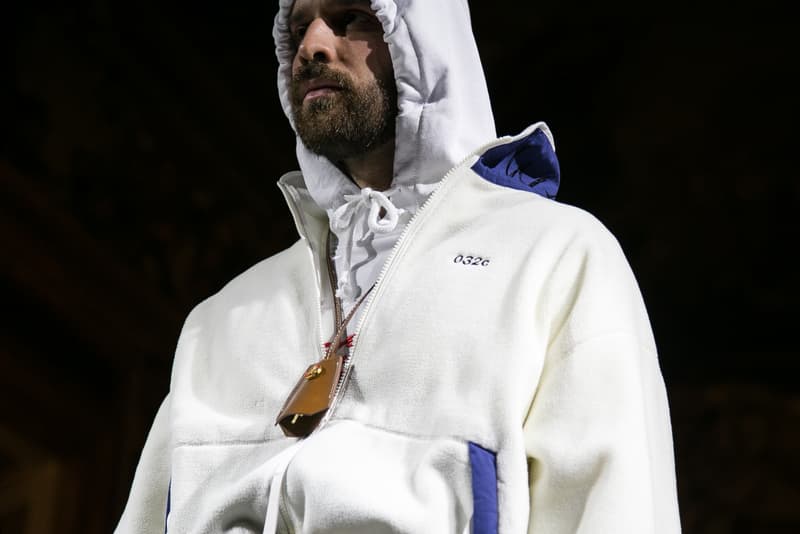 Pitti Uomo is an institution founded on the concept of tradition. Established in 1972, the bi-annual Florentine fashion fair has become the biggest global platform for heritage menswear and continues to be a principal meeting point for devotees of a once niche fashion sect. Though sometimes parodied for its dandyism and brazen peacocking, throughout the years, Pitti has established itself as a key event to discover some of the most forward-thinking designers in men's fashion; thanks to its renowned guest designer program, Pitti's attendance and commerce has culled together the highest engagement numbers ever experienced throughout its 46-year history.
For its 93rd edition, Pitti invited cerebral Berlin-based fashion collective 032c to showcase its debut ready-to-wear collection. Departing from the fair's main holding at the Fortezza da Basso, the show took host inside the Palazzo Medici Riccardi, one of the city's many palatial salons, where guests entered and exited through a labyrinth of rooms that induced much head-tilting over the space's elaborate ceiling paintings.
In true 032c fashion, the show warped nearly every convention typically found at a runway presentation, resulting in a unique blend of scholarly commentary (a manifesto recited over classical renditions of songs by German Eurodance group Scooter) and grandeur pageantry (mercurial choreography performed by a pan-aged cast) that left guests equal parts bewildered and enlightened.
We caught up with husband and wife duo Joerg and Maria Koch – 032c's Founder and Creative Director of Apparel, respectively – to unearth how family, personal philosophies, pole dancers and hooligans influenced the collective's debut show.
Why did you choose Pitti Uomo as the platform to debut the collection?

Pitti is the most commercial platform for men's fashion, and yet they have produced some of the most amazing shows I've ever experienced – the first Raf Simons show for Jil Sander, for example. They also published some of the best fashion books in the '90s/'00s. The shows at Pitti have never been just about a catwalk, but more about incredible spaces, hospitality, etc. So there was more romanticism/sentimentalism on our part for this decision as much as feeling honored to be invited by them to do the first show for 032c.
What significance did the venue play in the overall narrative of the collection?

It was the first time for a fashion event to happen inside the hall of Palazzo Medici Riccardi, and the venue determined the presentation. The flow of the audience to experience the space – they walked in through sides entrance and exited through the private rooms and chapel of the Medici's – and the choice of music and videos and above all a presentation that was rather rough for such a space.
Of all the keywords listed in your "What We Believe" manifesto, which one does the fashion industry, in its current state, need to follow the most in order to sustain itself against a constantly wavering cultural climate?

"We ain't missionaries." I don't think that the fashion industry expects any advice from us, nor we do we particularly care to do so. Everybody talks about attitude but hardly substantialize what it actually implies. So we attempted over the years to define relevant keywords for us like energy, experimentation, sex, freedom, etc, and this works for us like a guiding principle. It might not work for others, however.
There's a strong familial bond shared by your team that seems to translate in many of your creative endeavors. What role did "family" play in the process of making this collection and show happen?

I think we are less interested in the big "fashion" detail idea but more so what apparel means to a community and what it signifies to them. It is not for them, it is rather about them. Thus we wanted to show the community or family of 032c with this show in Florence.
Half of our team walked the show including the sons of our art director, Mike Meire, and our kids June and Karl. Friends like the German fashion critic Adriano Sack, the American DJ Lawrence Lee and beauty artist Patrick Glatthaar participated as well as dancers from our neighborhood in Berlin's Kreuzberg. It was all about community.
Originally, we were only meant to do one show, but we decided to do four shows to get the people off the street who kept on coming. We really appreciate the support and didn't want anybody to miss out.
Did each look reflect a different keyword? If so, how was this sartorially transferred?
No, it was never intended to be this literal. The "What We Believe" keywords were just acting as an ambient media baseline. Everything happened at the same time. The reading of the [manifesto], the talents walking in, the pole dancer, the videos, etc. Information overload!
Since this was your first full ready-to-wear collection, what aspect of creating it differed from what you do normally?

Not a big difference, just the next logical step.
How did you go about fabric selection?

In general we try to source organic fabrics throughout our offerings. In the case of our interpretation of the Chevignon Cosmo jacket from the 1990s, we sourced the original fabrics with Chevignon.
Do you foresee yourselves following a standard production schedule with future collections?
We drop products every six weeks; this collection will consist of four drops. We realized that our speed is a bit too ambitious for working with stores (70 so far) so we try to link with the needs of the traditional fashion system.
Why did you choose to close the show with the hooligan chant?

It was a YouTube clip of hooligans singing "Truly Madly Deeply" by Savage Garden in a pub. We felt it was a touching moment that created a lot of energy.

Be sure to follow Fashion Week Fall/Winter 2018 for the latest sartorial happenings this season.