Hebru Brantley is a Chicago artist who like many, has had to roll with a career full of transition to get to where he is. Moving from drawing paper to walls, shoes, canvases, screens and walls again, he's found a way to take his signature Fly Boy on a ride through it all. He stands tall, yet humble as he finishes setting up his first show in Asia; "Lord of the Flys" at Hong Kong's Avenue des Arts gallery. We talk about his highs and lows, and how this here — hanging his work in a city across the world — is a high. "Places that are so far away, that I can hardly imagine visiting let alone exhibiting. This is a moment. Life is made up of all these little moments and this is one I'm in right now."
"Graffiti and street art are the way companies package a product now. It's how businesses garner attention."
Brantley recalls the days where street art wasn't yet considered art, but a crime to the majority of the public — especially businesses. Where he once found himself part of a small, defiant movement of painters fighting to change people's minds through their murals, he's now getting commissioned for them by brands like Nike. "Graffiti and street art are the way companies package a product now. It's how businesses garner attention. There's a huge difference in how people approach it, and it's different for the participants of it now too. For me back in the day, to talk about street graffiti, you'd be talking about things printed in graffiti mags. That was the only way to see it around the world. Nowadays, you do a search in your phone, or on social media, and you'll get a bunch of stuff right away."
1 of 4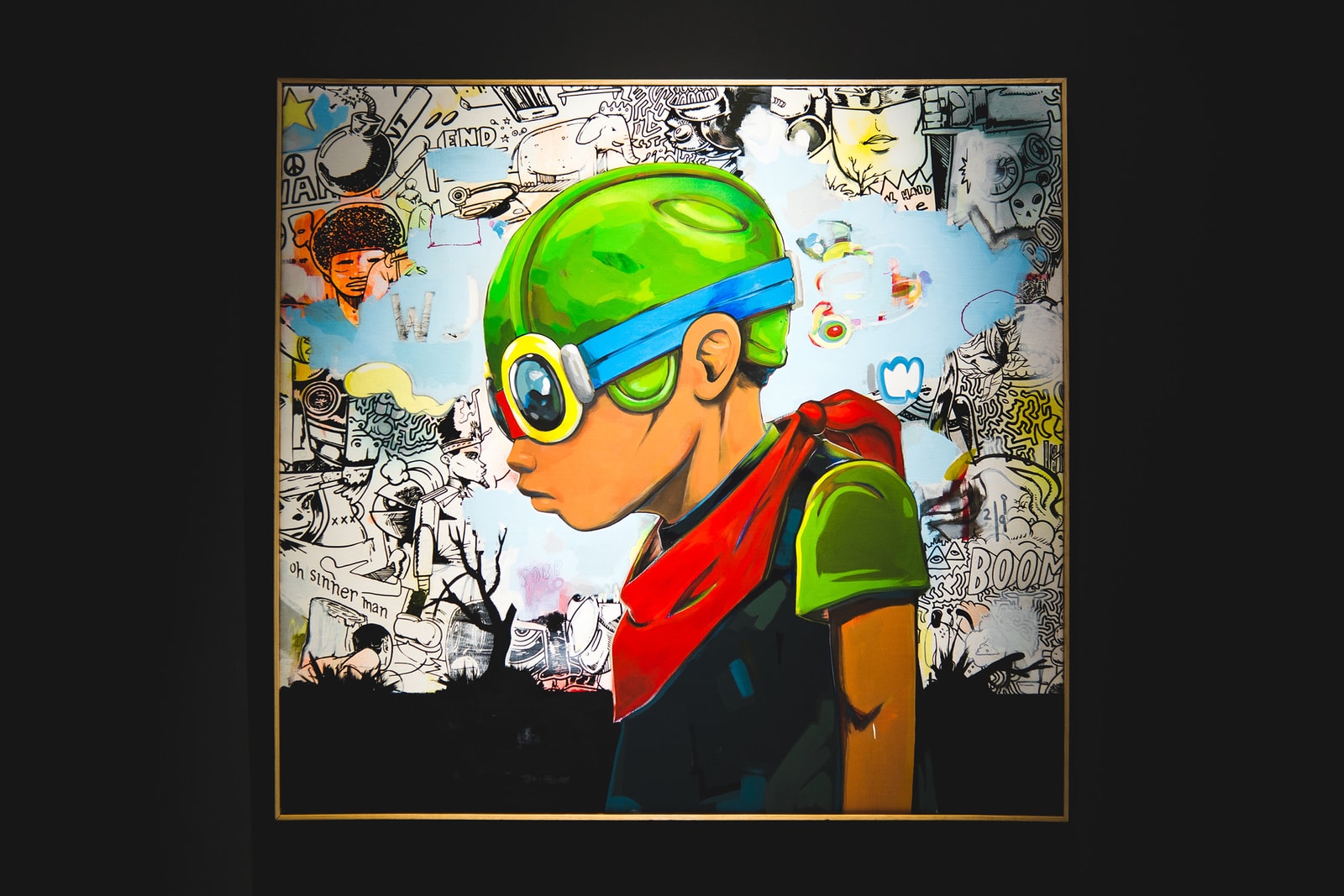 2 of 4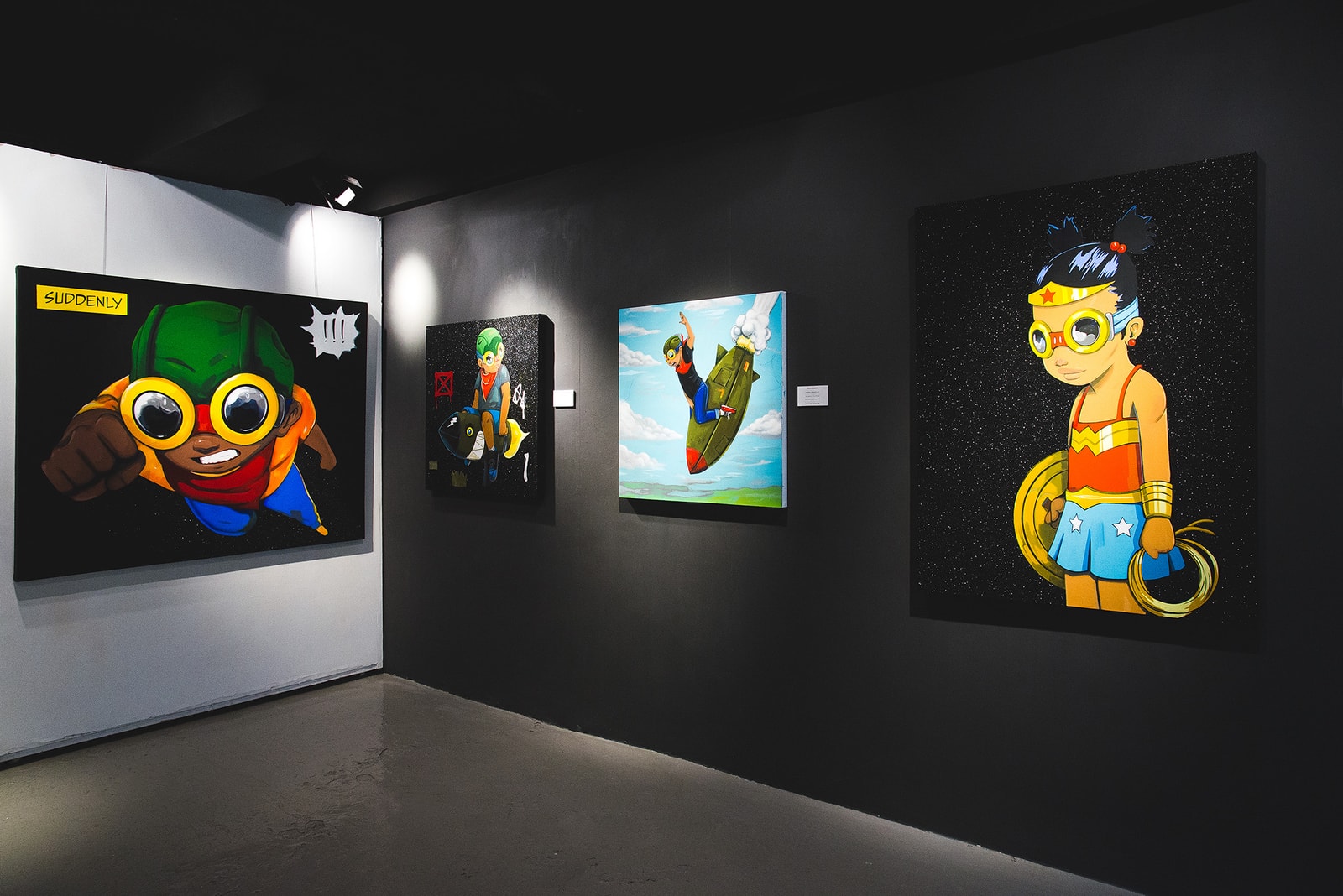 3 of 4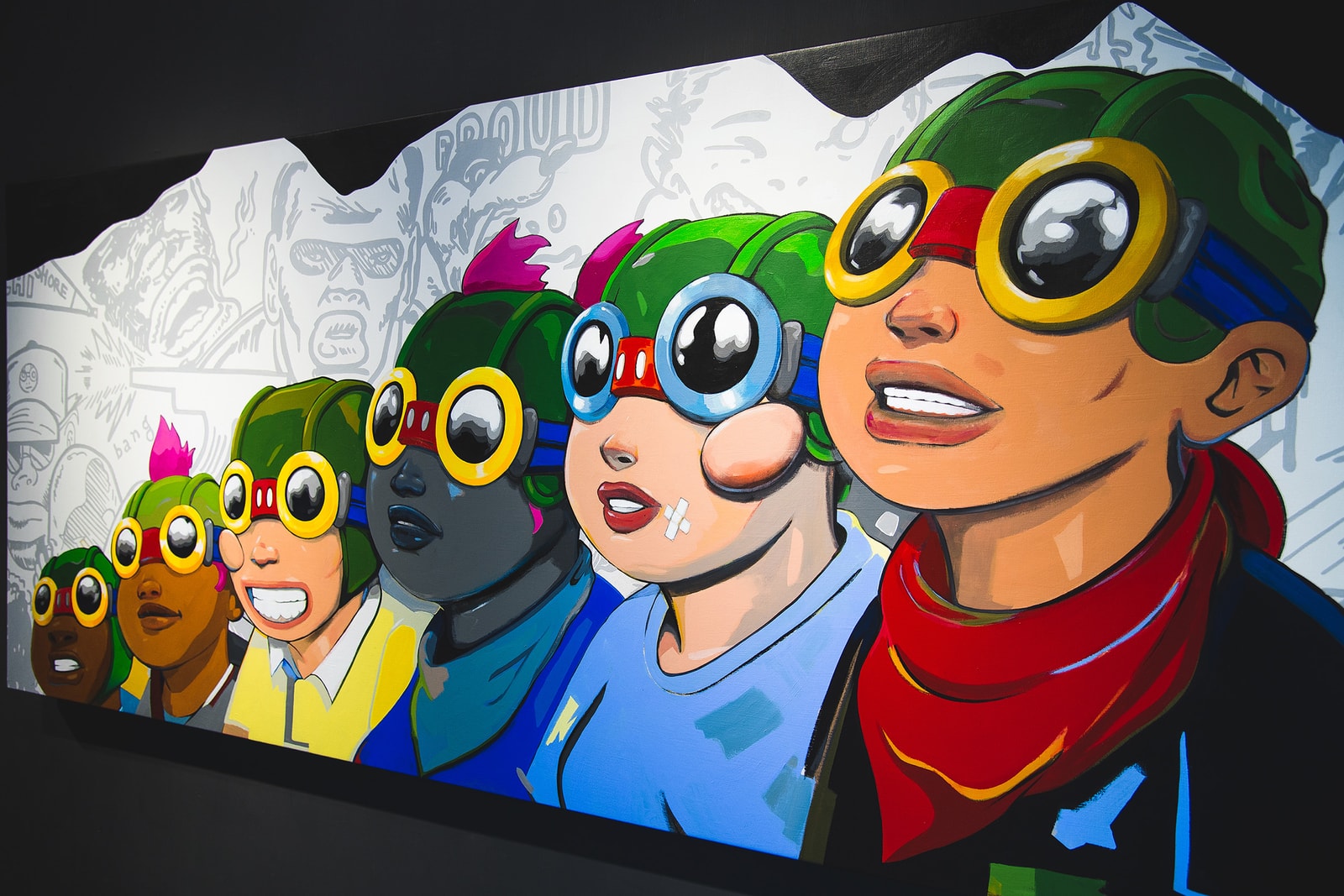 4 of 4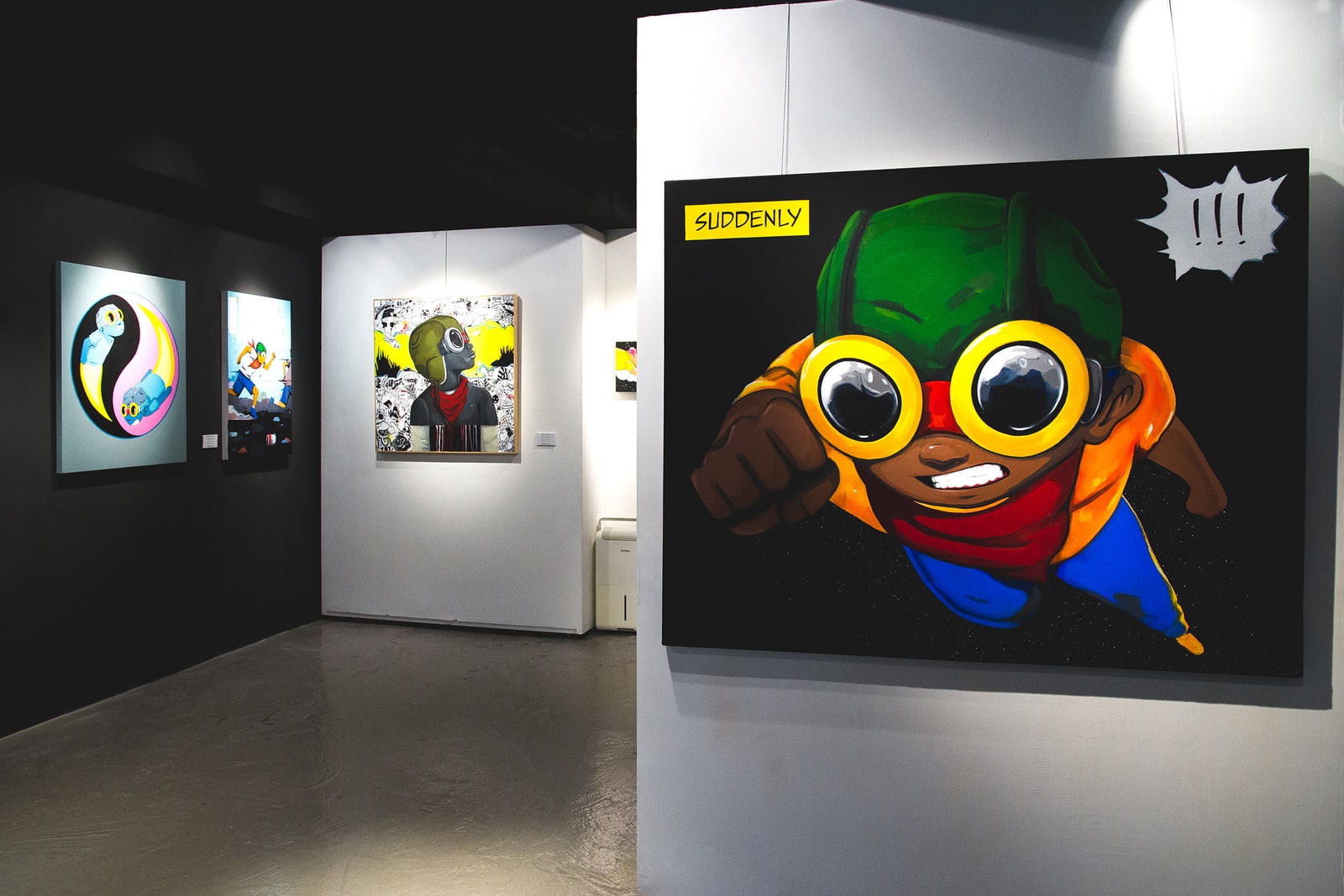 Amongst the major American cities representing the street art scene, Chicago is just about on par with New York and LA. Naturally over time, the cities have grown to foster their own distinct styles from one another. Chicago's happens to be very character driven — a style which Brantley has had a hand in shaping early on with his murals, and eventually his signature Fly Boy. The young Fly Boy character, masked in his bright yellow goggles and red bandana, isn't just the lovable superhero he appears to be, but rather something more symbolic. According to Brantley, he is the underrepresented black protagonist in pop-culture. His familiar outfit plays on the iconography of superheroes as well as the Tuskegee Airmen, a group of African-American pilots who flew fighters and bombers during World War II.
"These girls would run just as fast if not faster, they were smart if not smarter, wise beyond their years. Tough, rough, and rugged."
Later Fly Boy got a female counterpart, Lil MaMa, a sort of "yin to the yang." The artist explains her character is inspired by the type of girls he grew up with; "These girls would run just as fast if not faster, they were smart if not smarter, wise beyond their years. Tough, rough, and rugged. You know, neck-poppin, in-your-face little girls who had a soft core, but a rough exterior." Different, yet complementary of one another, Fly Boy and Lil MaMa embody common traits of understanding, empowerment and the enduring ability to push forward. Having been brought together for the "Lord of the Flys" show, their presence speaks to conversations of race, confusion, gender, prowess, and self-understanding.
1 of 3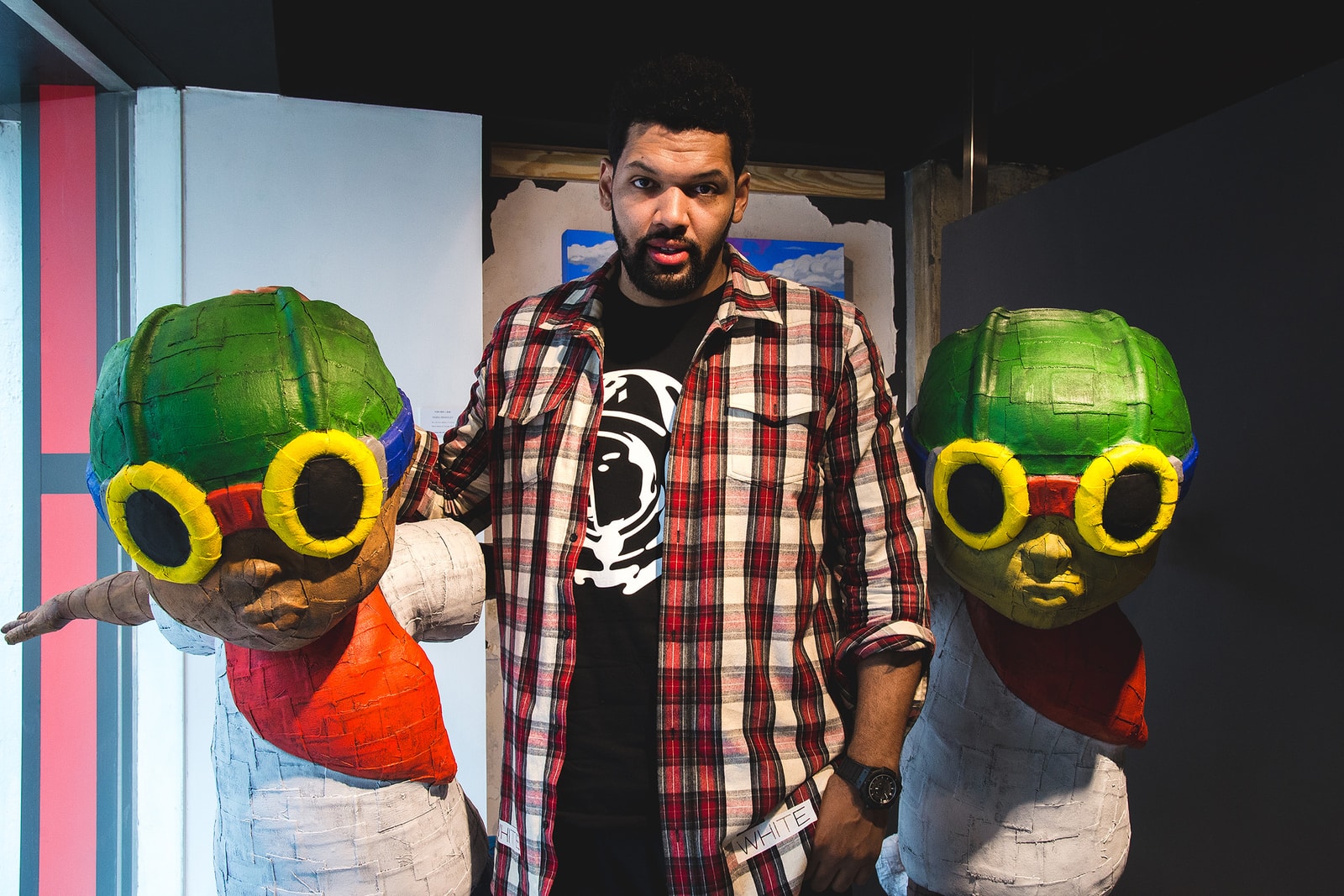 2 of 3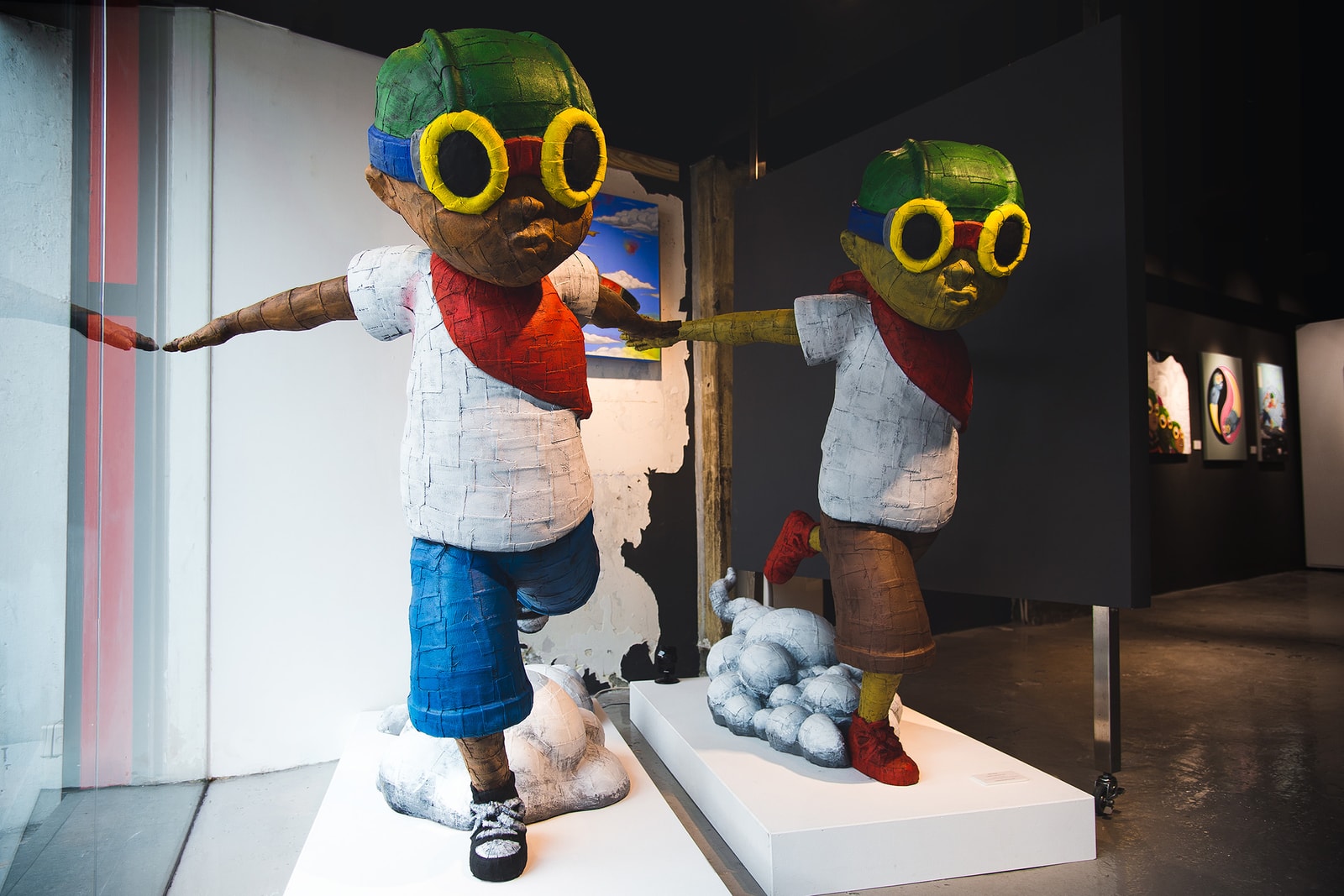 3 of 3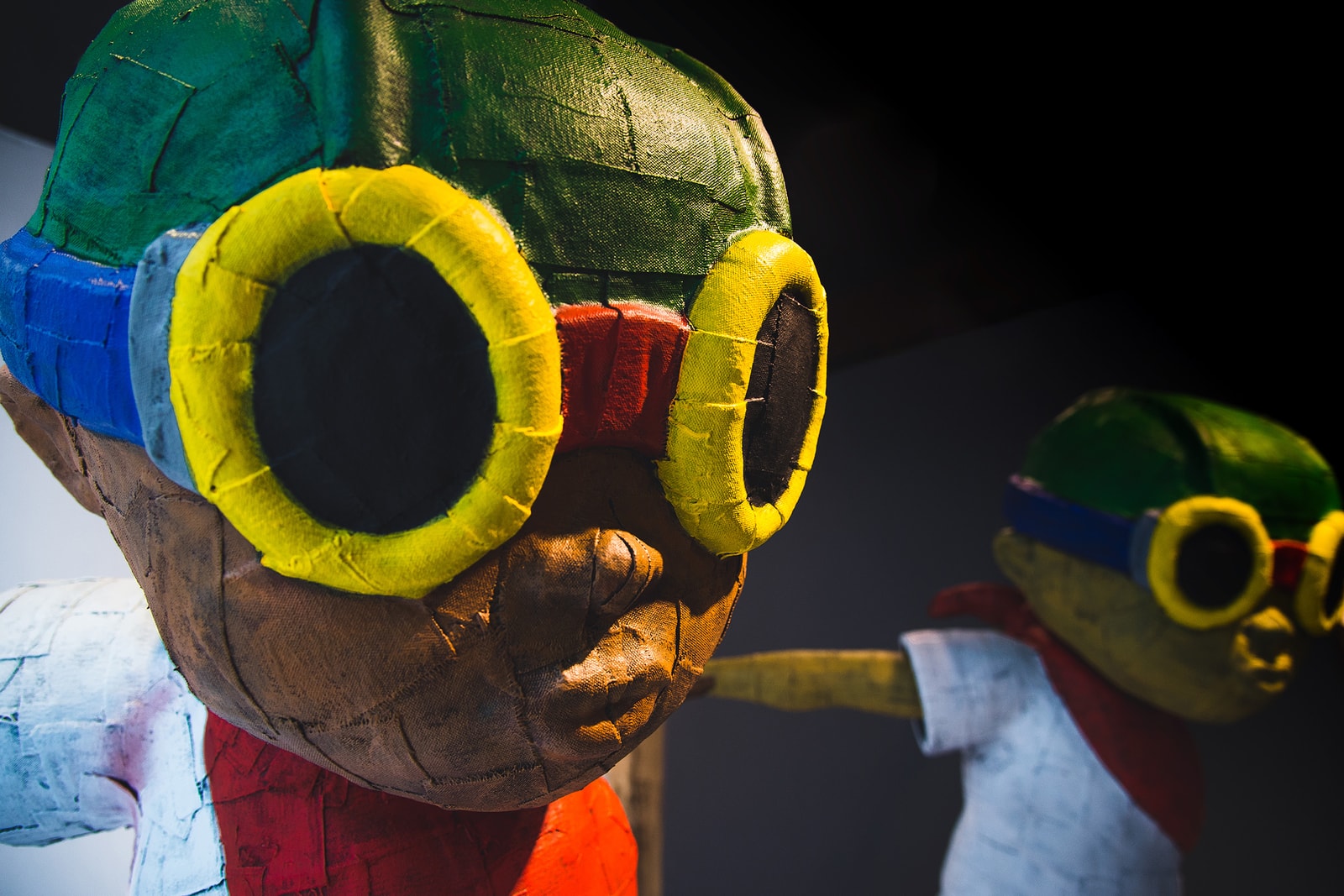 "When you watch these [cartoons] now as an adult, you begin to understand the…power that was there without having known it before."
When asked about the influence of comics and cartoons on his work, Brantley had a lot to say. The artist listed things like X-Men, He-Man, and Ninja Turtles amongst his favorites, but delved deeper into the fundamental functions of cartoons that he'd come to understand as very profound; "When you watch these things now as an adult, you begin to understand the symbolism they injected and the power that was there without having known it before. You can inform a child at a young age what racism is without them really knowing. You're injecting them with that. Going back to my work, it's one of those things too."
As positive as his messages can be, Brantley insists not every piece is saying "Go out and have a great day!" Like anyone else, he has off days, and sometimes that comes through in his work. When trying to pull himself out of these moods, he says taking a moment to center yourself is important. He goes on to references a scene from Star Wars: Episode I – The Phantom Menace; "It sounds really corny but it's such a true thing. They're fighting Darth Maul and the doors are closing and there's only a few minutes of time. And in the midst of all this chaos, he pauses and takes a minute to meditate, just to center himself and fully understand the situation and what it calls for, then gets back up to kicks ass. Those are the moments that quantify that feeling of where I go to in those times. In the midst of all the chaos, you just have to pull back for a second and find your center, then attack."
1 of 3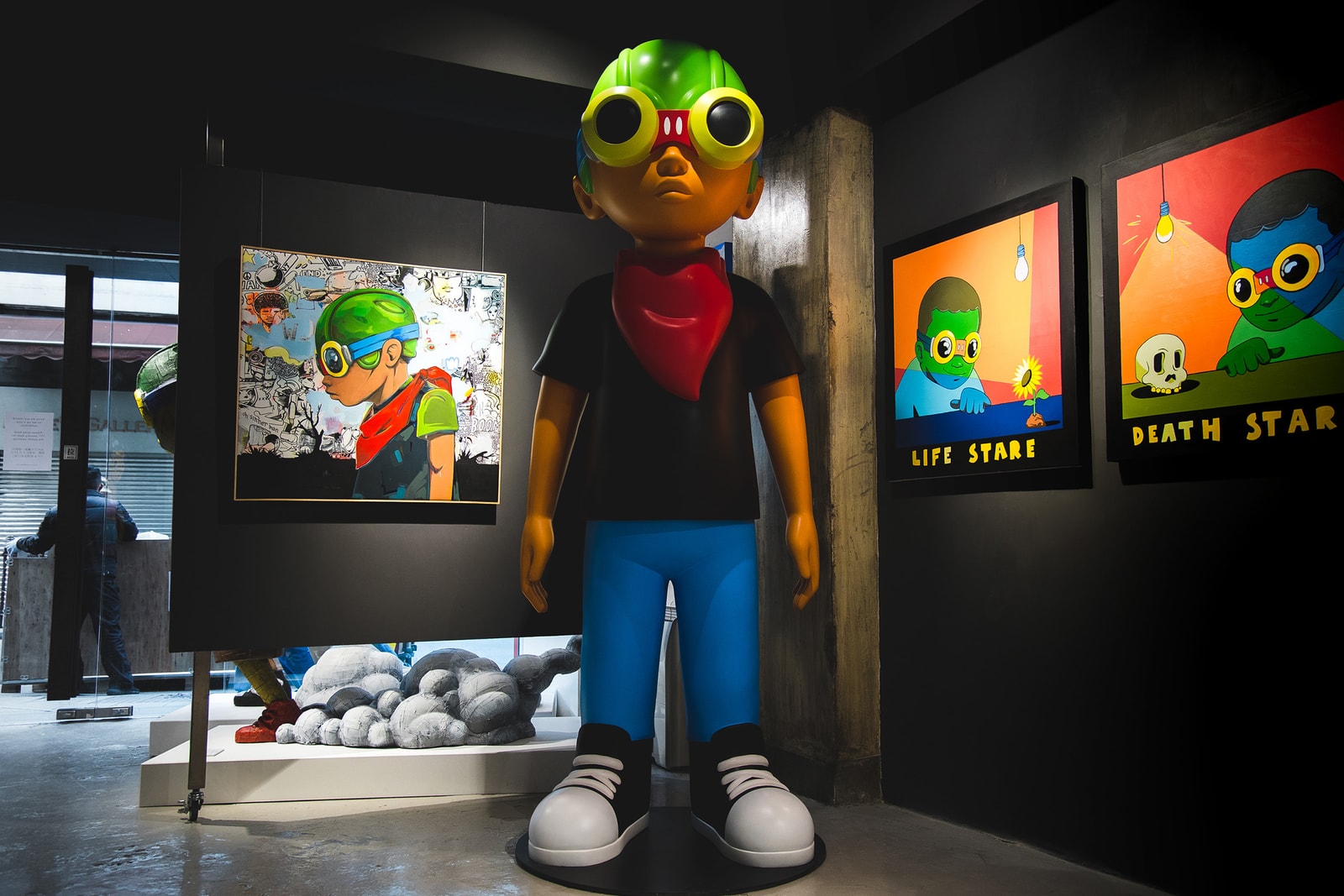 2 of 3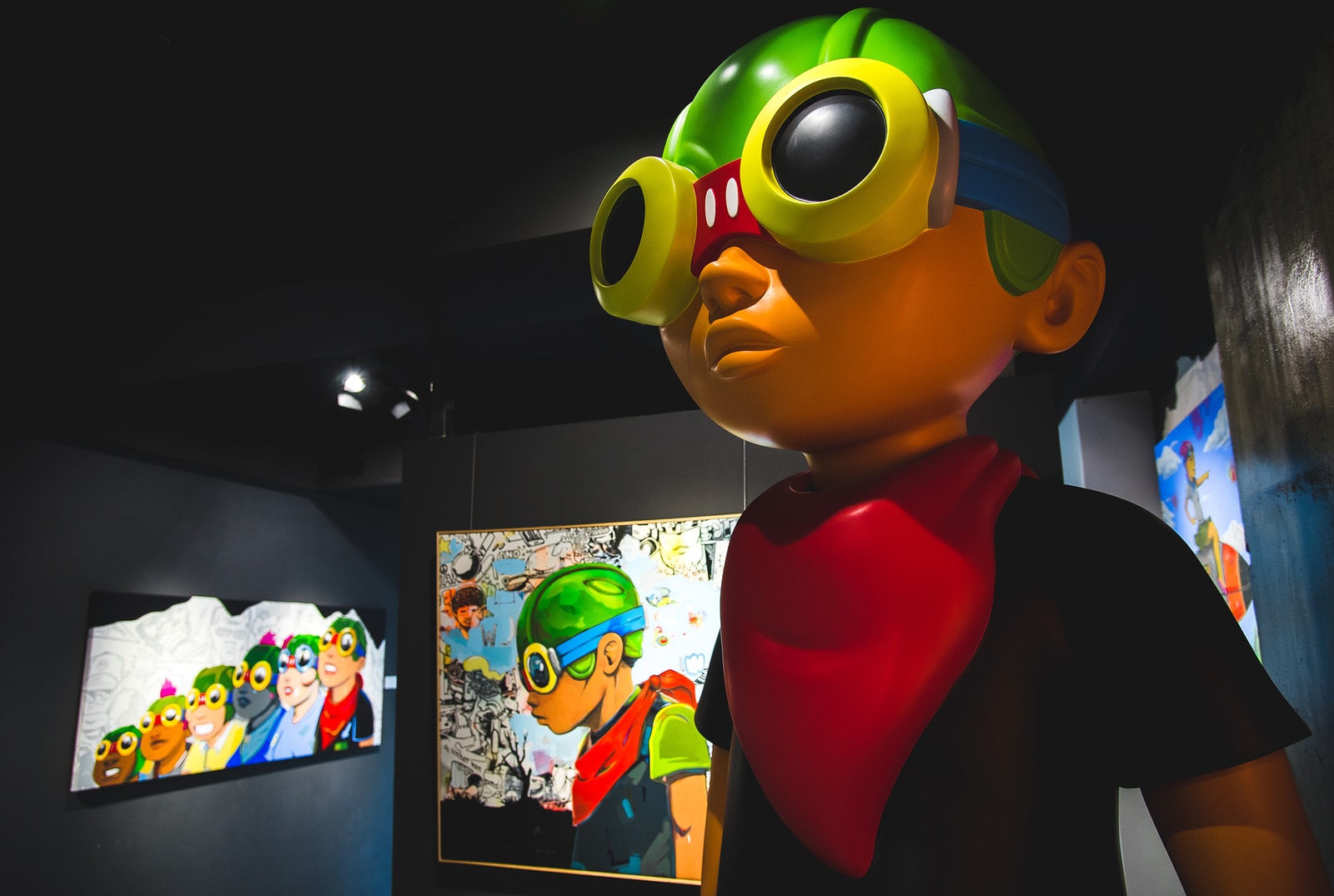 3 of 3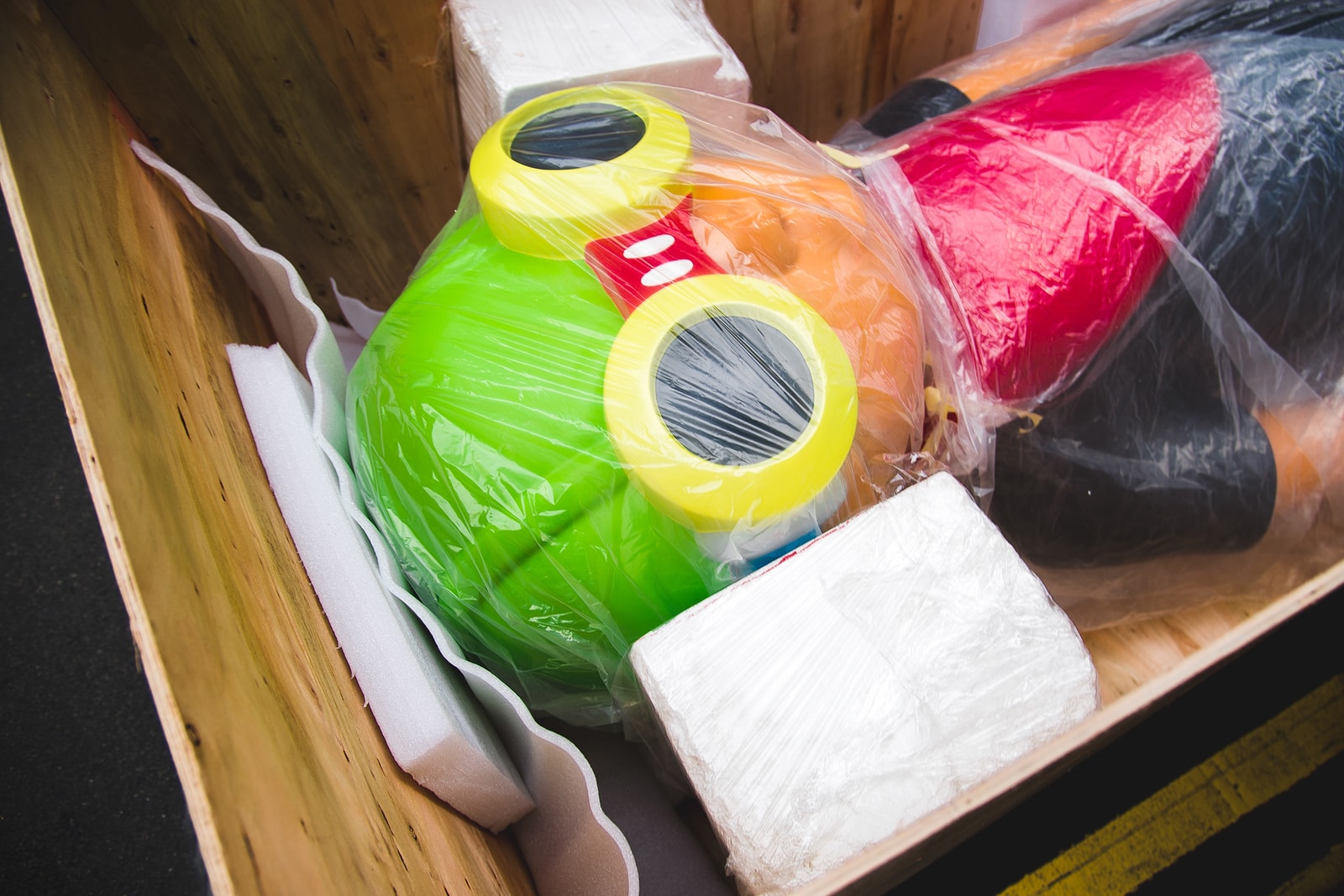 "I always tell people, I failed my way to success. I'm a firm believer in it. It makes me not afraid to do certain things, because I know if I fail, it's fine. There's other ideas I can try next."
Looking at Brantley's expansive body of work with noteworthy collaborations under his belt and big-name buyers like JAY-Z, it's fair to say he's established himself as a successful artist. Where his mother was always supportive of his career path with a "Do whatever you want baby, do what makes you happy" attitude, his dad would often be the one to say "Oh hell no." His critical edge gave him his sense for business though, forcing him to ask himself questions like "Where does this go and who does it go to? What's the best way to get it to them, and what's the smartest, most economic way to get it to them?" The artist says there was a turning point when he realized he had finally made his dad proud. When speaking about him, the terminology had changed; "I became less his son and he became more my dad."
Any creative, aspiring or successful, can relate when it comes to those tough, character-building rough patches in their career. Especially Hebru. Ask him about it, and he'll tell you, he's failed his way to success. It's something that's made him fearless to trying new things, and helped to push him forward. And when he needs to keep his ego in check, he'll remind himself of Kendrick's famous words "Bitch, sit down, be humble."
As the last sculpture's been installed and we begin to wrap things up at the gallery, he offers some parting advice: "You can't rest on little accomplishments, because if you do, you become a local legend instead of a legend."
Hebru Brantley's "Lord of the Flys" show is on view until January 20 at Avenue des Arts, 74 Hollywood Road, Central, Hong Kong.