Peter Saville Talks Working With Raf Simons on the New Calvin Klein Logo
"When you're asked to intervene in aspects of cultural history, it's quite an honour."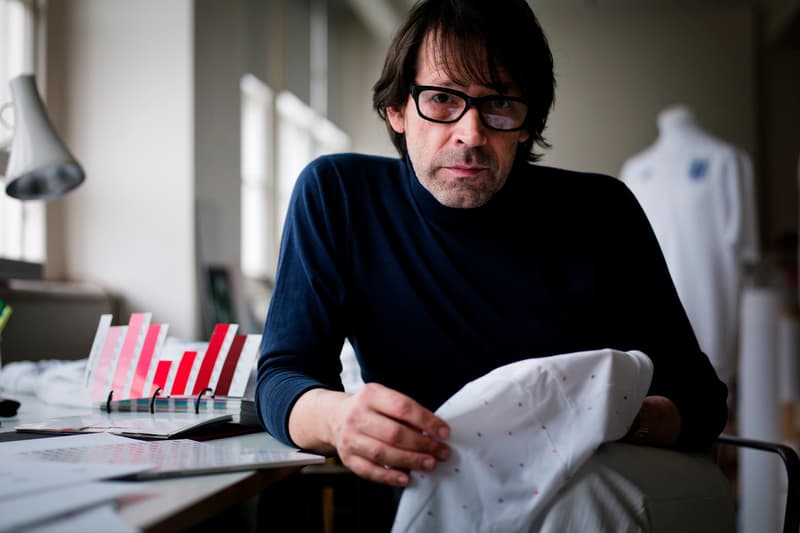 One of Raf Simons' earliest acts after taking on the creative directorship of Calvin Klein was to call on famed graphic designer Peter Saville to help rework the brand's logo. Saville is arguably best known for his work with 1980s British bands such as Joy Division and New Order, producing album covers that have been referenced repeatedly by Simons. Saville has also worked with the likes of Jil Sander and Yohji Yamamoto, while Virgil Abloh used an interview with the artist as part of the soundtrack to Off-White™'s Fall/Winter 2016 show, and Supreme used one of his most famous album covers for a Vans collab back in 2013.
Recently, Saville sat down with Manchester-and London-based store Oi Polloi to discuss everything from working with those seminal bands to redesigning the Calvin Klein logo. You can check out some of Saville's answers below.
On the Calvin Klein logo:
"When Raf Simons phoned and asked me to look at the issue of the Calvin Klein identity – I was able to identify with his position. He is not Calvin Klein — Calvin Klein is Calvin Klein, and Raf is someone else. So I had to say to myself, "If I was in Raf's position, what would I do?" So I changed the original Calvin Klein lettering from upper and lower case to upper case – it became capitals. It's evolved from the subjective to the objective, but it still looks like Calvin Klein. When you're asked to intervene in aspects of cultural history, it's quite an honour. You feel a sense of responsibility in responding to the challenge."
On his most famous record covers:
"The Factory Records covers were not about making people buy the records. They didn't even try to make people buy the record. They existed independently to the music, and therefore people's relationships with them were quite different. The people who liked the covers or became interested in the covers saw them as possessions – they learnt through them, things they maybe didn't know before."
On nostalgia:
"I think there's nostalgia about things that seem to have values. People are seeking authenticity and meaning. So things that have authenticity and meaning never die, because they're more than just surface.  People still talk about Coco Chanel because she changed the way women could be in the world. She didn't found Chanel to make money, she found Chanel to express herself and what she cared about. Companies exploit these values — they continuously harvest them like GM crops, to the point that the market and the audience become tired of it. But they'll carry on wringing it out until there's nothing left. It's desperate and it's tedious to see the way the world operates."
After you've read the interview, refresh your memory of Raf Simons' Spring/Summer 2018 show, which was full of references to Saville's work.